You are here
Back to top
Yunji APP Sells 300K Sunkist Valencia Oranges in Two Hours
August 01, 2017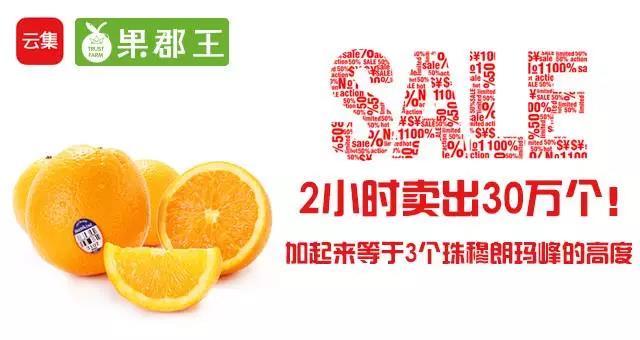 Recently, importer Prince Fruit collaborated with e-commerce mobile application Yunji Micro Shop for the sale of Sunkist Valencia oranges. On July 17, a large-scale promotional campaign sold 300,000 oranges in just a few hours. A sales volume of this magnitude is even rare for more prominent e-commerce platforms such as Tmall and JD.com.
Prince Fruit imported directly from Sunkist in the United States. Sunkist is the oldest and most reputable fresh fruit brand in the world. Before reaching sale shelves, Sunkist oranges are carefully selected and packaged to ensure quality and flavor consistency of each fruit.
A leading representative from Prince Fruit said Sunkist Valencia oranges were specifically chosen for the recent cooperation with Yunji Micro Shop. A timely choice as Valencia oranges are currently fresh listings in the United States market—which means flavor and quality are just right for summer consumption. And thanks to the large sales volume, consumers are getting them an economical price.
Yunji Micro Shop, on the other hand, is a social media retail platform that went online in May 2015—springing up in the wake of China's sharing economy. The consumption behavior of Yunji's users mainly occurs via social network interactions—an element that distinguishes Yunji from other traditional e-commerce platforms.
Moreover, this mobile application has recorded daily sales up to 100 million Yuan in one day. Yunji Micro Shop has utilized cloud sharing to provide products, training, services and more. For Yunji, user experience and reputation are essential. Accordingly, meticulous control throughout the sales process—from product selection to services—needs to be exercised. Choosing Sunkist Valencia Oranges for this campaign was justified by Sunkist's stringent product standards and first-rate quality being in accord with their own.
This was not the first successful cooperation between Yunji and Prince Fruit. In 2016, Prince Fruit began providing Yunji users with global quality fruits such as Nongfu Spring 17.5℃ Oranges, Thailand's Mary Sue Durian and Chilean Cherries to name a few. In the context of today's sharing economy and upgraded consumption patterns, companies that can distinguish their products and services with branding will have the greatest opportunities for development.
Upcoming Events

September 06, 2023

to

September 08, 2023
October 19, 2023

to

October 21, 2023
Featured Produce
Produce Marketplace
Universal Capital Gr

·

Ecuador

AGRI GATEX LIMITED

·

Africa

Qualipac Pty Ltd

·

Australia
Joshua Lim

·

Malaysia

City fresh fruit co.

·

Thailand

Chun lin orchard-Sel

·

Taiwan nan
China Market Access List