You are here
Back to top
Ten Years of Work Comes to Fruition: Why Alibaba Chose Yiguo
June 17, 2015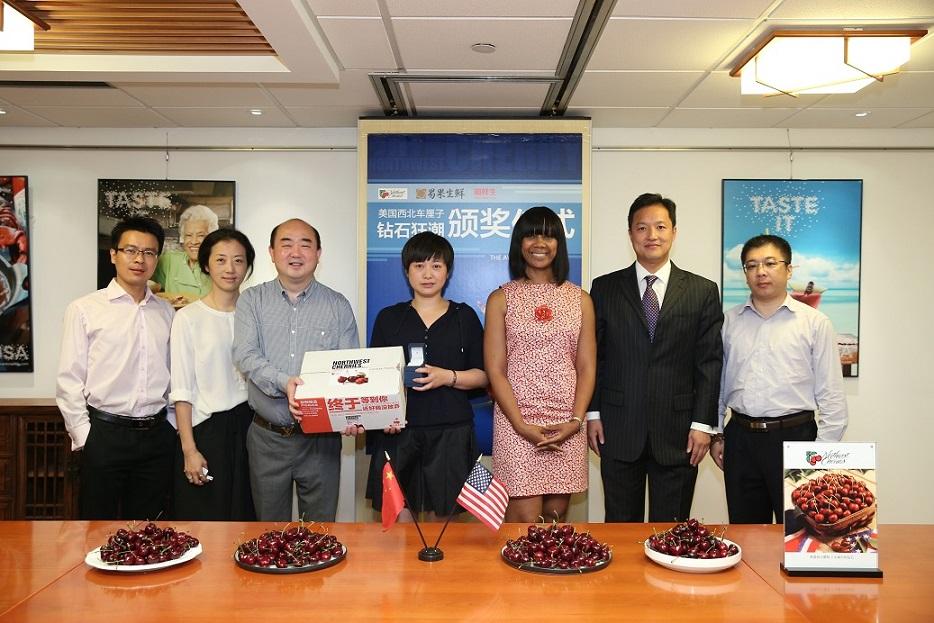 At the beginning of June, Yiguo begin accepting its first preorders for Northwest cherries at the Miaoxiansheng portal of the e-commerce giant Tmall. Connected with the pre-sell, Yiguo elaborately designed an attractive cold chain packing system and conducted a lottery drawing for beautiful diamonds for its consumers. Prominently displayed on the cherry packages is the phrase, "Finally I found you," which attempts to convey the joyfulness and excitement of the moment when cherry fans receive and get their first glimpse of their highly awaited, high-quality cherries.
Later, a campaign entitled "Cherish the Red Diamond Woman" at mobile terminals received 250,000 visits within its first 30 minutes, with total visits numbering in the millions. In this campaign, Yiguo endeavored to qualify its cherries as 'sexy,' portraying Northwest cherries as akin to a "Red Diamond Woman," one who has very high living standards, and thereby subtly catering to the needs of certain young internet users for high-quality fruits.
Eric Li, Vice President of Yiguo, told Produce Report that during the pre-sell operation, the first shipment of directly-purchased cherries had been already completely sold-out. At the same time, the second and third directly-purchased cherry shipments are in the procurement process, making it possible for both Chinese and U.S. consumers to be able to enjoy air-freight Northwest cherries synchronously.
In remarks to Produce Report, Eric noted that Yiguo will insist on air freight transportation for Northwest cherries in order to ensure the freshness of its fruit and the satisfaction of its consumers. Though transportation by boat is much cheaper, such methods may lead to an increased damage rate for the cherries and has an adverse effect on the consumer purchasing experience.
Tmall, the largest B2C e-commerce portal, experiencing on average 325,000,000 visits every day, brought sufficient flow for the pre-sell operations of Northwest cherries, and has also increased Northwest cherries brand awareness among Chinese consumers.
It was reported that Alibaba, the parent company of Tmall, invested in Yiguo as early as 2013 and added additional investments in 2014. For fresh produce e-commerce, it is very important to establish the cold chain as the "hardware." After ten years of intensive growth and refinement, Yiguo's unique strength as a supplier is focused in its supply chain sources and logistics delivery capacity. In addition to basic storage and delivery service, the cold chain logistics of Yiguo include quality inspection, processing, and packing, which are crucial factors in ensuring the quality of fresh produce products remains as high as possible. By examining these specific characteristics and aspects concerning Yiguo, it becomes clearer as to why Alibaba chose Yiguo as its partner.
Eric further expanded on Yiguo capabilities, explaining that Yiguo possesses a full range of terminals which includes Tmall, its own official website, PC, mobile, as well as telephone terminals. Each of these platforms has its own unique characteristics and strengths, but all offer consumers a wide variety of systems of consumption, enriching consumer options and their buying experience, as well as providing suppliers with more channels to promote various products and brands.
As the earliest fresh produce e-commerce source in China, Yiguo today has 3,000,000 loyal consumers, whose expectations and standards for high-quality products have not wavered. Eric informed Produce Report that after establishing the partner relationship with Tmall, Yiguo has assumed a lager responsibility on Tmall. As the first Chinese foray into fresh produce e-commerce, Yiguo began early on to accumulate the capacity to integrate internet sources, assisting suppliers in promoting their products and brands while at the same time ensuring consumers had access to and enjoyed the best product, price, and pre- and post-sale service.
There are those that argue that "fresh produce e-commerce burns money from investors," but Eric is of a different mind. "It's really difficult for a fresh produce e-commerce company to earn money. However, the purchasing experience and satisfaction of consumers should be taken into first consideration. After you take the responsibility to enhance every link of the product chain, including purchasing, logistics, marketing, aftersales, constant improvement, and finally gaining the love, trust, and loyalty from consumers, then monetary profit will come automatically."
Founded in 2005, Yiguo has become the largest vertical fresh produce e-commerce source in China. In addition to fruit, Yiguo has experienced great success in its meat, seafood, and chicken and egg categories, gaining the trust of many consumers in the process.
Upcoming Events

September 06, 2023

to

September 08, 2023
October 19, 2023

to

October 21, 2023
Produce Marketplace
Universal Capital Gr

·

Ecuador

AGRI GATEX LIMITED

·

Africa

Qualipac Pty Ltd

·

Australia
Joshua Lim

·

Malaysia

City fresh fruit co.

·

Thailand

Chun lin orchard-Sel

·

Taiwan nan
China Market Access List