You are here
Back to top
Sunshine Fruit and Tmall Promote NW "King" Cherries
July 04, 2015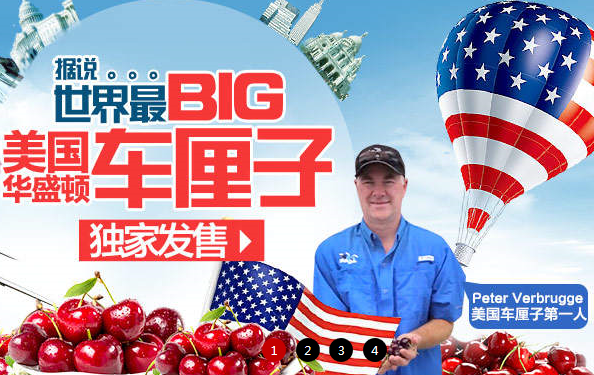 On July 4th, Sunshine Fruit launched its promotion for the "King" type of Northwest cherries, cherries which have a row of 8.5 and surpass 32mm in diameter, the largest size cherry ever in China.
Peter Verbrugge from Sage Fruit spoke for NW cherries on Tmall's Miaoxiansheng platform. Through cooperation between Sunshine Fruit and Tmall, King cherries became available to Chinese consumers within 48 hours after being harvested. Peter's dream is to bring happiness to people all over the world by providing them with the best possible cherries. Last year he rang the bell for Alibaba's IPO representing U.S. farmers, and soon became famous within the fruit industry. 
"This is just the beginning, as we plan to have a lot of promising, and surprising, campaigns coming up in the near future. I sincerely hope that everyone will stay with us and keep their hopes and sights high," Kingo Fruit Co., Ltd's Chuck Cheng told Produce Report.
This year is the first time Kingo has worked with Tmall, cooperating together in order to launch its private e-commerce retail brand 'Sunshine Fruit.' Chuck noted that as the largest NW cherry importer in Washington State, Kingo's advantage lies in its ability to independently control the entire supply chain, from the farm to the table, while at the same time ensuring a high-quality and competitively-priced product. 
"The campaign with Tmall is a true work of pioneering in the industry. Launching a 'super big' cherry product with an 8.5 row (32mm+) is even a rare sight for U.S. consumers, but we managed to accomplish it."
The NW Cherries Committee and major exporters from Washington State, such as Chelan Fresh, Sage, and Jackass Mountain, took part in this event. Eastern Air Logistics' (EAL) charter flight helped in assuring a quicker delivery time and lower costs, bringing with it associated benefits to Kingo as well.
Kingo's Sunshine Fruit Project Manager George Liu and his team wholly devoted themselves to the NW cherries production area in order to provide Chinese consumers with the best, and freshest, cherries in the world.
Despite the existing fierce competition in fresh produce e-commerce, Chuck remains deeply confident in Sunshine Fruit. "We entered into the e-commerce market because we already have significant strength in direct purchasing, especially now due to EAL's charter flights for cherries. These charter flights not only maintain the perfect, high quality of cherries during transport, but also ensure that logistics are faster and more streamlined and that costs are reduced overall. Perhaps more importantly, we have 30 years of experience centered on fresh fruit and we cooperate closely with excellent suppliers from around the world; we are definitely a rising star in the market."
Upcoming Events

September 06, 2023

to

September 08, 2023
October 19, 2023

to

October 21, 2023
Featured Produce
Produce Marketplace
Universal Capital Gr

·

Ecuador

AGRI GATEX LIMITED

·

Africa

Qualipac Pty Ltd

·

Australia
Joshua Lim

·

Malaysia

City fresh fruit co.

·

Thailand

Chun lin orchard-Sel

·

Taiwan nan
China Market Access List