You are here
Back to top
South Australian Nectarines: From Tree to China in Three Days
November 23, 2016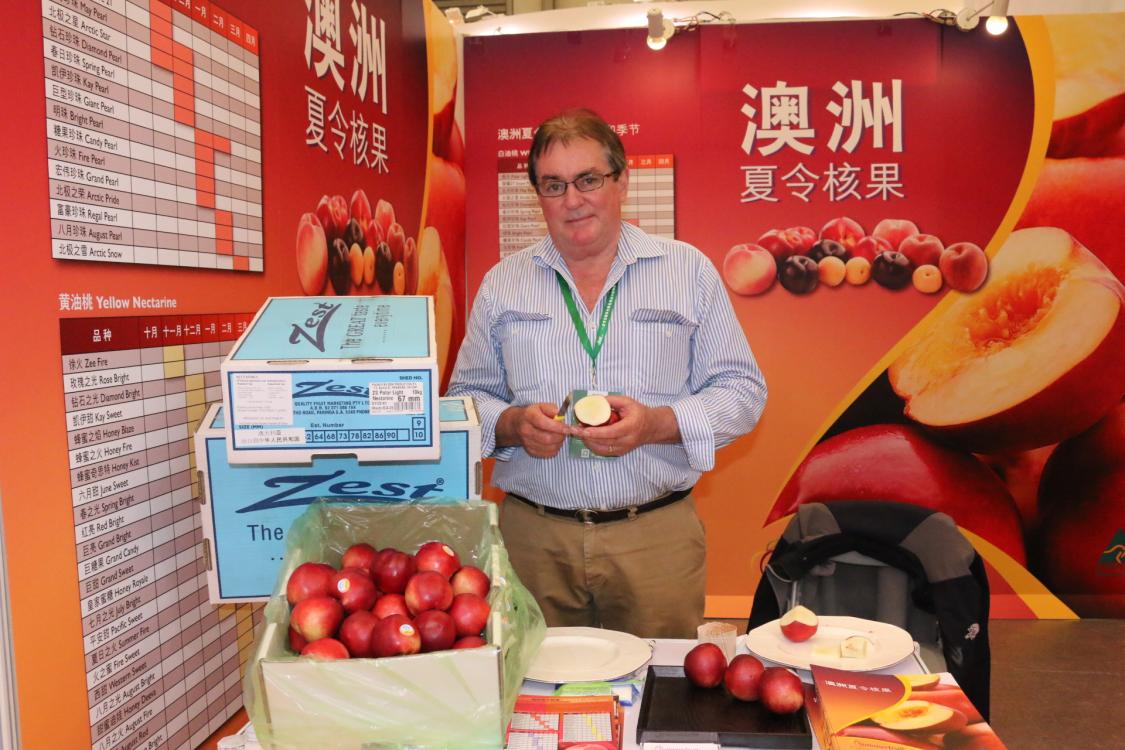 John Moore presents Australian nectarines at iFresh Fruit and Vegetable Exhibition
Photo: Produce Report
In conversation with Produce Report, John Moore, CEO of Summerfruit Australia Ltd., discussed the potential for South Australian nectarines in China. "The first nectarines coming to China will be from the Riverland region in South Australia, which has already been recognized as a pest-free area by the Chinese authorities. This means that no quarantine treatment is required, and the fruit can be picked, packed, and sent to China directly…this is fantastic, as only three days after being picked, one will be able to already find these nectarines on the market in China."
According to Mr. Moore, the Riverland is the second area in Australia, the first being Tasmania, which has been awarded the status of 'pest-free' by the Chinese government. "It is an important milestone, as now a state in mainland Australia can also declare a fruit fly-free environment." Producers of other fruit in the Riverland, such as citrus and grape, are still working on obtaining AQSIQ 'pest-free' recognition, which requires further inspection of citrus orchards and vineyards by Chinese experts.
South Australia is not Australia's largest producer of nectarines, ranked only third among Australia's stonefruit-growing states in terms of quantity. "The largest producer of nectarines is Victoria, whose crops account for 75% of the country's total output. New South Wales is second, followed by South Australia, Western Australia and Queensland, respectively," remarked Mr. Moore. The majority of Australia's nectarine exports to China is expected to come from Victoria, with smaller volume to be shipped from New South Wales and South Australia (other states chose not to export their fruit this year). Due to the presence of Queensland fruit flies in Victoria and New South Wales, their nectarines are obliged to undergo anti-pest treatments either by on shore cold treatment, and then airfreighted, or by in transit cold treatment whilst being shipped to China. This type of quarantine procedure lasts roughly 18 days, so most Australian nectarines will require more time to reach China's market.
The nectarines to be delivered to China during mid-November are early season varieties. "Due to cold weather and the lack of sunshine in spring and early summer, Australia's nectarine season will be two weeks later this year. Nectarines are only now beginning to sweeten and the sugar content of these first nectarines is quite low, around 11% Brix. However, the sugar level is expected to rise to 14-16 % Brix in December and January, when the premium fruit to be harvested and sent to China in January of next year," explained John Moore.
In regards to export volume, Mr. Moore indicated that the first nectarine air shipments will be conducted in both smaller AKE and bigger LD7 containers, with an average transit time of 13 hours. AKE containers have the capacity to hold 1.5 tons of Australian nectarines, while airfreights utilizing LD7 container can deliver approximately 4 tons of this fruit to China. As nectarines in Victoria and New South Wales mature later than those from South Australia, fumigation facilities will be used as a quarantine measure, as stipulated in the protocol, prior to airfreight in order to transport these varieties from regions outside of Australia's pest free areas.
It is expected that during the last two weeks of December, when export volumes from Victoria are to increase dramatically, air shipments will be substituted by sea freight with onboard, in-transit cold disinfestation treatment schedules. The ports of Melbourne and Sydney are planned to serve as departure points, with ports in Shanghai and Guangzhou the ultimate destination. However, Mr. Moore noted that shipments will be expanded to additional ports in China in order to meet increased demand. "When peak season in Australia starts, shipments will also be organized to the ports of Dalian and Tianjin in order to satisfy demand in the Beijing region. This will likely take place in the middle of January and just in time for Spring Festival, during which fruit, especially of the imported variety, is a popular gift among Chinese consumers." Australian nectarines have a transit time of 18 days to reach China via sea, with 40-foot containers the preferred method of transportation.
The Huizhan Fruit Wholesale Market-based Oheng Import & Export Co. Ltd, located in Shanghai, has already obtained an import permit for Australian nectarines. "Import licenses continue to be issued by AQSIQ, so there will be more and more Chinese companies importing Australian nectarines. Oheng Import & Export Co. Ltd were among first importers to apply for licenses when registration opened on October 28th and as it takes 21 days to acquire such a permit, we expect number of licensed importers in China to grow in the near future."
Mr. Moore informed Produce Report that the first air shipments from South Australia was organized by QFM Production Pty Ltd., one of Australia's finest stonefruit growers and exporters and which sells its fruit under the 'Zest' label, among others. Further shipments will be managed by a wide range of Australian export companies, namely T&G Global Ltd., Freshmax Australia Pty Ltd., Fruit Master Australia Pty Ltd, VFS Exports and approximately a dozen others.
Upcoming Events
October 19, 2023

to

October 21, 2023
Produce Marketplace
Elangeni Food Group

·

South Africa

Universal Capital Gr

·

Ecuador

AGRI GATEX LIMITED

·

Africa
Joshua Lim

·

Malaysia

City fresh fruit co.

·

Thailand

Chun lin orchard-Sel

·

Taiwan nan
China Market Access List