You are here
Back to top
Selling Fruits on WeChat?
July 30, 2015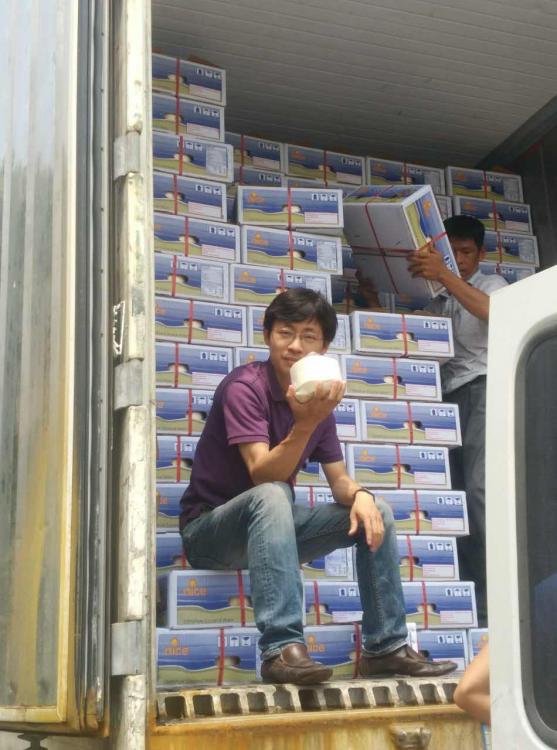 Fresh fruit e-commerce in China has recently seen the rise of a new selling model. In what Chinese media sources have dubbed "micro-commerce," individuals and retailer are selling small orders directly to customers through online social networking services, especially the WeChat mobile messaging and social sharing application, which counts its users in the hundreds of millions. 
Despite what its name implies, micro-commerce has grown quickly and is no longer always small in scale. In some fruit categories, the "micro" merchants are so large that they can purchase fruits directly from abroad, and even surpass the scale of traditional fruit e-commerce retailers.
"At first, everybody bought goods together. As a result, the volume of goods we ordered became larger and larger. Now we can buy a whole pallet or container," said Fang Kaizhe, General Manager of Shanghai Yikailong Network Technology Co., Ltd., during a conversation with Produce Report. Due to the development of its micro-commerce business, his company has set up an office and retail booth in Shanghai's Huizhang Market, which are focused on the overseas purchasing and delivery business. 
"In May of this year, our micro-commerce group decided to buy five containers of Egyptian Valencia oranges, and within three hours we were able to come up with our micro-selling strategy," says Fang. "During the month-long ocean shipping period, we finished pre-sales of the product. After the arrival of the goods, we only needed to deliver them to consumers." 
Fang says his group has around 200 sellers, mainly facing the Yangtze river delta market of Jiangsu and Zhejiang provinces and Shanghai. "We do not have specific model. Compared with other e-commerce giants, micro-commerce is still very small, so we need more resources to become more competitive." Fang says that all sellers are treated equally within the group and each relies on its own particular strengths and resources to find a competitive selling edge.
Fang says fruit micro-commerce is unique because rather than relying on traditional marketing tools, sellers typically use high quality products to offer customers an experience they will share with their circle of digital friends on WeChat, thus leading to a strong word-of-mouth marketing effect. Compared to traditional e-commerce fresh produce companies, micro-commerce customers are relatively loyal and fixed. A micro-merchant with sales of 1-2 million RMB per month, will tend to have a stable base of 5000-6000 customers.
In order to meet customers' demands for a premium experience, micro sellers focus more on high-end products. Take premium Thai durians as an example: "Supposing that 200 cartons of long stem durian arrives Shanghai," says Fang. "We may take two-thirds of them." 
People from many different industries and backgrounds are crossing over into the fruit micro-commerce business. "It is very interesting," says Fang. "With everybody together, there will be many collisions of ideas. Operating models are also diverse, with some using third party logistics distribution and some using an O2O store model—and we are a group selling plus private distribution model." 
We learned from Fang that the fruit micro-commerce has outstanding profitability because their users value quality over price and group purchasing reduces wholesale costs. And it is becoming a force cannot be ignored in the fruit distribution field. But some observers think that the current growth in fruit micro-selling is the result of a fad and consumers will soon tire of being relentlessly sold products by their friends and social media contacts. However, we at Produce Report believe those who focus on product quality and customer experience can eventually stand out of the market. 
Upcoming Events

September 06, 2023

to

September 08, 2023
October 19, 2023

to

October 21, 2023
Featured Produce
Produce Marketplace
Universal Capital Gr

·

Ecuador

AGRI GATEX LIMITED

·

Africa

Qualipac Pty Ltd

·

Australia
Joshua Lim

·

Malaysia

City fresh fruit co.

·

Thailand

Chun lin orchard-Sel

·

Taiwan nan
China Market Access List