You are here
Back to top
Mission, Lantao, Pagoda Sign to Move Avocados Forward
March 21, 2016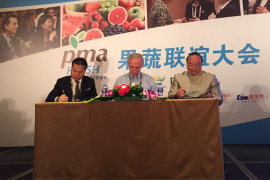 With representatives from the fruit industry and foreign guests looking on, Mission Produce, Lantao and Pagoda signed an avocado cooperative agreement during PMA Fresh Connections China earlier this month. Produce Report learned that the three parties will set up a joint venture with coordinated supply, wholesale and retail in order to provide Chinese consumers with the finest avocados.
The agreement unites three major produce companies. Mission Produce is the largest avocado company in the U.S. and is a global expert in avocado production, supply, and marketing. Lantao is one of China's largest wholesale fruit importers and the leading importer of avocados to China. Pagoda was established in 1997 and had over 1300 stores in China as of February 2016.
Among China's imported produce, avocado is a star. According to reports from international customs data, avocado had a 200% growth rate, ranking at the forefront of import growth for fruit. Currently, countries allowed to export avocados to China include Mexico, Chile and Peru. Lantao International CEO John Wang told Produce Report that from the beginning of avocado's arrival in the Chinese market, many people have been talking about this fruit. He hopes the tripartite cooperation will further strengthen the development of avocado in China.
A key challenge to the avocado's future in the Chinese market will be ensuring that consumers have access to ripe fruit. Currently, Wang told Produce Report, only green avocados are sold in China, though in the U.S. and Europe, ripe avocados have been available for over a decade. "We predict that when ripe avocados begin to be sold in the Chinese market, sales will double," he said.
Upcoming Events
October 19, 2023

to

October 21, 2023
Produce Marketplace
Elangeni Food Group

·

South Africa

Universal Capital Gr

·

Ecuador

AGRI GATEX LIMITED

·

Africa
Joshua Lim

·

Malaysia

City fresh fruit co.

·

Thailand

Chun lin orchard-Sel

·

Taiwan nan
China Market Access List