You are here
Back to top
Miss Fresh Delivers Imported Sweeki Kiwifruit Direct to Doors in China
March 15, 2018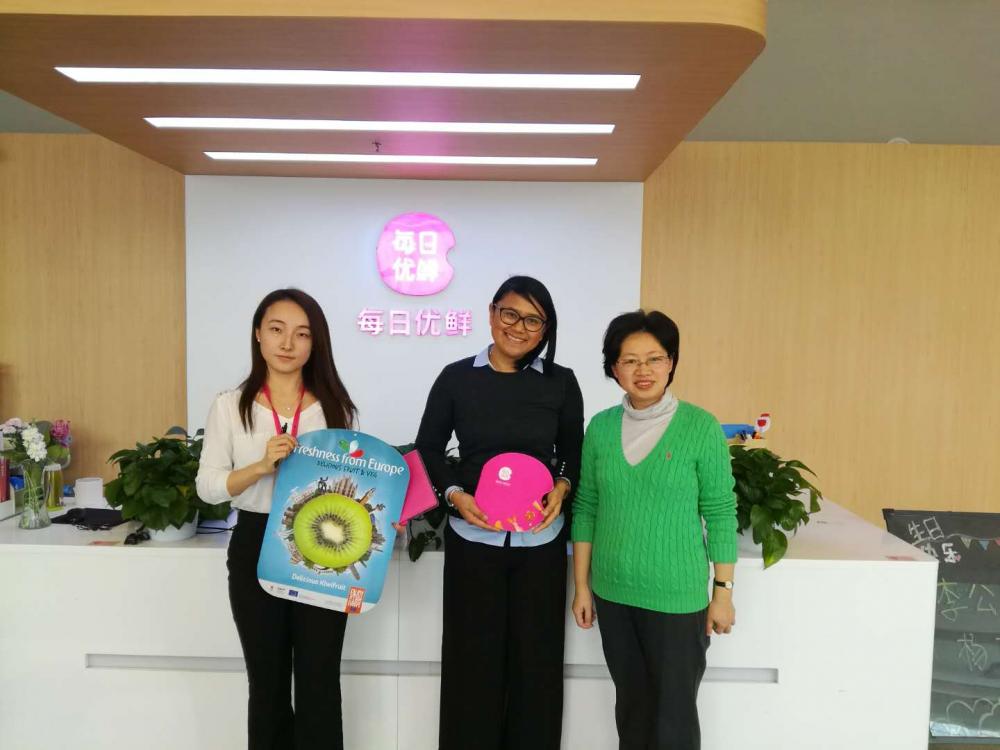 Origine Group of Italy and Miss Fresh of China are cooperating this season to bring Sweeki kiwifruit direct to Chinese consumers via Miss Fresh's online-to-offline ecommerce platform. It is the first time Origine Group, a major global supplier of kiwifruit, which entered the China market two years ago with export-oriented Sweeki brand, has entered into such an agreement with a Chinese ecommerce platform.
Miss Fresh, founded only three years ago, is an up-and-coming company with investment from Chinese internet giant Tencent. Its platform, offered in about 20 major urban centers, allows online ordering and same-day delivery to consumers of fresh goods. Ms Dai Zhilan, a purchasing manager for Miss Fruit, told Produce Report that Origine and Miss Sweet had initially discussed cooperation at the Asia Fruit Logistica expo in Hong Kong last September. The two sides continued talks from there, ultimately resulting in the first container of Sweeki kiwifruit selling on quickly after going up for sale on the Miss Sweet platform earlier this month. The second container is currently selling briskly.
Mr Mai Xinlong, director of purchasing and sales for Miss Fresh, told Produce Report that his team decided to focus on the Sweeki brand as its flagship kiwifruit product after a comparative analysis of kiwifruit available on the market. According to Mai, Sweeki has maintained a consistent fruit quality since entering the China market, especially in terms of flavor and high sweetness. He said Sweeki has also been competitive on price amidst imported kiwifruit offerings, meaning that the brand gave the overall best value while still aligning with Miss Fresh's positioning.
Sales manager Ms Reen Nordin of Origine Group told Produce Report that her company was attracted to Miss Fresh because it can deliver Sweeki kiwifruit speedily to end consumers, has strong cold-chain logistics capabilities, and places great emphasis on quality and safety. She said this aligns with Origin's philosophy and practices. Founded in 2015 as a consortium of 10 fruit and vegetable producers, the organization today stringently controls the quality of fruit flowing from 6,000 hectares under plantation around the world.
The season for Sweeki kiwifruit grown in Italy lasts from November to April. Hopefully the company will be able to keep up with demand in China this season. Nordin reported that due to adverse weather conditions, the production volume for Sweeki kiwifruit from Italy is projected to be down 40% this season.
Featured Produce
Produce Marketplace
Elangeni Food Group

·

South Africa

Universal Capital Gr

·

Ecuador

AGRI GATEX LIMITED

·

Africa
Joshua Lim

·

Malaysia

City fresh fruit co.

·

Thailand

Chun lin orchard-Sel

·

Taiwan nan
China Market Access List