You are here
Back to top
Joy Wing Mau Promotes Australian Nectarines
March 10, 2017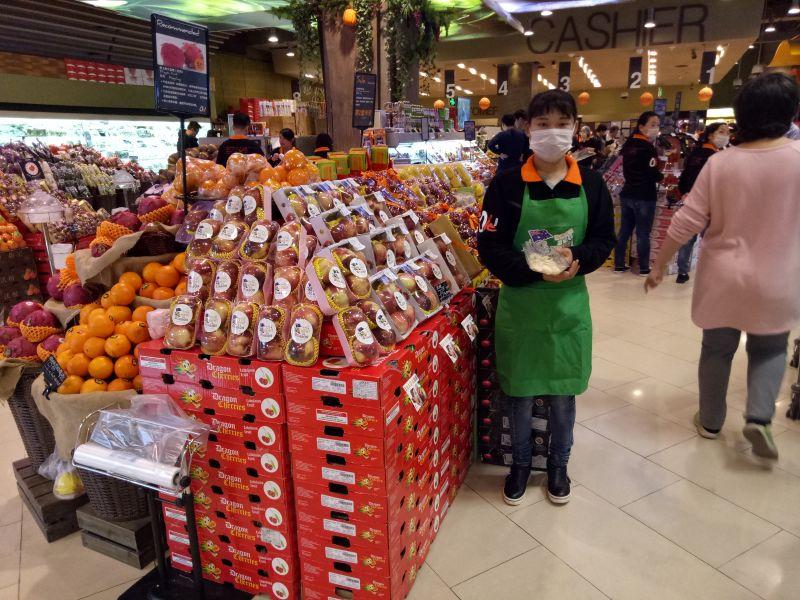 Presently, Horticulture Innovation Australia together with the Victoria Government and Joy Wing Mau are conducting a promotion called "Australian nectarines now in season" in 10 chain stores (Sam's Club and Ole) in Beijing, Shanghai, Guangzhou, Shenzhen and Chengdu. The promotion will last for one month. The featured product is the imported majestic pearl nectarine, which is a variety of the Pearl series . The long shelf life, beautiful appearance with gorgeous red color and crispy flesh makes it rank as the top nectarine in the world. After a few days, the flesh will become soft, juicy and exudes a strong fruity flavor. It was imported in boxes from Australia but repackaged at the point-of-sale terminal and will be sold in small packages at the store (typically 4 or 6 pieces in a pack).
According to Mr. Lee from Joy Wing Mau, this batch of nectarines was exported by Cutri Fruit from Australia. Although there are different kinds of nectarines, it is hard to select according to their appearances. However, the sugar degree, flavor and hardness are completely different among various types. Cutri Fruit is a grower and packer of premium quality stone fruits. The company owns years of exporting experience. It also exports other high-quality fruits across the globe, including Hong Kong, Singapore, the UAE, India and Europe, to name a few regions. Besides nectarines, Cutri focuses on peaches, plums, apricots, mangoes and strawberries as well. Moreover, Cutri Fruit has a strict control system of the quality of their export products. Only the high-sweet nectarines (sugar degree reaches level-12) can be exported to the Chinese market. This also explains why Joy Wing Mau chooses Cutri as its exporter.
This year, Joy Wing Mau adopted two ways of transportation (by air and sea) for a trail run. The early variety (snow flare) will be sent by air. The majestic pearl, which is also actively promoted by the Victoria Government, will be shipped by sea. The proportion of air and sea is 50/50. The length of air transportation is 10-12 hours while transporting by sea takes 21 days. Thus, Mr. Lee from Joy Wing Mau told the reporter that in order to keep the freshness they would fully switch to air transportation in the future. It is nice to hear that the process of inspection and quarantine is very smooth this time. But the fumigation and cold treatment inspection method will inevitably affect the quality of fruits to some extent. Therefore, it poses a significant challenge on nectarine sales as well.
In response to the question about costumer's acceptability of Australian nectarines, Joy Wing Mau gave the answer that although there are many early arrival nectarines on the market, in terms of quality and texture, a lot of them are not suitable for the Chinese market. It is peak season for nectarines right now. Purchasing should be based on the quality to provide these premium Australian nectarines to the consumers. The cost of these nectarines is relatively high, so this product is deemed to be a high-end one. In order to be accepted by target consumers, promotion and guidance cannot be ignored. So far, the youth are the primary demographic of purchasing. And they also easily express their opinions that it would be better if nectarines could be sweeter and cheaper.
Upcoming Events

September 06, 2023

to

September 08, 2023
October 19, 2023

to

October 21, 2023
Featured Produce
Produce Marketplace
Elangeni Food Group

·

South Africa

Universal Capital Gr

·

Ecuador

AGRI GATEX LIMITED

·

Africa
Joshua Lim

·

Malaysia

City fresh fruit co.

·

Thailand

Chun lin orchard-Sel

·

Taiwan nan
China Market Access List