You are here
Back to top
JD Fresh Goes All Out to Construct a Whole Industry Chain
May 30, 2018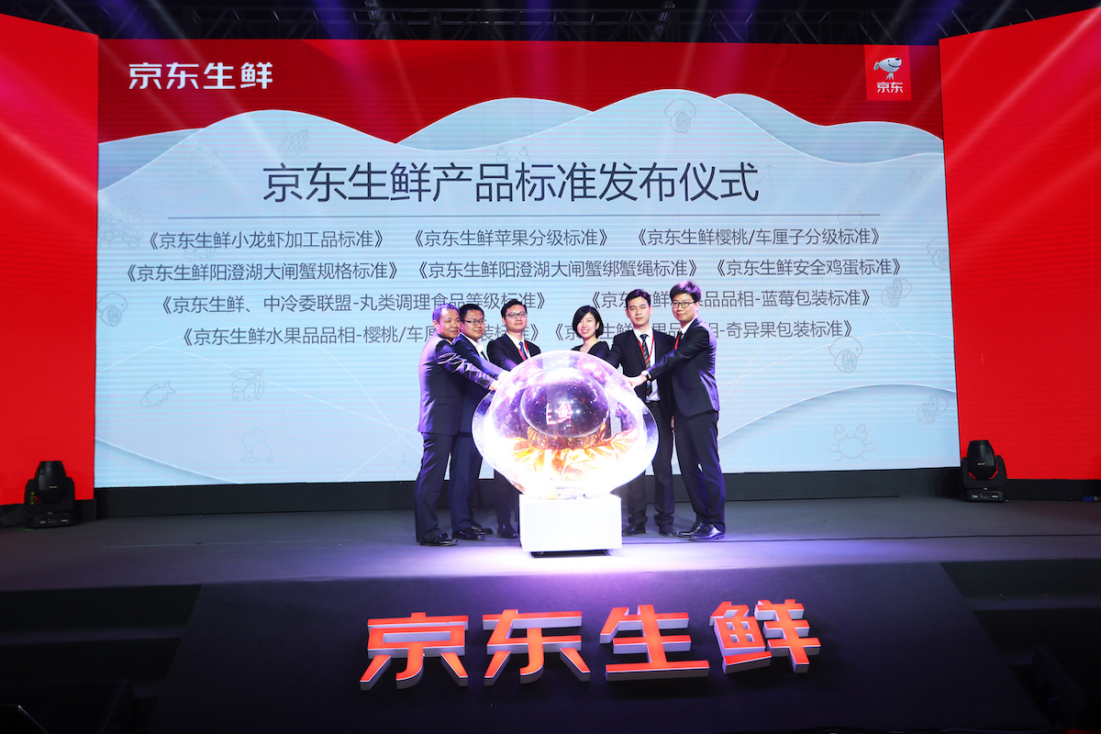 On May 28, JD.com hosted a strategic press conference in Beijing, China. At the event, JD Fresh announced that as a platform that brings high-quality fresh food products to consumers, JD Fresh will increase efforts to integrate service capabilities and increase the efficiency of its entire supply chain. Improvements to upstream production, distribution channels, and the sales end will afford consumers a safe, healthy, and quality dinner table.
The conference also kicked-off JD Fresh's "618" shopping day. An exhibition area displayed fresh foods including Chilean king crab, Australian steak, Hubei crayfish, Shaanxi apples.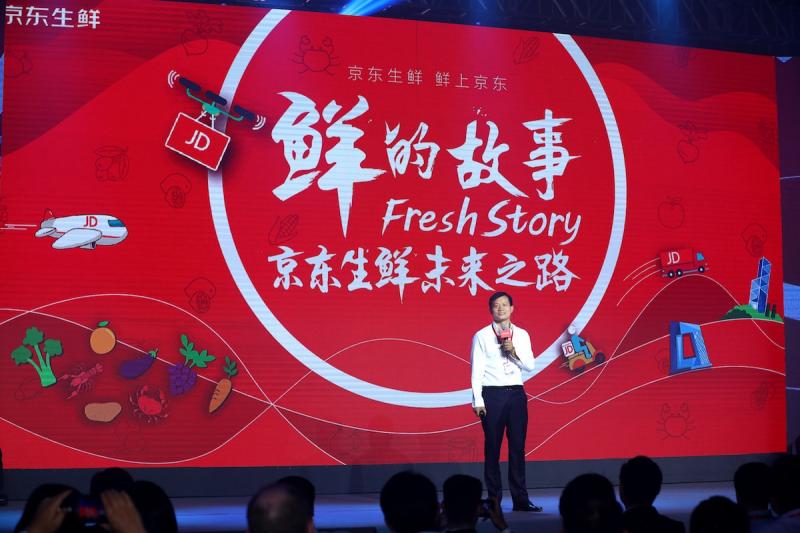 In a speech from the event, Mr. Wang Xiaosong, senior vice-president of JD Group and president of JD Fast Moving Consumer Goods and Foods, addressed JD Fresh's mission to improve quality control, emphasize infrastructure construction, and boost innovation in order to continue enhancing product selection and scope. 
According to Mr. Wang Xiaosong, JD Fresh will 'leave no leaf unturned in the search for global freshness.' He went further saying, "from the field to the kitchen table, JD Fresh will improve management, journey farther, select better, and deliver faster."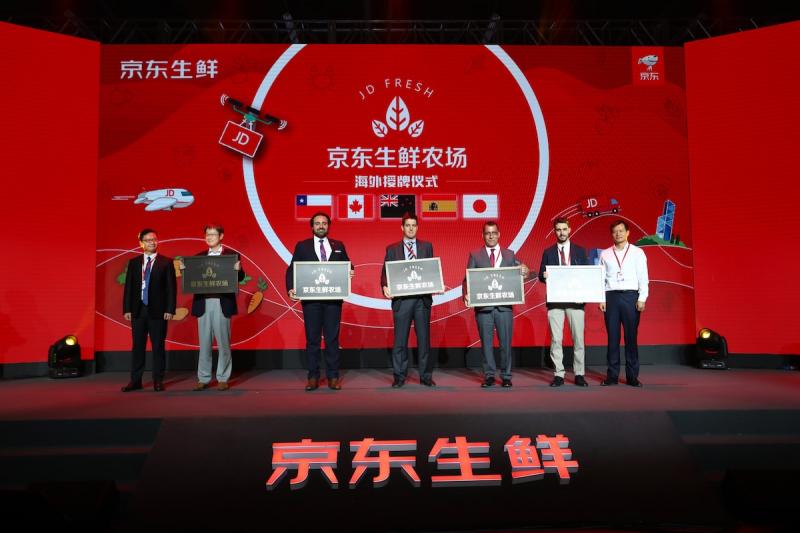 The establishment of farms in five overseas markets, including Chile, Canada, New Zealand, Spain, and Japan, marks the first series of international farms managed within JD's supply chain.
During the signing ceremony, the launch of domestic farms in 4 provinces and 6 cities was also announced. This shows that JD Fresh has oriented itself to integrate, standardize and innovate farms within its global supply chain. From cultivation to delivery, strict standards espoused by JD Fresh Cultivation will be implemented throughout all nodes of the international supply chain. As a result, JD Fresh farms will follow standardized procedures to grow foods and control product freshness for JD Fresh users.  
In addition to partnerships with city-level and provincial governments, JD Fresh announced cooperation with scientific research institutions including the College of Economics and Management, China Agricultural University; College of Food Science & Nutritional Engineering; and China Agricultural University MBA Education Center.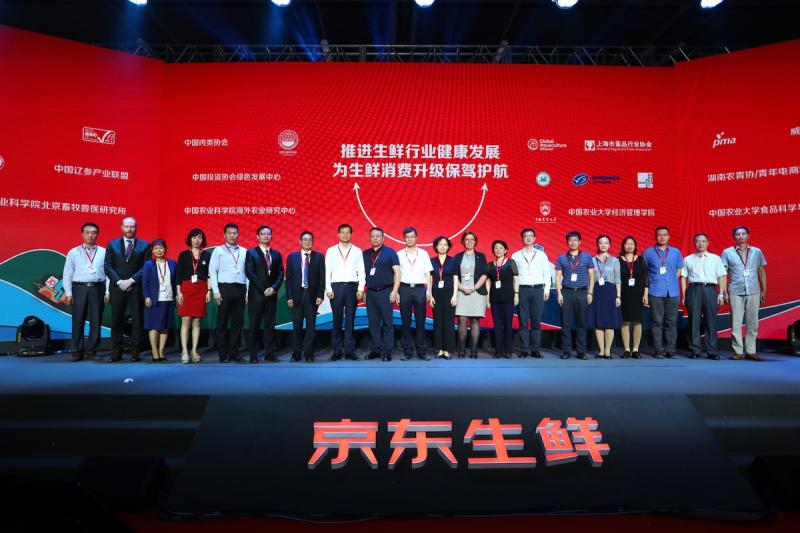 The grading standard for JD Fresh apples and cherries and other products was debuted at the event as well, which touched upon product classification and packaging specifications. This is JD Fresh's first announcement of the use of quantifiable, standardized indicators for product assessment. What's more is that JD Fresh's packaging standards are the largest, unified innovation within JD Fresh's leading industries.
JD Fresh's general manager of the fresh food department, Li Shaofeng, generously spoke with Produce Report after the conference. According to Li Shaofeng, JD Fresh will further standardize the management of the entire fruit industry supply chain as to ensure the freshness, healthiness, and safety of fruit products. At the leading end of the supply chain, JD Fresh will strengthen cooperation with original production site suppliers as well as actively invigorate them.
Distinguished guests in attendance at JD Fresh's strategic press conference included Chilean Ambassador to China Jorge Heine, Consul at Canadian Consulate General Lee Kane , Trade Commissioner at New Zealand Trade and Enterprise Liam Corkery, Spanish Embassy Trade Officer Diego Uriel Gálvez, and Chief Representative of the Japanese Agricultural Union Yonesaka Tatsunori. Overseas governmental institutions present at the event included the Norway Marine Bureau, Produce Marketing Association (PMA), GLOBALG.A.P., Global Aquaculture Alliance (GAA), Marine Stewardship Council (MSC), and Aquaculture Stewardship Council (ASC). Over 80 more Chinese experts and over 100 partner brands were present at the conference.  
Featured Produce
Produce Marketplace
Elangeni Food Group

·

South Africa

Universal Capital Gr

·

Ecuador

AGRI GATEX LIMITED

·

Africa
Joshua Lim

·

Malaysia

City fresh fruit co.

·

Thailand

Chun lin orchard-Sel

·

Taiwan nan
China Market Access List