You are here
Back to top
Italy Grows with CSO Italy and the Project FRESHNESS FROM EUROPE
September 25, 2017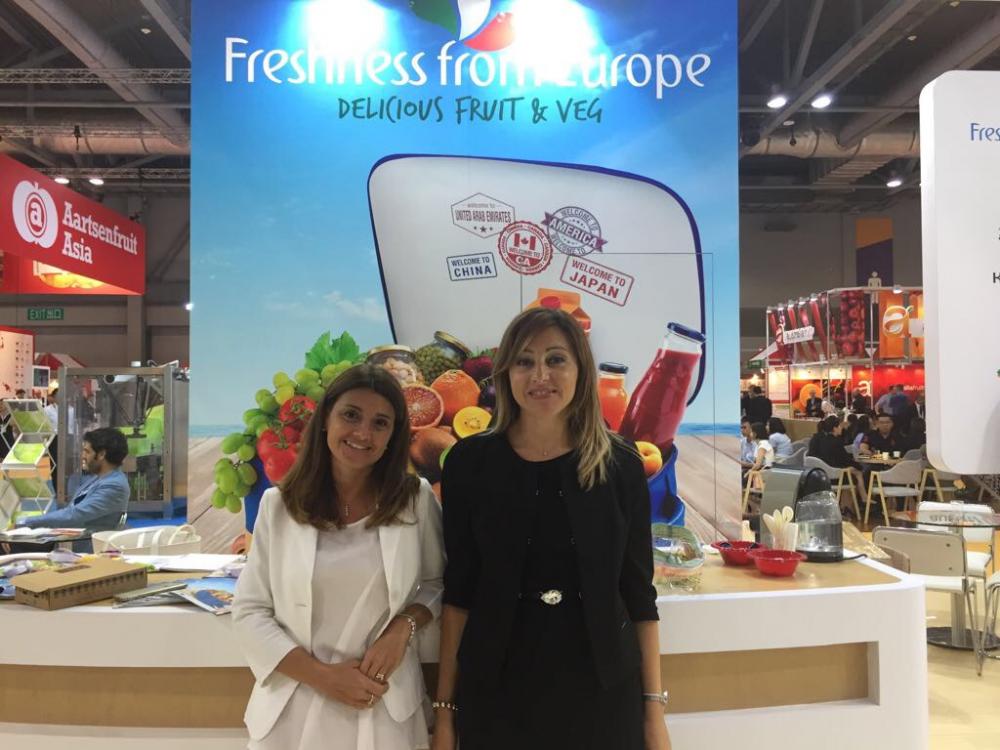 CSO Italy appears at Asia Fruit Logistica with great visibility thanks to an exhibition area of 237 sq. meters and the presence of top players of Italian fruit and vegetable brands.
Fifteen companies took part, with an area dedicated to the European Project Freshness from Europe, (Alegra, Apofruit, Compagnia Italiana della Frutta, Kingfruit, Mazzoni, Oranfrizer, Origine Group, Salvi, Spreafico), to promote the values of Italian fruit and vegetables in China, Arab Emirates, North America and Japan, and others in the area Italy the Beauty of Quality, which hosts the partners not taking part to the project (Civ, Conor, Fru-Italy, Gullino, Infia, RK Growers).
Italy is there and makes its presence clear in this edition of Asia Fruit Logistica, also confirming the increasing interest of exports to overseas markets, particularly in kiwifruit. According to CSO Italy's statistics, the exports of kiwifruit have now reached 46,000 tons in 2016, 11,000 of which to China, which is the main Asian importer of Italian kiwifruit, 7,500 tons to Saudi Arabia, 6,500 tons to Taiwan and 6,500 tons to the Arab Emirates.
In the first five months of 2017, the exports to Asia reached 18,000 tons, 2,000 of which to China, 3,000 to Saudi Arabia, 2,700 to India and around 2,200 to the Arab Emirates.
As for the other fruit products exported in Asia, eating grapes are performing well, with a total of 9,500 tons exported mostly to the Emirates, Saudi Arabia and Jordan.
Finally, plums are the third Italian fruit product most exported in Asia, with 6,800 tons in three main importing countries: Emirates, Saudi Arabia and Jordan.
For oranges, it's hard to evaluate the impact of the recent opening to the Chinese market with the data currently available, but there's a good potential for growth.
Simona Rubbi, in charge of the opening of new markets, and Bianca Bonifacio, in charge of CSO Italy's Exhibitions and Internationalization, confirm a good flow of operators and a great impact of CSO Italy's stands, which are definitely the most representative of Italian fruit and vegetables. The Asian trade is showing great interest in all main Italian products, starting from kiwifruit, obviously, but also in pears, apples, grapes, and oranges, and this confirms the need to keep on working to open the Chinese market and the other Asian markets to Italian produce."
Image source: CSO Italy 
Featured Produce
Produce Marketplace
Elangeni Food Group

·

South Africa

Universal Capital Gr

·

Ecuador

AGRI GATEX LIMITED

·

Africa
Joshua Lim

·

Malaysia

City fresh fruit co.

·

Thailand

Chun lin orchard-Sel

·

Taiwan nan
China Market Access List