You are here
Back to top
Hainan Tiandiren: China's Banana Industry Needs Updated
September 29, 2017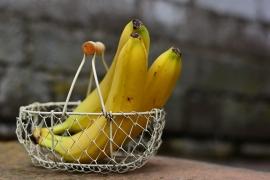 On September 1, Vice President Zhao Jun of Hainan Tiandiren Ecological Agriculture Co., Ltd. gave a presentation at the International Fruit Conference 2017. He reflected on the history of banana production in Hainan, Guangxi, and Yunnan provinces. And through analyzing market quotations, Vice President Zhao Jun remains optimistic about the development of China's banana industry.
During the latter speech, Mr. Zhao reviewed the current situation of China's banana growing areas—of which Guangdong Province was once the largest with a cultivation area that exceeded 15 million hectares. However, the area of Guangdong's growing area has been reduced by half due to the Panama disease. Considering the extreme weather conditions in this area, harvest amounts are nearly impossible to evaluate. Currently, Guangdong is promoting "Banana 9", the only Panama disease resistant banana variety. Still, market performance for this variety awaits evaluation.
Moreover, Guangxi and Yunnan are also large banana producing provinces in China. And like Guangdong, these provinces have been affected by Panama disease—which has caused rapid contraction of banana cultivation area.
In 2008, Hainan banana cultivation area peaked at 800 thousand hectares. This number has declined since, however. Regardless, many growers from Laos—and other domestic banana growing regions—have returned to Hainan. Although utilizing new land for banana cultivation is limited, Hainan banana production has once again begun to grow.
Mr. Zhao believes banana production developed poorly in China—that apart from the Panama disease and unstandardized planting, the main reason is due to low barriers to entry. Irrespective of banana quality, most will be able to sell. Low-quality bananas have low prices while high-quality bananas are priced higher. The market is not like this in Ecuador and Philippians where poor quality bananas are completely scrapped. China's market is large so the number of individual buyers is enormous. This has influenced banana growers to become unconcerned about the quality of their product and production process.
Additionally, the deteriorating characteristics of bananas have also contributed to the market downturn. The three main indices for banana quality are fragrance, sweetness, and softness. In this industry, it would be valuable emulate Dole Food Company, an American agricultural multinational corporation. In order to launch products in Japan, Dole developed extra sweet bananas in areas of the Philippians with an elevation of 700 meters above sea level. Historically, good bananas have all exhibit the characteristics mentioned above.
Still, Mr. Zhao mentioned that Chinese bananas have a few qualities worth noting. First, Laos and Myanmar banana quality have improved significantly—for which these two regions often come up in the discussion about domestic production in China. Second, Hainan, Guangxi, and Yunnan no longer utilize destructive growing techniques. Instead, they have adopted sustainable, geographic planting methods. Third, many producing regions are formulating disease resistant vaccines that will surely alter the management of banana growing in the future.
China has yet to produce its first specialized banana production and marketing company. Mr. Zhao believes the banana industry needs to modify its packaging, logistics, sales channels, and acquisition methods in order to change. Due to land restrictions and other factors, total banana cultivation area is decreasing—with little prospect to increase in the future. As a result, focusing on improving banana quality will be the next step for China's banana industry.
Upcoming Events

September 06, 2023

to

September 08, 2023
October 19, 2023

to

October 21, 2023
Featured Produce
Produce Marketplace
Elangeni Food Group

·

South Africa

Universal Capital Gr

·

Ecuador

AGRI GATEX LIMITED

·

Africa
Joshua Lim

·

Malaysia

City fresh fruit co.

·

Thailand

Chun lin orchard-Sel

·

Taiwan nan
China Market Access List