You are here
Back to top
Flavoured Nuts a Big Hit in China
November 17, 2016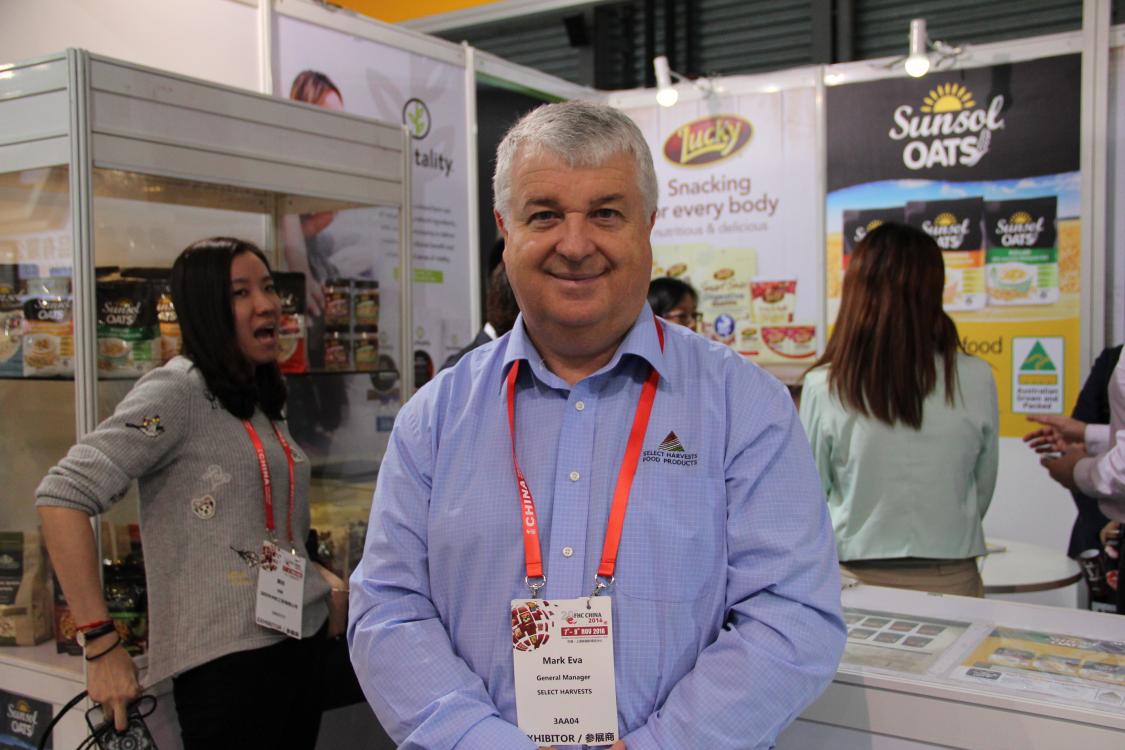 Select Harvests' sales and marketing general manager Mark Eva at the company's exhibition stand at FHC China 2016

Photo: Produce Report
One of Australia's largest almond and health food producers and exporters Select Harvests Ltd. exhibited its products at China's Global Food & Hospitality Expo 2016, held in Shanghai from November 7-9 this year. In conversation with Produce Report, the company's sales and marketing General manager - Consumer Mark Eva described the current status of Select Harvests' business in China, competitive advantages of Australian almond exports to China, and recent developments in nut flavour preferences among Chinese consumers.
Produce Report: How brisk is Select Harvests' business in China at the moment?
Mark Eva: We are still in the very early days of selling our products in China. We currently do experience excellent business in Australia, Singapore, Hong Kong, and Thailand, but over the last year, our trade with interest to import our products into China has increased dramatically and we have received many enquiries from Chinese businesses. Chinese distributors, retailers, and e-commerce platforms are increasingly looking to sell natural and healthy foods and they know that our nuts, dried fruits, and cereals come from a country with high quality and safety standards. Moreover, they are enticed by the many retail brands we manage, such as 'Lucky,' 'Sunsol,' 'Soland,' and the recently-launched 'NuVitality.'
Produce Report: What are the competitive advantages of Australia's nut and dried fruit exports to China compared with those from other countries? Do you conduct any special promotional campaigns to further support your products?
Mark Eva: As I already mentioned, Australia has very demanding product standards across the board, from strict manufacturing standards to high standards in quality assurance. This is what usually sets countries like Australia apart from competition from other, less experienced countries in China's vast import market. We will also develop marketing campaigns in cooperation with our Chinese partners in order to create effective advertising that is relatable and connects with domestic consumers.
Produce Report: Select Harvests is Australia's leader in almond production. How is the competition between Australian and Californian almonds in China?
Mark Eva: First of all, the growing season in Australia is counter-seasonal to that in America: the American harvest usually runs from August to October, with Australia's lasting between February and May. Secondly, the free trade agreement currently in place between Australia and China will steadily reduce duties on imported almonds over the next three years, causing Australian almonds to be even more competitively priced. Finally, Australia is geographically closer to China than America is, so this cuts down on shipping and distribution costs. So the strong points of our almond exports to China over Californian ones can be summed up as counter-seasonality, greater affordability, and shorter travel distance.
Produce Report: What are some recent trends in nut consumption in China? Are consumers buying more in-shell nuts or kernels? Raw or roasted? Plain, with salt, or other flavours added?
Mark Eva: Chinese consumers prefer their nuts crunchy, so roasted nuts are better sellers than raw. We have also begun to witness marked growth in the popularity of flavoured nuts, not only in China but all over the world. The Select Harvests brand Lucky, for example, sells flavoured nuts such as "Honey Soy Almonds," spicy "Peri Peri Cashews," and "Thai Sweet Chilli & Lime Cashews." We specifically chose and developed these flavours and we believe that they can take nut flavouring to the next level and may be of interest to Chinese consumers.
Produce Report: At your exhibition stand, I saw nuts displayed also as ingredients. Are these used only for home cooking, or there are some companies, such as pastry or chocolate brands, which use your nuts in mass production?
Mark Eva: Yes, we do sell our nuts for this purpose in home baking and cooking and also to such companies as an ingredient in commercial baking or as an ingredient into other foods. I cannot share their names, as they are confidential, but many of these brands are very well known. Among them there are famous international ice-cream brands, which are present in China, and very well-known brands of nut snacks, which are sold across Asia.
Produce Report: You mentioned that nuts in Australia start their harvesting season in February. What can we expect from the upcoming crop?
Mark Eva: The 2017 crop is forming well on the trees and everything looks good so far, so we are optimistic that this will be a fine crop.
Upcoming Events
October 19, 2023

to

October 21, 2023
Produce Marketplace
Elangeni Food Group

·

South Africa

Universal Capital Gr

·

Ecuador

AGRI GATEX LIMITED

·

Africa
Joshua Lim

·

Malaysia

City fresh fruit co.

·

Thailand

Chun lin orchard-Sel

·

Taiwan nan
China Market Access List