You are here
Back to top
First Shipment of American Cherries Lands in Shanghai
May 03, 2017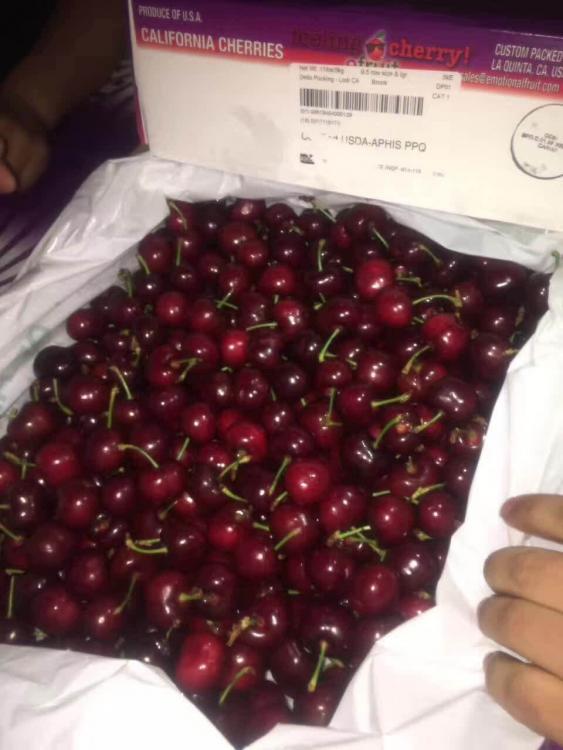 The last day of April marked the arrival of this year's first shipment of American cherries from California in Huizhan Wholesale Fruit Market in Shanghai, which is the major distribution point for imported fruit entering Shanghai. Alan Wu, Deputy General Manager of Shanghai Ivcsun Industrial Development Co, told Produce Report that the cherries had been imported through air freight by Walker Grow-Rite International Co, a major fruit importer/exporter in Taiwan and marketed by his company.
The first shipment included 90 boxes of Brooks cherries, 5kg per box, with 9.5 Row as the main specification. The cherries had been completely sold out within just half a day of their arrival, with a price exceeding 145 dollars for each box. It was also reported that more arrivals are expected within a few days.
Main producing areas for both American and Chinese cherries are by and large in the same latitude in the Northern Hemisphere, resulting in the two nations' cherries coming into the market at almost the same time. Facing fierce competition from China's native cherries, California cherries, on arrival, are not in as high demand as those from the Southern Hemisphere which are in season at a more favorable time of year when cherries are out of season in China.
Mr. Wu explained that China's domestic cherries and American cherries each have their own characteristics and advantages. For example, China's native ones are bigger on average, showing better visuals while American ones are crispier and rich in flavor, winning out in terms of taste. Furthermore, China's greenhouse cherries are almost second to none globally in planting scale, cultivating technology and product quality. Native cherries cultivated in orchards have also achieved noticeable improvements in sweetness, firmness and color even though they are still slightly behind imported cherries from America, Chile and New Zealand in postharvest handling, precooling, screening, packing and transportation.
Shanghai Ivcsun Industrial Development Co is a Shanghai-based sales agent which specializes in imported and domestic high-end fruit with its strengths in both supplies and distribution channels.
Image sources: Shanghai Ivcsun Industrial Development Co
Upcoming Events

September 23, 2019

to

September 27, 2019

September 26, 2019

to

September 28, 2019

October 17, 2019

to

October 19, 2019
Featured Produce
Produce Marketplace
Tien Thinh Agricultu

·

Vietnam

Tien Thinh Agricultu

·

Vietnam

Tien Thinh Agricultu

·

Vietnam
China Market Access List