You are here
Back to top
EU's New MRL Requirements Caught Chinese Exporters in Surprise
December 08, 2016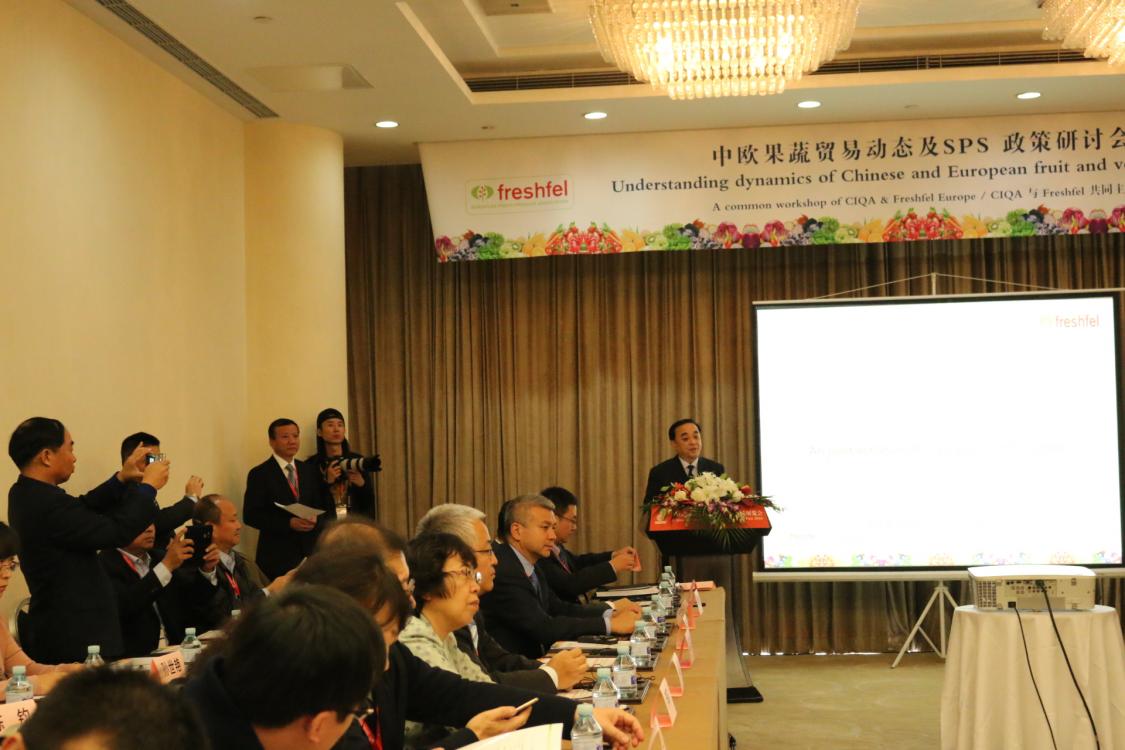 EU has again introduced more stringent requirements for MRL of agricultural chemicals
The EU is regarded internationally as having the most demanding policies for environmental and health related issues. During the course of 2106, the EU has again introduced more stringent requirements for MRL (maximum residue limit) of farm chemicals for fruits. Just two years ago, the EU tightened the MRL for six items listed under EU regulation (EC) No396/2005, including 1,3-Dichloropropylene, Bifenox, and Dimethenamid-p etc. The new requirements this year seriously affected China's exports of tangerines, pomelos and pears. During the recent China Fruit and Vegetable Fair in Beijing, the China Entry & Exit Inspection and Quarantine Association organized a special seminar with Eurofresh to cover this topic.
Chinese representatives from Fujian and Hebei provinces discussed the issues that they have faced in 2016. On receiving the EU notice in July, this season's honey pomelos suddenly became un-shippable to Europe. Tangerine and pear exporters experienced similar problems. Because the EU did not allow any grace period for implementing the new standards, Chinese exporters and growers have generally suffered major setbacks this year. Chinese growers would need at least a year to adjust their growing methods to meet the new EU requirements. Chinese representatives pointed out some issues of uncertainty and inconsistencies about the new EU policies. The new MRL standards were estimated to be as much as 70% more stringent than those used by supermarkets in various European countries.
In the past, the most stringent EU standard for MRL of agricultural chemicals stood at 0.01-0.05mg/kg. Mr. Bian Qing-gang, general manager of Hebei Tianbo Industry & Trade Company, a major exporter of pears with headquarters in Hebei province, said that, in January, EU adopted a new MRL of 0.01mg/kg for Chlorpyrifos. This meant the bar was raised by 50 times in one go (from 0.5mg/kg). The result caused Tianbo's export of pears to Europe to drop by 90% in volume. EU's agricultural chemicals MRL have become one of the most important factors limiting Chinese agricultural products' exports.
In response to the questions from the Chinese side, EU representatives explained that the new regulations were based on food safety considerations and would apply to all local European and imported fruits, not just those from China.
This kind of open discussion gave Chinese companies the opportunity to clearly see the gap between them and the advanced countries in the area of agricultural technology. Chinese companies may follow the latter's pest control methods, using biotechnology and physics while reducing the reliance on agricultural chemicals. On the other hand, it is necessary to have timely and appropriate responses to the new regulations of the importing countries.
As the world's second largest economy, China's agricultural food export as a proportion of all exports is relatively small and registers trade deficits year after year. Between 2007 and 2013, China's trade deficit in the agricultural food sector widened from USD4.37 billion to USD51.0 billion. The slow growth in agricultural food export and the worsening trade deficit indicate that Chinese agricultural products lack competitiveness in the global market. MRL has been a major stumbling block for exporting to the EU markets. To overcome this, Chinese companies must invest in upgrading production technology and management, while stepping up inspection to ensure that the products would meet EU standards. Realizing the importance of food safety and developing a long-term plan are critical to future success.
Photo source:Produce Report
Upcoming Events
October 19, 2023

to

October 21, 2023
Produce Marketplace
Elangeni Food Group

·

South Africa

Universal Capital Gr

·

Ecuador

AGRI GATEX LIMITED

·

Africa
Joshua Lim

·

Malaysia

City fresh fruit co.

·

Thailand

Chun lin orchard-Sel

·

Taiwan nan
China Market Access List