You are here
Back to top
Ecuadorian Rose Exports to China Double
May 14, 2015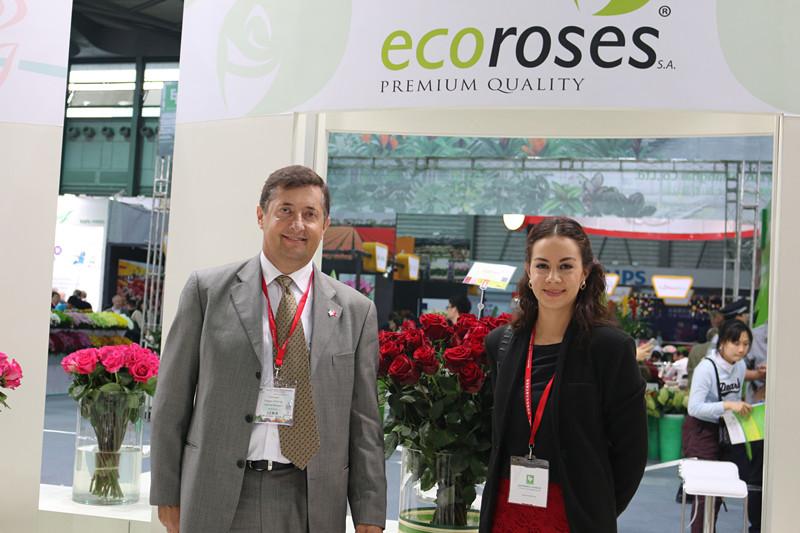 Ecuador is a big name in production of roses. To get a full knowledge of the world known plant, Produce Report recently interviewed Esteban Chiriboga, vice president of EXPOFLORES, the Association of Producers and Exporters of Flowers of Ecuador, also, general manager of his private company Ecoroses S.A.. 
Unparalleled quality
"Because roses grow best in Ecuador, it is the one product we can really compete and excel against competition," Chiriboga said.
75 per cent of Ecuadorian flower crops are roses. Ecuadorian roses are grown at between 2800 to 3200 meters above the sea level in the high lands, most of them at about an hour's drive from the Capital city of Quito in the Cayambe, Cotopaxi and Machachi valleys.
High altitude, rich volcanic soil and constant 12 daily hours of equatorial sunshine (that's what Ecuador is named after) help make the flower heads quite big, allow for the stems to grow thicker and longer and also give brighter colors to the different rose varieties.
Since weather conditions do not change much throughout the year, flower production in Ecuador runs all year around, and "roses are available every day, 365 days a year."
"The quality of our roses is the best in the world", Estefania Riofrio with Greenrose said, "Our roses are displayed as decorations at the White House and the Kremlin, among many other important places."
In Ecuador´s flower production, quality is a priority, therefore high technology is applied to every area of production from plant management to fertilization, grading and packaging to quality service, Chiriboga explained.
Carnations and chrysanthemums are also grown in Ecuador, but Colombians are more competitive in the production of these two species, on the other hand Ecuador is big and will continue to be big for a long time in the production of gypsophylla and other summer flowers, Chiriboga said.   
"Every grower itself can be an exporter"
In many other countries, there are many growers who sell their products to a few larger growers, packers or exporters, who in turn are the exporters to the different consumption markets, "that is exactly the structure of the banana industry in Ecuador, for example."
Ecuador has thousands and thousands of banana producers, they have to sell to one of the few exporters and the exporters control the prices, setting minimum prices for bananas and their growers. "In flowers, we don't have that, we are able to really compete among each other," Chiriboga said.
Each flower farm in Ecuador grows just about the same set of varieties, targeting about the same customers abroad; they are competing based on quality, service and price. "So each company is very integrated, you are a grower and also an exporter, and that is the case of 90 percent of Ecuadorian flower growers, with 80 percent of the growing area," he explained.
Rose sales and distribution channels on China market
There are Chinese companies that already import Ecuadorian flowers every week.  As a demonstration of their interest in the Chinese market, Chiriboga presented a magazine of Flor Ecuador issued by the Association Expoflores. An edition containing information about China as potential market for Ecuadorian roses written in Spanish, Chinese and English.  Figures in the magazine show an increase of 232% in the volumes exported from 2011-2014, which is an impressive number, however, "it doesn't mean much in terms of money or total volumes exported. What is important is that the numbers are increasing and we hope to do a lot more in the future. Many Ecuadorian companies have doubled their sales in China from last year to this year." 
'Cold chain' is assured across the entire process from the farm until delivery to the Quito airport and onwards to the airlines, this is critical to maintain the quality and guarantee the performance of the product at its final destination. "We feel a higher demand from the Chinese market for Valentine's Day, Mother's Day, and almost every major flower holiday; clients are asking for different colors and new varieties," Chiriboga said.
At present the biggest markets for Ecuadorian roses are of Beijing, Shanghai and Guangzhou. Buyers and consumers can find them in some of the smaller Chinese cities as well.
Chinese importers are responsible for arranging the logistics to bring Ecuadorian roses into China, which in fact is a really simple process that takes very little time.  There are several airlines offering cargo space from Quito to Amsterdam or Luxemburg and then on to the different Chinese destinations; product arrives within 2 days. 
Many Chinese companies specializing in Ecuadorian roses have very good promotion techniques and strategies, "Chinese people are eager to buy everything online, so we have a few Beijing and Shanghai companies which are really good at online trading".
Asked about competition from Chinese rose growers, Chiriboga said, "but they produce a very different product". They are not direct competition to our product, so there is room for our product as well as for the Chinese product."
Chiriboga said that "It's like what we are doing with the European market; we are competing against African flowers. Both are good quality but different product. One is shorter stem, smaller head size, and the other is longer and bigger; we have to compete eventually."
"You can find a lot of the same varieties grown in Africa, in Kenya and Ethiopia, as well as in South America, in Colombia, Ecuador and also in Holland, however, they are different product each."
Airlifting & High tariff
There is an airline company, China Eastern, is talking about starting a direct flight from Ecuador to China. They are already flying cherries directly from Chile and want to include Ecuadorian roses.  They have already done some trials earlier this year during the Valentine's Day. 
"On the down side, we face a big barrier bringing our roses into China, we have to pay, or the importer has to pay tax (tariff) of 23 percent on the price of the roses, which is extremely high, is the highest tariff we pay anywhere in the world for our roses", Chiriboga said.
"With the United States we pay 6.8 percent of tax, with Canada 12 percent, with Russia, close to 18 percent, here our roses have to pay 23 percent", Chiriboga cited, "That also takes a lot of competitiveness out of our product".  
"So that's something our government could do, negotiate with the Chinese government and find a way to bring tariffs down for Ecuadorian products. We could have much more business between the two countries." suggested Chiriboga. "Ecuador imports a lot from China, I am pretty sure those issues could be approached".
Ecoroses S.A., Chiriboga's own company, has been selling roses to China since last September, "not a big quantity but it's a good beginning". They export about 16 million stems of roses every year, reaching about 7.5 million dollars in exports. About 45 percent of the total production goes to the American market, about 20 percent to Western Europe, about 25 percent to Russia, and they also ship to South America, to Japan, and other countries, including China now.
Featured Produce
Produce Marketplace
Elangeni Food Group

·

South Africa

Universal Capital Gr

·

Ecuador

AGRI GATEX LIMITED

·

Africa
Joshua Lim

·

Malaysia

City fresh fruit co.

·

Thailand

Chun lin orchard-Sel

·

Taiwan nan
China Market Access List