You are here
Back to top
China-Russia Refrigerated Train Goes on Tracks
September 20, 2016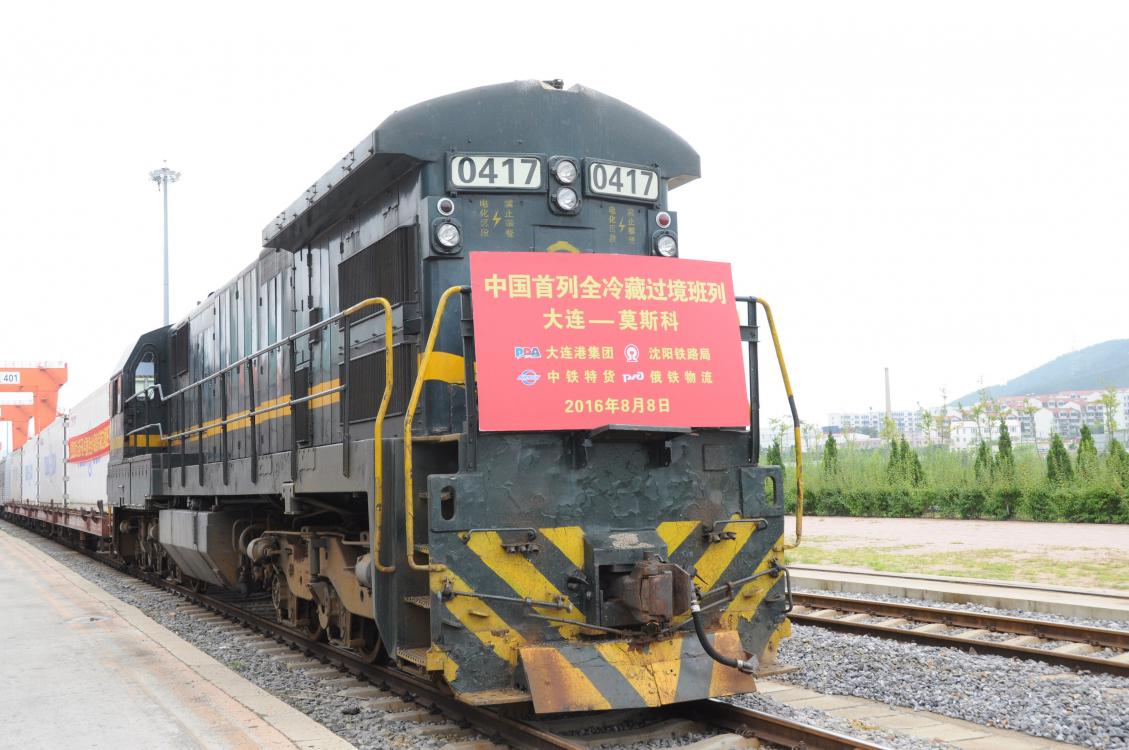 A newly launched refrigerated-container train from Dalian to Moscow passed its run test last month. Its successful performance marked the opening of a new transport link between the two countries.
The new refrigerated-freight line is 8,600 km long, taking trains about 12 days to cover this distance. The trial train travelled 16 days, however when all the technical processes are developed, delivery time can be optimised at 12 days, which is on average three times faster than sea transport. Nowadays, mainly shipping and road trucking are used for food transportation between China and Russia, whose disadvantages are evident: the first one — using the same refrigerated containers — needs at least 45 days to deliver goods, the second one is not immune to poor road conditions, queues at the borders, etc. which create a risk of food spoilage.
The train from Dalian to Moscow consisted of six 40-foot containers loaded with fruit and vegetables, including pears from Hebei, pomelos from Guangdong and garlic from Shandong. When the service reaches its full working capacity, regular weekly shipments consisting of up to 4 refrigerated trains with eight 40-foot containers will be possible. In addition to fruit and vegetables, this service will be able to transport other products, including frozen and chilled ones.
Since letting the train go back to China empty is considered as an untapped opportunity in Russia, the Russian Export Centre started brainstorming about the goods to be loaded on. Nowadays, mostly food products which do not require cold storage during transportation are exported to China, such as wheat flour, cereals, sunflower oil, powdered milk, confectionaries, chocolate, honey and alcohol. The results of China's market research, conducted by the Russian Export Centre, demonstrated that the product which can contribute to the Russian export to China — and is exactly the one which requires cold chain transportation — is meat. Meat consumption in China is soaring year by year, as forecast by COFCO (China National Cereals, Oils and Foodstuffs Corporation), it will reach 107 million tonnes by 2020, with a growth of 35% over the last ten years.  Every year China imports meat products worth 10 billion US dollars from different countries. However, Russia has a difficult time getting a piece of this pie. Only recently, on July 1 this year, China lifted the restrictions on supplies of poultry from Russia, Russia's pork and beef are still banned in China. The examination of Russia's internal veterinarian control system and authorisation of its poultry producers for export will be started by Chinese experts soon. In the meantime, Russia continues to work on improving the quality of its pork and beef products, so that they can meet China's food safety standards. Russia pins great hopes on the refrigerated train bringing all kinds of its meats back to China.
Featured Produce
Produce Marketplace
Elangeni Food Group

·

South Africa

Universal Capital Gr

·

Ecuador

AGRI GATEX LIMITED

·

Africa
Joshua Lim

·

Malaysia

City fresh fruit co.

·

Thailand

Chun lin orchard-Sel

·

Taiwan nan
China Market Access List