You are here
Back to top
China's newest breed of potato produces impressive results
October 24, 2016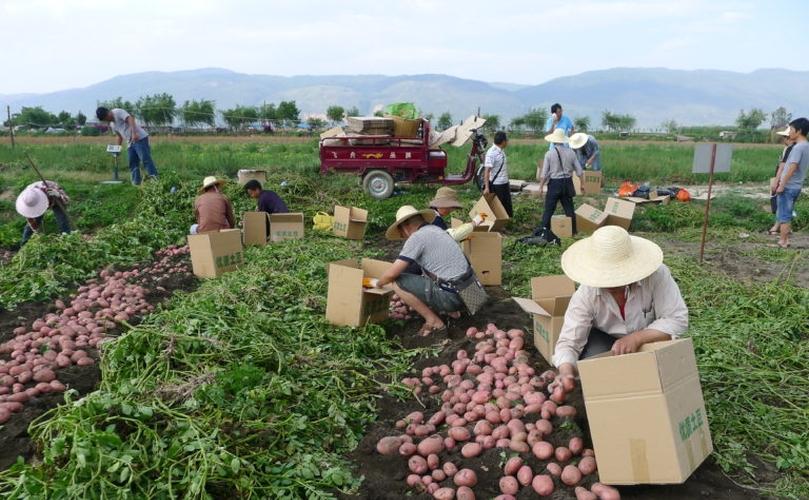 Farmers harvest Qingshu 9 potato in China

Photo: PotatoPRO
Although China's new variety of potato, the Qingshu 9, was unveiled only just in 2011, it has already had an noticeable effect on the country's potato production. In 2015, Qingshu 9 potato crops totaled 4.5 million tons and accounted for more than 5% of China's total potato production. This figure is expected to continue to grow as greater production acreage is allotted to Qingshu 9 potato crops in order to foster cultivation of this high yield potato. According to the International Potato Center (CIP), the average yield of the Qingshu 9 potato is 30 tons per hectare, which is one and a half times greater than the yield for the average potato in China. In 2015, more than 150,000 hectares in China were allocated to Qingshu 9, with this figure expected to grow as various private companies start producing and selling Qingshu 9 potato seeds to farmers.
Qingshu 9 joins other high yield varieties of potato currently being cultivated in China, such as Qingshu 168, Xiazhai 65, Cooperation 88, and others. Qinghai province produces the largest amount of Qingshu 9 potato seeds and is considered the 'birthplace' of the potato, as the Qinghai Academy of Agriculture and Forestry Sciences developed the variety and obtained its patent rights this April. The province is known for its high quality seed production, but production is not solely limited to Qinghai. The CIP stated that Qingshu 9 potatoes were grown in thirteen major potato-producing provinces in China last year, largely in China's northwestern and southwestern provinces, such as Qinghai, Ningxia, and Gansu. Acreage of both potato seeds and table potatoes has increased over the past couple years and is expected to continue to expand due to recent policy announcements by China's Agricultural Ministry on the development of the national potato industry. Overall, the acreage of potato planting in China now surpasses 5.5 million hectares and is estimated to reach 6.7 million hectares by 2020.
The USDA forecasts China's potato production to increase 3% to 100 million tons for the 2016/2017 growing season, a result of the expansion of potato farming acreage and good expected weather conditions. Additionally, the introduction of high yield potato cultivars has had a positive impact on productivity and these 'potatoes of the future' look to guarantee increased productivity and output in the near future due to their unique qualities and characteristics. New breeds, such as the Qingshu 9, can adapt and thrive in different growing climates, are more resistant to viruses and disease, and require less water to grow, as they possess a greater tolerance for drought-like conditions.
In addition to its fresh varieties, Qingshu 9 possesses all the qualities needed in the production of high quality French fries, and therefore can be used to cater to markets and consumers of both fresh and frozen potatoes. As domestic and export demand for French fries continues to grow, significant amounts of Qingshu 9 potatoes are expected to be utilized in French fry production. This factor will contribute to the expected 12% growth in China's frozen French fry exports this year, powered largely by exports to Japan, who import 70% of China's frozen French fry exports. Qingshu 9 will also play a role in China's 5% growth in fresh potato exports to markets such as Malaysia, Vietnam, and Russia this year; these three markets account for over 65% of China's fresh potato exports. As mentioned by Wang Jian, the Assistant Dean of the Qinghai Academy of Agriculture and Forestry Sciences, it is important to promote these new potato strains and varieties "out of the province and out of the country." However, it is important to keep in mind that only 5% and 0.4% of China's total French fry and fresh potato production are exported to overseas markets, respectively. The vast majority of Qingshu 9 potatoes and potatoes grown in China in general will be consumed domestically.
Creating and adapting new varieties of potato is a long process. It may take years before China finally sees big harvests and large sale production of Qingshu 9 potatoes. What can be clearly witnessed now though is that this newly developed variety of potato is becoming an important player in China's steadily growing potato market.
Featured Produce
Produce Marketplace
Elangeni Food Group

·

South Africa

Universal Capital Gr

·

Ecuador

AGRI GATEX LIMITED

·

Africa
Joshua Lim

·

Malaysia

City fresh fruit co.

·

Thailand

Chun lin orchard-Sel

·

Taiwan nan
China Market Access List