You are here
Back to top
Chilean Cherries Festival Held in Shanghai: Pagoda joins the marketing campaign
January 05, 2017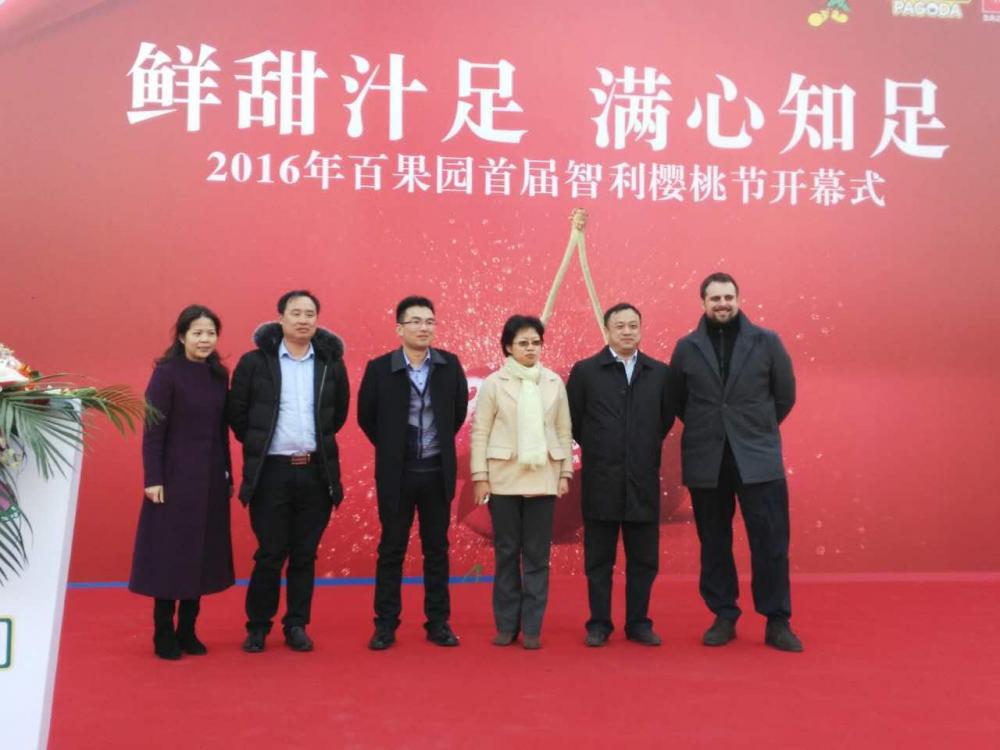 On 30th Dec 2016, the 1st Chilean Cherries Festival was held jointly in Shanghai by Chilean Cherry Committee and Pagoda-the largest independent fresh produce chain in the world. The event with the themes of "sweet and juicy" and "worth every bite" was to promote Chilean cherries and enhance Chinese consumers' knowledge of the fruit. After a performance of the Cueca, the Chilean national dance, guests were then presented the delicious Chilean cherries which were then shared with the consumers.
Mr. Zhu Qidong, General Manager of Commodity Center, Pagoda, announced at the event that Pagoda is committed to introducing the world's leading fruit resources while continuing to search for the best fruits globally. Chilean cherries brought to Chinese consumers by Pagoda are some of the best cherries in the world.
Produce Report was very fortunate to have the chance to interview Mr. Zhu on the scene. Mr. Zhu told our reporter Pagoda had attached great importance in the procurement of Chilean cherries. In addition to Mr. Zhu's in person visit to Chile for investigation and negotiation, Pagoda's purchasers were based in Chile for two months to ensure the quality of the cherries that were destined for China.
Being invited to express Pagoda's purchasing standard for cherries, Mr. Zhu had no hesitation in saying "quality goes first." He said such features were required by Pagoda like the sugar content must be above 16%, a good fruit shape with blemished areas amounting to less than 8%, a crimson color with a fresh green stem. When answering the question why Chilean cherries impressed Pagoda so much, he summarized it into four key factors: first of all, a huge output of Chilean cherries every year results in an adequate supply. Secondly, various specifications can meet a variety of needs. Regarding price, Chilean cherries are much more competitive than cherries from America and New Zealand.
Last but not the least, Chilean cherries come into the Chinese market from October to February, a period which hardly sees any competition from China's native cherries and imported American cherries while also tying in with the Chinese New Year festival, a peak season for fresh fruit sales. It was reported that Pagoda sold 90 containers of Chilean cherries last year. Mr. Zhu made a cautious prediction that the sales volume of Chilean cherries could achieve a 33% increase when compared to the last year. He also mentioned that this year is the first time for Pagoda to do large-scale direct purchasing of Chilean cherries in the last three years which direct purchasing accounted for 33% of total purchases
Fruits from South America are favored by Chinese consumers due in large part to their high quality. Furthermore, when fruits are in season in South America the same fruits are out of season in China, another favorable factor for these fruits to secure a place in the highly competitive Chinese market. As one of the top fruit exporting countries in South America, Chile has paid ever-increasing attention in recent years to the Chinese market which is known for its unlimited potential. Exportadora Prize is a leading exporter in Chile's fruit industry and its exports of Chilean cherries to the Chinese market is the company's true ace in the hole. Produce Report also had the honor to interview Mr. Sebastian Garcia-General Manger of China, Prize, who also attended the event as an important guest.
Mr. Sebastian implied that in this production season, two things would be different from the past. First of all, the Chilean Cherry Committee has embarked on an unprecedented marketing campaign in China with an investment of several million dollars. The marketing activity is not just aimed at first-tier cities like Shanghai and Beijing but also at second-and-third-tier cities in China. Also, expedited ships from Chile to China further cut down on delivery time, 22 days to Hong Kong and 25 days to Shanghai, cut down by a full week. The shorten delivery time means fresher cherries and more time for distributors, wholesalers, carriers, and retailers to better prepare for the fresh fruit sales spike during the Chinese New Year when cherries become a popular holiday gift.
To fully tap the potential of the Chinese market, Prize has taken measures to further develop and serve Chinese consumers. The company intends to open an office in Shanghai which can draw the firm closer to consumers in China. At the end of the interview, Mr. Sebastian stressed again that Prize will always be committed to searching for better delivery methods to bring fresher and better quality Chilean cherries to Chinese consumers.
After the interviews, our reporter stepped into a Pagoda outlet nearby where Chilean cherries were on display in a prominent position in the store. The store manager told us the fruit was always in demand due to its sweetness and juiciness. Cherries are more expensive than most other fruits in China, but count as an affordable and worthy luxury for middle-and-upper class shoppers.
Chilean cherry exports reach a trade volume of 500 million dollars every year with China as the biggest importer. According to statistics from the Fruit Exporters Association of Chile (ASOEX), more than 80% of Chilean cherries produced last export season were sold to China. Mr. Sebastian predicts that the figure is very likely to reach 90% for this season.
Image source: MZMC
Upcoming Events

September 23, 2019

to

September 27, 2019

September 26, 2019

to

September 28, 2019

October 17, 2019

to

October 19, 2019
Featured Produce
Produce Marketplace
Tien Thinh Agricultu

·

Vietnam

Tien Thinh Agricultu

·

Vietnam

Tien Thinh Agricultu

·

Vietnam
China Market Access List