You are here
Back to top
Chilean Cherries, Blueberries and Avocados Showcased at FHC China 2017
November 19, 2017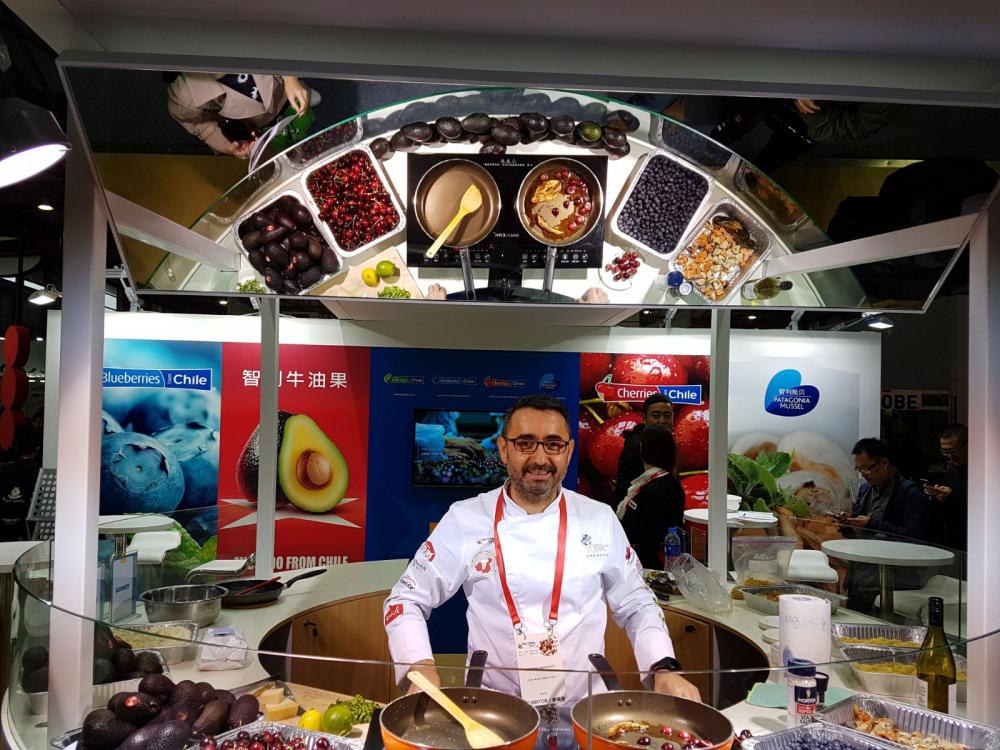 The Chilean Fruit Exporters Association (ASOEX) united with Chilean chef Ricardo Gonzalez to stage a special event showcasing the best in the country's cherries, blueberries and avocados during the Food and Hotel China (FHC China) 2017 trade exhibition, which took place in Shanghai from 14-16 November.
ASOEX Director of Marketing for Europe and Asia, Charif Christian Carvajal, explained that Chilean fresh fruits were being promoted during the event through cooking shows, product tastings and gastronomy competitions.
"This is the first time that our sector, via the Blueberry, Cherry and Avocado Committees, has developed a cross-sector promotion in collaboration with Patagonia Mussels, Wines of Chile and ProChile," said Carvajal. "Food and Hotel China is an important event focused on the HoReCa sector, that is to say hotels, restaurants and caterers in China, which allows us to showcase the versatility and quality of our fruits to professionals in this sector."
Carvajal continued: "We have developed several cookery shows under the leadership of Chilean chef Ricardo Gonzalez who has created a number of original recipes especially for the event, including duck salad with cherries, blueberry and feta cheese salad, mussels in green salsa and avocado salad. This year, chef Gonzalez is also participating in a culinary competition which has been held as part of the exhibition."
Carvajal added that Chile gained first place at the previous edition of FHC China thanks to originality and versatility of dishes created using Chilean avocados and blueberries. "By taking part in this fair, we are able to reach a captive audience in this sector such as importers and distributors, as well as young chefs, and are able to demonstrate that there is a world of possibilities when it comes to dishes that can be created using our fruits," he said.
According to Carvajal, FHC China has become a key platform for reaching an under-explored segment for fresh fruits in China in the form of hotels, restaurants and caterers, especially as regards Chinese restaurant chains, which have some of greatest penetration at a global level within the country.
ASOEX's participation at FHC China is part of a series of diverse initiatives that the Chilean fresh fruit sector is undertaking to consolidate both its position as the leading supplier of fruits to China, and to encourage greater consumption of Chilean produce and greater awards of its availability.
César Suárez, ProChile's Director in Shanghai, added: "This is an important event for promoting Chilean products and it is the second time we have helped the private sector to be present at the show. We hope to be able to add new Chilean foods and drinks for the 2018 edition."
As well as ASOEX's Charif Christian Carvajal and ProChile's César Suárez, the opening of the Chilean FHC China stand was attended by Chile's Consul General in China, Ignacio Concha, Juan Enrique Lazo, Director of the Chilean Hass Avocado Committee, and Felipe Arriso from Patagonia Mussels.
Image Source: ASOEX
Featured Produce
Produce Marketplace
Elangeni Food Group

·

South Africa

Universal Capital Gr

·

Ecuador

AGRI GATEX LIMITED

·

Africa
Joshua Lim

·

Malaysia

City fresh fruit co.

·

Thailand

Chun lin orchard-Sel

·

Taiwan nan
China Market Access List