You are here
Back to top
Chile Plans to Increase Exports as China's Avocado Demand Surges
May 09, 2016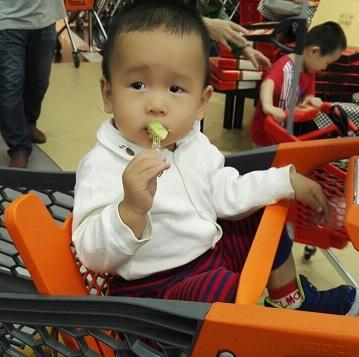 A Chinese baby eats a piece of avocado.
China's imports of avocados surged in the 2015–2016 avocado season, according to Juan Enrique Lazo, the General Manager of the Committee of Hass Avocado in Chile. This shows the potential of Chilean avocados in the Asian market.
Mr. Lazo explained that China imported 25,000 tons of avocados from Chile and Mexico in the 2015–2016 season, which ended in April 2016. From January to December 2015, China received 13,000 tons of avocados from Mexico and about 3,000 tons of avocados from Chile, a huge growth from previously.
"The average import volume of avocados by China was 150 tons annually in the past ten years, which was about seven containers. But the year of 2013 saw China's avocado import volume rising to 50 containers. In 2014, China imported 200 containers of avocados. And last year the total volume of imported avocados from Chile and Mexico reached 750 containers," said Mr. Lazo.
Chile's avocado season ended in April 2016. This season Chile exported a total of 5,241 tons of avocados to China, accounting for 92% of its exports to Asia. "The performance of the Chinese market is quite good. We see that there is still more space for growth. Before we only projected half of the export volume for this year, because we were worried about the reception of Chilean avocados in China. But the final result is very satisfying," added Mr. Lazo.
Mexico was the only country that exported avocados to China in the past. However, in 2015, Chinese consumers began to recognize the nutrition and taste of the fruit, resulting in the surge of avocado exports from Mexico. Before, if the annual export of avocados from Mexico to China was 1,000 tons, now the monthly export has already reached 1,000 tons. Last October alone, Mexico exported 2,500 tons of avocados to China. This huge increase in exports resulted in an excess of the fruit, which caused the price to drop. But, generally speaking, Chilean avocados were 30% more expensive than Mexican avocados.
"In the 2014–2015 season, we only exported one container of avocados to the Chinese mainland. The reason was that China only withdrew the quarantine of avocados from major Chilean regions after September 2015. Before, China did not allow avocados from the regions of Coquimbo, Valparaíso, and the Metropolitan to enter its market due to the outbreak of fruit flies in these areas. Another reason was that the Chinese market was still developing, and the committee did not want to risk too much," said Mr. Lazo. However, next season the industry plans to increase the export volume of avocados to China and compete with Mexico in this market.
In the 2015–2016 season up to April 2016, Chile exported 110,000 tons of avocados overseas and consumed 75,000 tons in its domestic market. Its total production of avocados was 185,000 tons. Europe is still the largest overseas market for Chilean avocados, importing 78,000 tons this season.
Upcoming Events
October 19, 2023

to

October 21, 2023
Produce Marketplace
Elangeni Food Group

·

South Africa

Universal Capital Gr

·

Ecuador

AGRI GATEX LIMITED

·

Africa
Joshua Lim

·

Malaysia

City fresh fruit co.

·

Thailand

Chun lin orchard-Sel

·

Taiwan nan
China Market Access List