You are here
Back to top
Cherries from Chile Celebrates Its First-Ever Event at Jiaxing Haiguangxing Market
December 27, 2018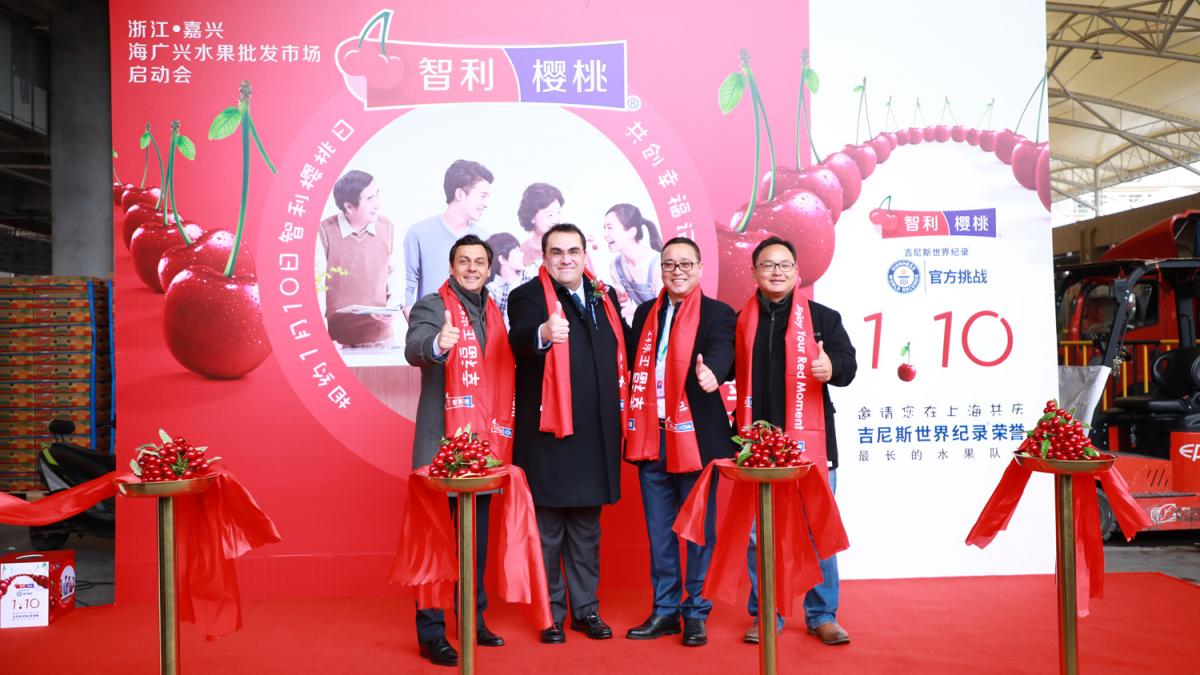 From left to right: Juan José Vidal Wood, Charif Christian Carvajal, HU Sunfei, and Kurt Huang
Winter in China is summertime in Chile, and that means the start of the eagerly anticipated season for Chilean cherries, which have recently been arriving in large volume by air and sea to ports across China—and are this season available to more consumers in more cities than ever.
Cherries from Chile today continued its celebration of the 2018/19 Chilean cherry wholesaler season with a ceremony at the Jiaxing Haiguangxing Premium Fruit Market in Jiaxing city, Zhejiang province. The event featured speeches from Juan José Vidal Wood, Trade Commissioner at the Shanghai office of ProChile, Charif Christian Carvajal, Marketing Director, Europe and Asia, for the Chilean Fresh Fruit Exporters Association (ASOEX), HU Sunfei, Vice General Manager of the Jiaxing Haiguangxing Premium Fruit Market, and Kurt Huang, General Manager of Shanghai Oheng Import and Export Company.
Chile supplies cherries to China from November through February. It is the largest supplier of cherries to China, where the fruit has become a popular gift for Christmas and Spring Festival. China is also Chile's top customer for cherries, buying over 80% of its cherry export volume. Chile's cherry exports to China benefit from the China-Chile FTA, under which Chilean cherries are imported into China with zero tariff.
"Chile has been exporting cherries to China for only just over a decade," said Wood at today's event. "And our cherries have performed phenomenally well in this market. Chile now supplies 80% of China's cherry imports. This success is thanks to the fantastic consumer response and to the hard work of Chilean exporters, importers here in China and traders such as those I have met today at Jiaxing Haiguangxing Premium Fruit Market. While it used to be that most of our sales were concentrated in a few of the biggest cities, now Chilean cherries are available in cities of all sizes for cherry lovers all across the country to enjoy."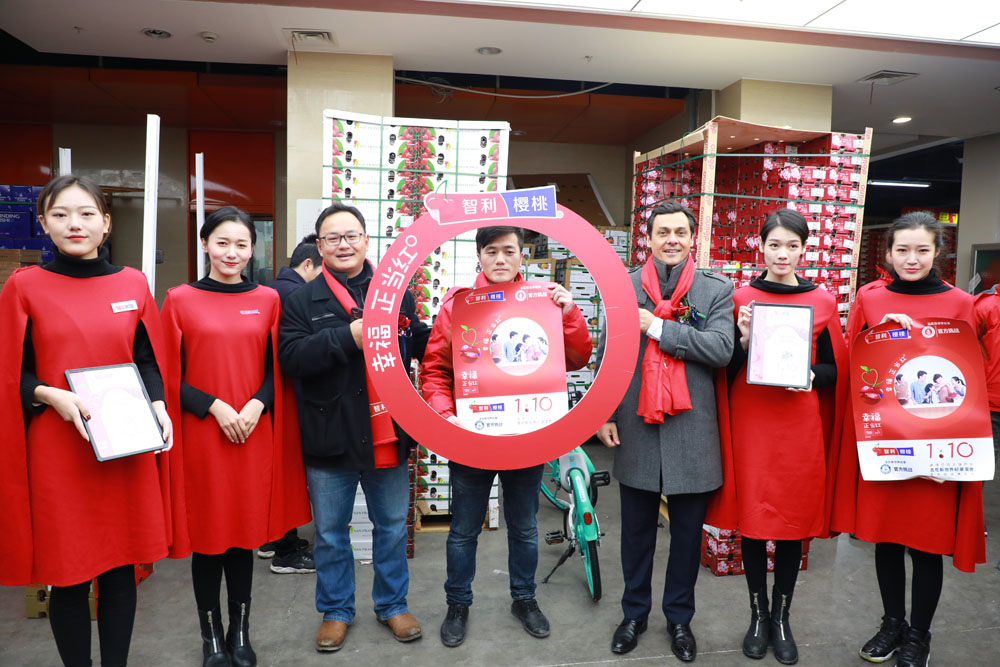 Professional fruit wholesale markets like Jiaxing Haiguangxing Premium Fruit Market play an important role in broadening the distribution of imported fruits like Chilean cherries. The wholesale markets and companies based at them can efficiently receive container loads of fruits, break them into smaller shipments, and send them off to secondary wholesalers or retailers like fruit shops, supermarkets and ecommerce sellers.
Today's event was the first time Cherries from Chile has held a wholesale promotion event in Jiaxing. The 125,000m2 import-focused Jiaxing Haiguangxing Premium Fruit Market started operations only in September of this year. It is located adjacent to the Jiaxing Fruit Market, already one of the key distribution centers in eastern China for domestically produced fruit. With a dedicated area for container-based trading that can accommodate up to 300 containers, and a location in the heart of the Yangtze Delta, Jiaxing Haiguangxing has emerged as a key point for distribution of Chilean cherries to wholesalers and retailers all across eastern China. Eastern China accounts for roughly 1/3 of China's total consumption of Chilean cherries.
"Last season, we exported almost 160,000 tons of fresh Chilean cherries to China," said Carvajal of ASOEX. "We are delighted be here today to celebrate the cherry wholesaler season at Jiaxing Haiguangxing Premium Fruit Market. With support from government bodies like ProChile and the Chilean Embassy and consulates, the Chilean Cherry Committee is committed to the goal of making our cherries available to every single Chinese consumer, so everybody can enjoy a Red Moment during the holiday season. Jiaxing Market is an invaluable partner in this endeavor, and we are filled with gratitude when we see how hard everybody here is working to make sure our cherries get sent out efficiently to arrive fresh and juicy in the hands of consumers."
"I am proud of the role our market and the companies based here can play in safely, efficiently and quickly distributing Chilean cherries to retailers," said Hu of of Jiaxing Haiguangxing Premium Fruit Market. "During the winter months, imported cherries are an important and high-value product for the fresh fruit industry. I'm told that it's an excellent season for Chilean cherries in terms of quality, and I extend my best wishes for a successful 2018/19 season."
"There was a time when we in the Chinese fresh fruit industry were quite unfamiliar with Chile," said Kurt Huang of Shanghai Oheng, one of the major fresh fruit import clearance and logistics service providers in China, whose owner also serves as General Manager of the Jiaxing Haiguangxing Market. "Now everybody can point to Chile on the map and tell you what fruits it supplies. Every year during the winter holiday season, eating Cherries from Chile has become the new tradition in China. I hope producers in Chile will keep growing great cherries so that we can keep up our sales of Chilean cherries, and continue building our successful partnership!"
Thousands of containers of Chilean cherries will arrive in China this season, with volume peaking in January, prior to Spring Festival. Much of this volume will come by special "charter" ships that sail directly from Valparaiso, Chile to China in just over 20 days. During this journey, the cherries are kept fresh in refrigerated containers and encased in advanced Modified Atmosphere Packaging (MAP). This means that cherries from Chile arrive to China in a state of perfect freshness.
This season, Cherries from Chile is promoting under the theme of Red Moments. Says Carvajal, "We have the objective of positioning our Chilean cherries as part of every red moment—those times when you share with your colleagues, friends and family a special moment—a red one—with Chilean cherries."
Today's celebration was part of a promotional campaign which will cover more than 60 cities in China, including a series of events at wholesale markets around the country, as well as in-store and online promotions. These events will serve as a warmup for the grand event of the season: in Shanghai on January 10th, Cherries from Chile will use thousands of individual cherries to celebrate a Guinness World Record for constructing the longest line of fruits.
Featured Produce
Produce Marketplace
Elangeni Food Group

·

South Africa

Universal Capital Gr

·

Ecuador

AGRI GATEX LIMITED

·

Africa
Joshua Lim

·

Malaysia

City fresh fruit co.

·

Thailand

Chun lin orchard-Sel

·

Taiwan nan
China Market Access List