You are here
Back to top
ASOEX and PMA to Collaborate More Closely
October 22, 2017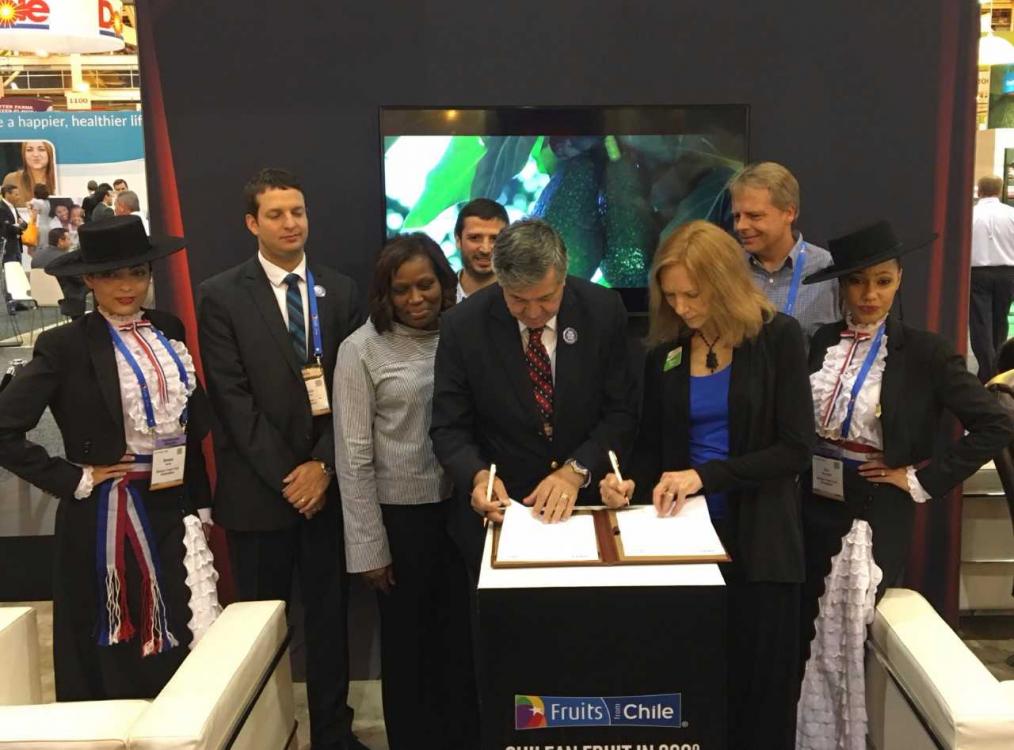 The annual celebration of the produce industry, PMA Fresh Summit, was marked by another celebration: the signing of a Memorandum of Understanding (MOU) between the Chilean Fruit Exporters Association (ASOEX) and the Produce Marketing Association (PMA). Representatives from both organizations signed the agreement during a ceremony held at the Chilean Fresh Fruit Association booth on Friday, October 20.
The signing of this MOU represents a growing partnership between PMA and the Chilean fresh fruit industry. Providing numerous opportunities to collaborate, and share information and expertise, the MOU sets the stage for:
•Working together to provide valuable knowledge to members through events, industry publications such as Simfruit, and direct communications.
•Connecting the members of the respective associations.
•Providing opportunities for ASOEX to serve in volunteer leader roles with PMA.
Chile is the largest fruit exporter in the Southern Hemisphere, accounting for 59% of fruit exports from that region. North America maintains dominant market share of Chile's total global fruit exports, receiving roughly 845,000 tons, or 34% of all fresh Chilean fresh fruit exports.
Ronald Bown, Chairman of the Board of the Chilean Fruit Exporters Association states, "It is imperative that we continue strengthening and adding value to the Chilean fresh fruit industry. Not only does it provide the North American market with important counter-­‐seasonal fresh fruit supply, the fresh fruit sector also contributes significantly to the economy of Chile. Working with an industry leader like PMA gives our members additional access to the information and resources they need to stay competitive. At the same time, our experience will add to the work being undertaken by PMA in Chile."
In November, Mr. Bown will join the country council of PMA in Chile. The council is comprised of leaders from PMA member companies. It helps PMA build value for Chilean members and address industry issues.
PMA continues to strengthen its presence in Chile. They recently hired Andrés Rodríguez to be the association's new representative in Chile and hosted new events in the country. PMA has also published new online content for members in Spanish.
"The importance of Chile to the global fresh fruit industry is undeniable. This MOU demonstrates PMA's commitment to both enhancing the benefits we can provide to the fresh produce industry in Chile and sharing our expertise for mutual growth," said Nancy Tucker, PMA Vice President of Global Business Development. "We look forward to working with ASOEX to connect members with ideas and insights to grow our industry and increase demand for fresh fruits."
Featured Produce
Produce Marketplace
Elangeni Food Group

·

South Africa

Universal Capital Gr

·

Ecuador

AGRI GATEX LIMITED

·

Africa
Joshua Lim

·

Malaysia

City fresh fruit co.

·

Thailand

Chun lin orchard-Sel

·

Taiwan nan
China Market Access List