You are here
Back to top
Hema Fresh Launches New 'Hema Market' Brand Store in Shanghai
April 17, 2019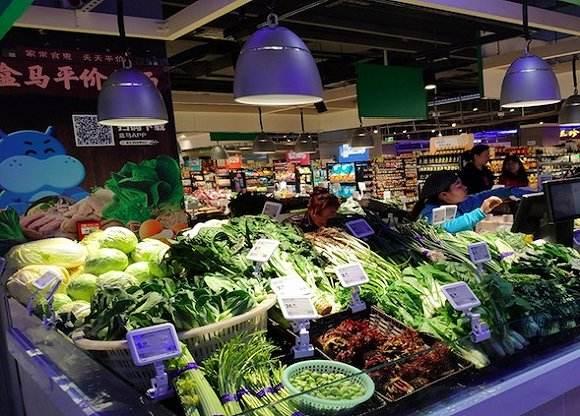 As Alibaba's Hema Fresh continues to expand and solidify its position as the leader in China's "new retail" landscape, the company has just opened its first "Hema Market" branded store in Shanghai.
Compared to Hema Fresh, the strategic positioning of the new Hema Market brand is relatively straightforward. With its location near large residential communities, reduced or removed in-store dining and prepared food areas, scaled-down fresh seafood and aquatic product offerings, and a focus on daily staple foods, Hema Market is the "new retail" answer to the traditional Chinese wet market. As an upgraded version of the wet market, Hema Market focuses more on the consumer shopping experience, while offering competitive – or even advantageous – pricing on some products.
These location, product selection, and pricing observations reveal the new store's target consumer: the average, middle-aged daily shopper for fresh vegetables, meat, eggs, and dry goods. The store also offers other basic grocery items such as frozen seafood, seasonings, condiments, and baby care products.
Although Hema Market aims at a different target than the original Hema Fresh, it retains the company's "new retail" characteristics: Hema Market uses the same app-based method for checkout and payment as Hema Fresh, and also offers online ordering and rapid delivery for customers living within the delivery range of the store.
It is reported that future Hema Market locations will also include service counters addressing other basic residential community needs for laundry, beauty and hair styling, health and fitness, home cleaning, and child care, among other services. These additional offerings are expected to further attract nearby residents into the store, thereby increasing the number of shoppers.
While Hema Fresh targets younger, more affluent, less price-sensitive consumers, Hema Market can be said to focus more on older, more price-sensitive, common consumers in nearby communities. However, the new store's success with this customer base will depend largely on its ability to compete with wet markets, supermarkets, and hypermarkets on price. Additionally, Hema Market's cashless transaction model may prove to be a challenge given the traditional cash-based shopping habits of its target customers. Many of these consumers also tend to do their daily grocery shopping in the early morning and may find inconvenient Hema Market's comparatively late opening time of 9:00AM.
Nevertheless, Hema Market's overall advantages cannot be ignored. With strong core competitiveness in O2O business, operations, logistics, supply chain management, and customer service, Hema Fresh's experience in the fresh product retail domain are widely expected to be successfully extended into the vegetable and staple food retail market.
Note: "Hema Market" is the author's translation of the original Chinese, 盒马菜市.
Featured Produce
Produce Marketplace
Elangeni Food Group

·

South Africa

Universal Capital Gr

·

Ecuador

AGRI GATEX LIMITED

·

Africa
Joshua Lim

·

Malaysia

City fresh fruit co.

·

Thailand

Chun lin orchard-Sel

·

Taiwan nan
China Market Access List