You are here
Back to top
First Batch of Polish Apples Reaches China
November 28, 2016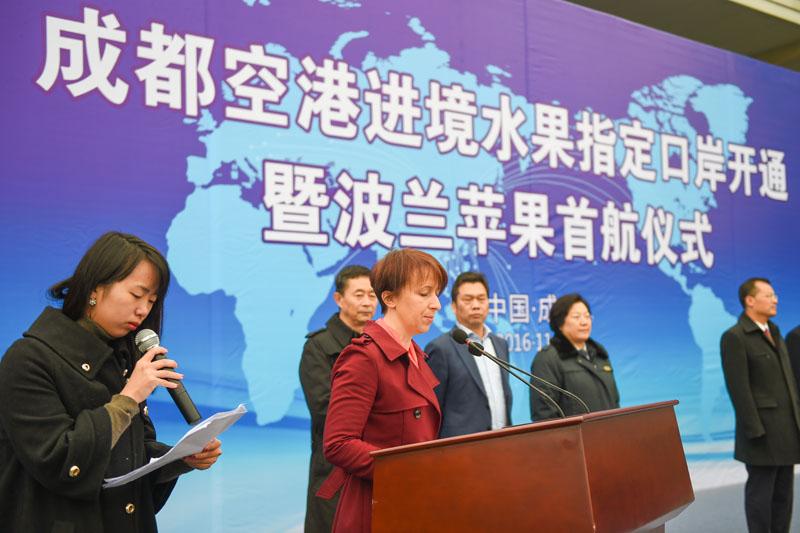 On November 23, the first batch of Polish apples to be exported to China arrived at Chengdu Shuangliu International Airport and made entry into Chengdu. This batch of apples, weighing 2.16 tons, became the first batch of imported fruits since the approval of Chengdu airport as a designated port for imported fruits.
On November 24, an opening ceremony was held at Chengdu Shuangliu International Airport to celebrate its recognition as a designated airport for imported fruits and the maiden voyage of Polish apples. The ceremony was attended by relevant local government officials and the Polish consul in Chengdu.
According to Sichuan CIQ, after the entry, the batch of apples was subjected to on-site inspection and quarantine and then transferred to the supervised warehouses. Sichuan CIQ laboratory center tested the apples in accordance with the "Protocol on plant inspection and quarantine requirements for import fresh apples produced in Poland", which was previously signed between China and Poland. The tests monitored 14 quarantine pest biological inspections and 75 pesticide residues and other harmful substances as mandated by the Chinese government. This batch of apples successfully passed these inspections, allowing them to immediately enter the Chinese market.
The agreement on the export of Polish apples to China was one of the important achievements during the high-level talks between China and Poland held in June, when President Xi Jinping visited Poland. During this period, AQSIQ and the Poland Agricultural Department signed the protocol and officially began the process for Polish apple exports to China. For the implementation of the protocol, in October AQSIQ sent a special working group to Poland to establish the on-site examination registration for apple plantations, packaging plants, cold-storage facilities, and so on, determine the format and content of quarantine certification for Polish apples being exported to China, and ensure that the exported apples could meet China's quarantine requirements and health and safety regulations.
On November 9, Chengdu Huiya Supply Chain Management Co., Ltd. received the first Polish apple import license. Just afterwards, on November 10, Chengdu designated airport for imported fruits received AQSIQ approval. According to Chen Hengyi, the chairman of Chengdu Huiya Supply Chain Management Co., Ltd., "The opening of Chengdu designated airport for imported fruits is conducive to the company to reduce logistics costs - the company's annual logistics costs fell by a third. We are ready to make full use of the advantages of the port, to directly import high-quality fruit from Southeast Asia, Europe, Oceania, South America, and North America."
Featured Produce
Produce Marketplace
Elangeni Food Group

·

South Africa

Universal Capital Gr

·

Ecuador

AGRI GATEX LIMITED

·

Africa
Joshua Lim

·

Malaysia

City fresh fruit co.

·

Thailand

Chun lin orchard-Sel

·

Taiwan nan
China Market Access List