You are here
Back to top
Ecuador, China's Largest Flower Supplier, Celebrates Chinese Valentine's Day
August 17, 2018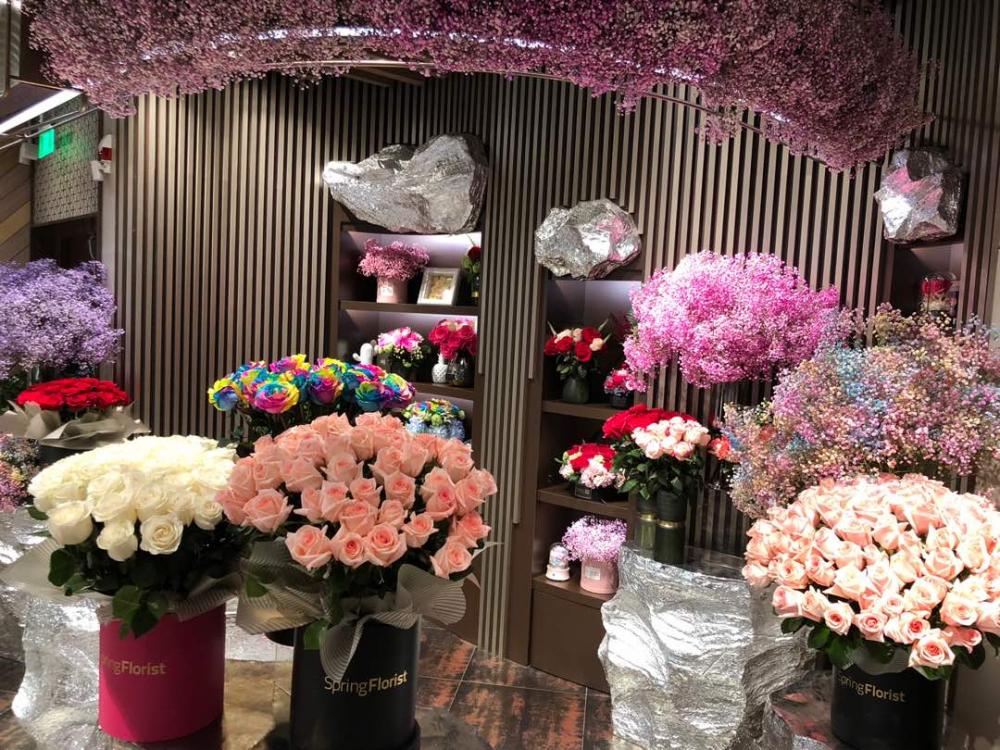 The mineral-rich soil at the foot of the volcano lends the flowers their enormous blossoms; the "Eternal Spring" of the Andean Plateau gives rise to super-long stems; kissed by sunlight and bathed in dew, the thick petals of the flowers are daubed with brilliant colors.
This is an Ecuadorian flower—with its uniquely deep color and super-long flowering period, it alights in the fiercely competitive Shanghai flower market and yet remains, "the brightest flower in a sea of beautiful flowers."
ProEcuador, the Commercial Office of Ecuador in Shanghai, and the Consulate General of Ecuador in Shanghai have successfully staged the Ecuador Flowers, Expressing LOVE on Chinese Valentine's Day event over the week leading up to today's Qixi festival, which is also known as Chinese Valentine's Day. The event was held at four Shanghai locations of Spring Florist, which are adjacent to City'super supermarkets.
At the opening ceremony, held at the Spring Florist and City'super location in HKRI Taikoo Hui mall, Mr. Mauricio Miranda Chavez, Vice-Consul of the Consulate General of Ecuador in Shanghai, spoke on behalf of the Ambassador to China of the Republic of Ecuador, Carlos Larrea Dávila. In his speech, the Ambassador introduced the excellent quality of the Ecuadorian rose to the guests: "Ecuador Roses are recognized as the best roses in the world for their unique quality." The ambassador also emphasized the economic complementarity and trade ties between Ecuador and China, saying, "China is Ecuador's third largest trading partner and Ecuador is China's tenth largest trading partner in Latin America and the Caribbean."
Mr. Santiago Yánez, Commercial Consul of Ecuador in Shanghai—PROECUADOR, said: "On behalf of Ecuador, we are glad to have the opportunity to hold this in-store campaign in collaboration with City'super and Spring Florist. This is a new milestone for Ecuadorian flowers in China."
Ecuador's exports of flowers to China are increasing each year. According to Ecuador's Central Bank, Ecuador exported only 22 tons of fresh cut Gypsophila (baby's breath) to China in 2015. By 2017, however, exports had soared to 620 tons. At present, roses are the most important export product, with last year's exports exceeded those of gypsophila. Ecuadorean dried flowers also occupy a large share in the Chinese market. According to China Customs data, Ecuador became China's largest supplier of flowers in 2017.
In recent years, Ecuador has been committed to online and offline flower promotion activities aimed at informing Chinese consumers of Ecuador's unique flowers and supporting the entire industrial chain, including exporters, freight forwarders, importers, supermarkets and florists. All parties work together to address issues such as cold chain logistics, in order to increase Ecuador's flower exports to China.
In an interview with the Produce Report news service, Mr. Mauricio Miranda Chavez said that offline activities aimed at consumers are now particularly important, while some online platforms are also more flexible and effective in providing consumers with the latest information.
This event could happen thanks to the cooperation of around 20 FLOWER GROWERS, ExpoFlores (Flower Association), the Ecuadorian Business Association in China (EBAS), Chinese importers, FlowerPlus, city'super, Spring Florist, and other sponsors. The seven-day event was held at four City'super locations and closes today on Chinese Valentine's Day.
Upcoming Events

November 04, 2021

to

November 06, 2021

February 09, 2022

to

February 11, 2022

September 07, 2022

to

September 09, 2022
Produce Marketplace
Tien Thinh Agricultu

·

Vietnam

Tien Thinh Agricultu

·

Vietnam

Tien Thinh Agricultu

·

Vietnam
City fresh fruit co.

·

Thailand

Chun lin orchard-Sel

·

Taiwan nan

Taste Charming Food

·

Hong Kong
China Market Access List