You are here
Back to top
Costa Rican Pineapple Exporters Pioneer the Chinese Market
July 11, 2017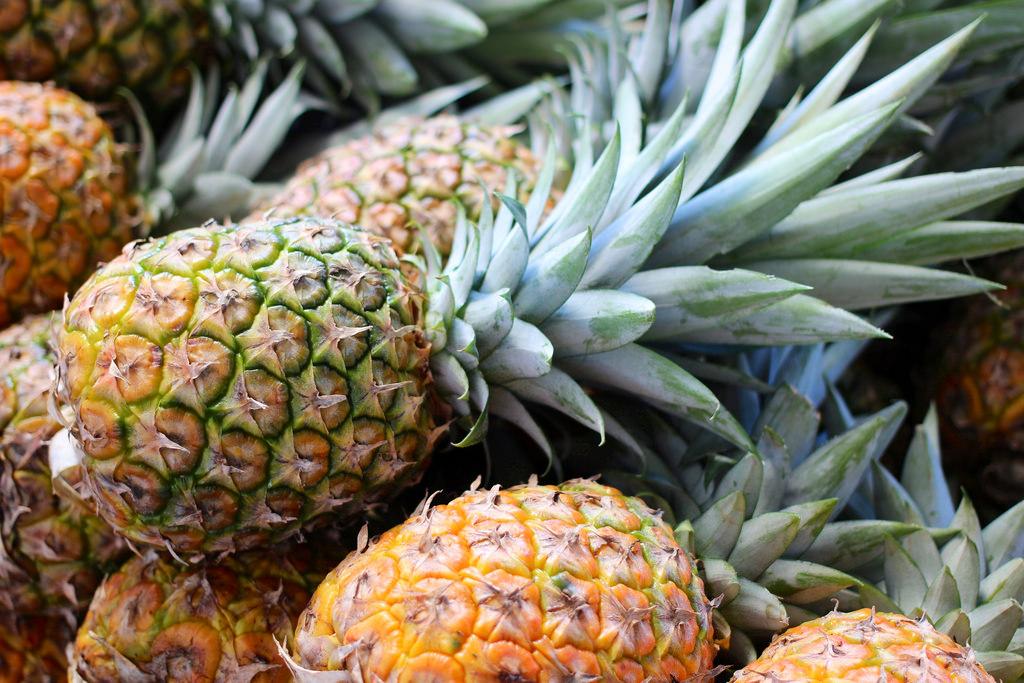 In March, Costa Rican pineapples were officially granted import access to China. Access to a growing Chinese consumer market is a lucrative opportunity for Costa Rican exporters. Likewise, Chinese importers, such as Good Farmer, have the opportunity to introduce new international products, in this case, Costa Rica's pineapples. In fact, last month Good Farmer debuted Costa Rican pineapples at both Huizhan Fruit Market and Carrefour's Wanli location in Shanghai. And although economic prospects appear bountiful from the outset, making ground in an unfamiliar market will certainly be challenging. Regardless, Costa Rican pineapple exporters have the confidence and experience to pioneer the Chinese market.
One such pioneer is Upala Agrícola who operates on 2,000 hectares of land in Upala, a region in northern Costa Rica. Their first two containers of MD2 pineapples, shipped via maritime transit, arrived in Shanghai on June 27. Upala Agrícola upholds the highest standards when it comes to environmental and social safety. Chestnut Hill Farms, another upstanding Costa Rican pineapple enterprise, is making the leap into the Chinese market, too. Their pineapples span across two farms that cover 3,400 hectares of land in the Central Atlantic county of Guapiles, Costa Rica. Produce Report recently caught up with both companies to discuss their take on the situation.
In order to better serve and understand their market base, Upala Agrícola has developed its own brand called Upala Gold. Over years of hard work, their client portfolio expanded greatly. Currently, they ship to an array of global partners, 65% of their products ship to the United States, 30% to Europe, and 5% to The Middle East and Asia. Strong growth is expected in the Chinese Market.
The location of Chestnut Hill Farms' land is not only situated within a beautiful rainforest but also located near the Port city of Limon, allowing short transit times to the majority of European and North American ports. Sixty percent of their trade volume goes to the U.S. and Canada while the other 40% ships to different international customers.
A prevalent fact for both companies: market penetration in China cannot happen without local partnerships. To that respect, Upala Agrícola reported various Chinese online and offline retailers and wholesalers have expressed interest in marketing their fruit in China. More importantly, is that Good Farmer, one of China's largest produce importers, has become their official partner—this is significant for gaining ground in new territory. Following the success of their first shipment, Upala Agrícola plans to increase shipments in the coming weeks, once their pineapples get a foothold in the Chinese market.
Like Upala Agrícola, international markets are not unfamiliar territory for Chestnut Hill Farms—especially Asian markets. Shipments to Korea began three years ago. Not only that, but they began distribution to Japan last year. They have established a steady consumer base abroad and maintain high standards when shipping fruit to Asia.
Entering competitive markets poses its difficulties. Upala Agrícola is ready for the heat, asserting unmatched sanitary and product tracking standers. To date, Upala Agrícola holds eight certifications including those from the Global G.A.P, British Retail Consurtium (BRC), ISO 14001, Primus Labs, and more.
The success of the all-around pineapple hustler Chestnut Hill Farms has been supported by its vertically integrated supply chain, worldwide distribution capabilities, and quality control. Chestnut Hill Farm built its worldwide reputation on food safety, traceability, environmental responsibility and social accountability. Supporting their vast body of clients necessitates a steady supply of high-quality products. Currently, they produce an impressive 11.5 Million boxes of MD2 pineapples per year.
Chestnut Hill Farms and Upala Agrícola are only two players in Costa Rica's vibrant pineapple industry. Last year, Costa Rican pineapple output was equivalent to about 180 million 12 kilogram boxes. This year, experts believe an increase of 10% percent is likely. The experience and confidence of Costa Rican pineapple exporters will path the way of the pineapple trade between China and Costa Rica. In support of this expansion is Costa Rica's National Chamber of Producers and Exporters of Pineapple (CANAPEP), a private non-profit organization. Their goal is to unite Costa Rica's pineapple exporters and position Costa Rica as the world's number one supplier of pineapples.
CANAPEP encourages pineapple producers, industrializers and exporters to work in compliance with the domestic and international environmental, labor and social standards. Those in compliance are given market preference. With such a strong network of support and corporation between outstanding enterprises, Costa Rica's pineapples are certain to make big gains in the Chinese market.
Upcoming Events

October 27, 2022

to

October 29, 2022

November 02, 2022

to

November 04, 2022
Produce Marketplace
AGRI GATEX LIMITED

·

Africa

ALOE ECO PARK SAPI D

·

Mexico

Tien Thinh Agricultu

·

Vietnam
Joshua Lim

·

Malaysia

City fresh fruit co.

·

Thailand

Chun lin orchard-Sel

·

Taiwan nan
China Market Access List