You are here
Back to top
China's Avocado Market: Chilean Imports in Season and in Favour
November 14, 2016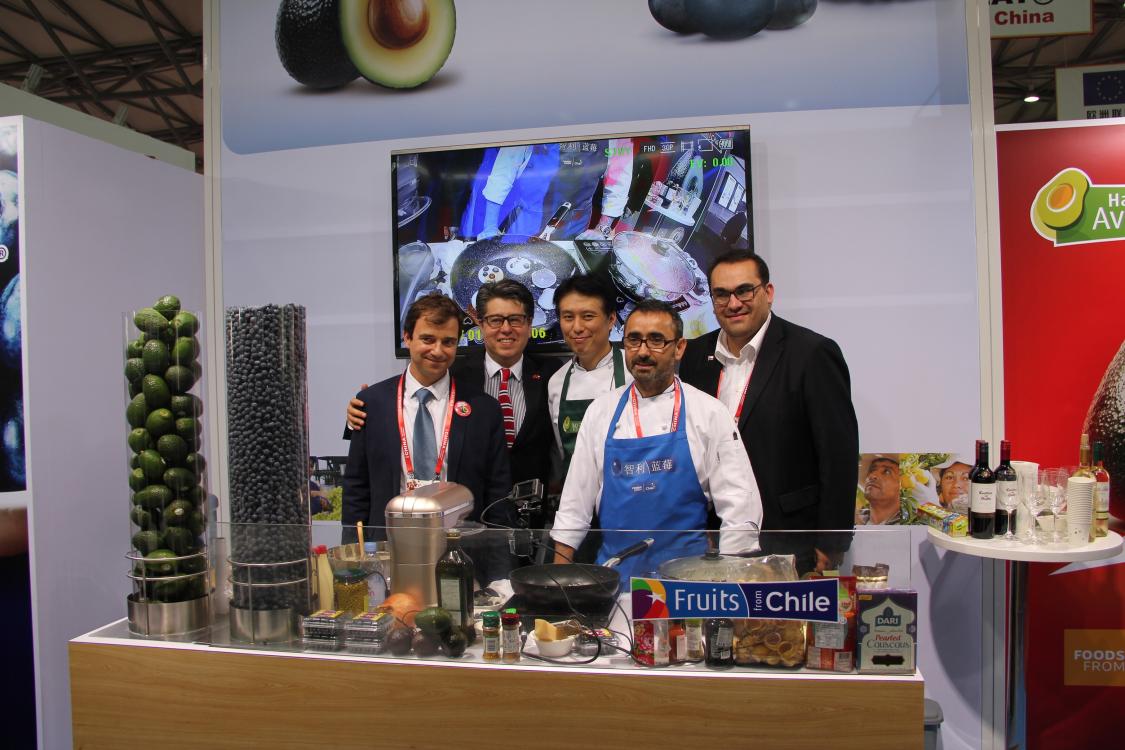 Presentation of avocado-based recipes at FHC China 2016, Chile's most recent avocado promotional campaign in China

Photo: Produce Report
In conversation with Produce Report at FHC China 2016, Juan Enrique Lazo, General Manager of the Chilean Hass Avocado Committee, described the success, present and future, of Chilean avocados in China. "Chile will supply 60 percent of China's avocado market this November, and the majority of avocados one finds in Chinese supermarkets and fruit stores these days originate from Chile." According to Mr. Lazo, avocados in Chile reached peak output in October; as a result, Chilean avocados will be imported in largest quantities into China in November and December of this year. Referring to total export volumes, Mr. Lazo also indicated that, in addition to experiencing seasonal growth, avocados total export volume is expected to experience a significant yearly increase. "Last year we shipped 5 million kilograms of avocados to China. In 2016, we plan to ship 10 million, and this figure is expected to double again in 2017 to 20 million kilograms."
Chile's primary competition for avocados in China is Mexico and Peru. During the autumn-spring period, Chile's only competition is Mexico, as Peru's avocado season in China wraps up in September. Chilean avocados become available in China starting from September, whereas Mexico's only begin to arrive one to two months later. Both Chilean and Mexican avocados are on the market in China until June, when Peruvian avocados begin their season anew.
Competing with Mexico, the world's largest avocado exporter and the very birthplace of the avocado, is not an easy task. Last year, Mexico exported 12 million kilograms of avocados to China, which is more than double of Chile's exports in 2015. Moreover, the Mexican export capacity is much bigger than the Chilean, as avocado plantations in Mexico blanket the territory of 150,000 hectares, five times more than in Chile. Despite all of this, Chilean avocados do possess several unique competitive advantages, and when coupled with the pragmatism and overall approach taken by Chilean exporters to competition, the situation is not so dire. "The whole world knows Mexican avocados, but at the same time, Chilean avocados are also regarded very highly. Chilean avocados do not rot quickly and our plantations enjoy a Mediterranean climate, which is very dry and prevents the growth of fungus. Moreover, some international consumers find the taste of Chilean avocados truly unique," Mr. Lazo stated. Chilean exporters are also pragmatists – they realize that Chilean avocado production alone is not nearly large enough to satisfy the entire Chinese market. As demand for avocados continues to grow in China, there remains a marked need for multiple sources and suppliers of avocados. "I think there will be enough room for each of us in the market," concluded Mr. Lazo, referring to Chile, Mexico, and Peru.
Chile was the first country to launch promotional campaigns for avocados in China, aiming to educate Chinese consumers as to their nutritional content and health benefits. Presentations of avocado-based recipes hosted by famous Chilean chef Ricardo Gonzalez Santibañez at FHC China 2016 offered local consumers a wide range of new methods of cooking and consuming this fruit. As Chinese consumers are educated about avocados in this hands-on way, they tend to associate this newly-acquired knowledge, such as health benefits or culinary uses, of avocados with the Chilean variety, undoubtedly boosting the popularity of Chile's avocados in China.
Upcoming Events

September 06, 2023

to

September 08, 2023
October 19, 2023

to

October 21, 2023
Featured Produce
Produce Marketplace
Elangeni Food Group

·

South Africa

Universal Capital Gr

·

Ecuador

AGRI GATEX LIMITED

·

Africa
Joshua Lim

·

Malaysia

City fresh fruit co.

·

Thailand

Chun lin orchard-Sel

·

Taiwan nan
China Market Access List