You are here
Back to top
Xianfeng Fruit and Lawson launch a fresh approach to 'New Retail'
June 03, 2018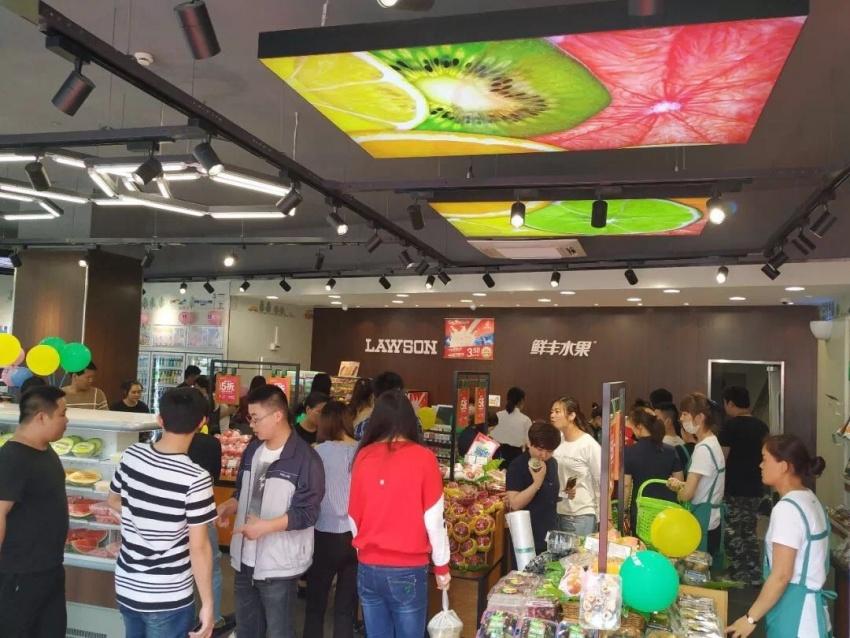 In a new joint venture, Lawson, a Japanese convenience store franchise chain, and Xianfeng Fruit, a Chinese fruit retail brand, combined forces to open a groundbreaking store in Hangzhou. The store progresses the model of New Retail in China by combining aspects of fruit shops and convenience stores. According to reports, the store achieved sales of RMB 20,000, of which RMB 16,000 was generated from fruit sales, on its opening day.
The multifaceted store has an area of about 200 m2. The fruit section takes up about 40-50 m2 of this space. Here more than 60 types of fruit products, including pre-cut and prepackaged fruit, are available for sale. In addition to best-selling seasonal varieties, other unique products such as "fruit corn" are available as well. Portioned, prepacked fruit satisfies the refreshing and minimalistic shopping experience that young people demand. Furthermore, this shop operates 24 hours a day—with late-night sales of fruit undergoing a test period.
The advantages of traditional convenience stores depend on their own supply chain networks and preestablished warehouses. Yet for Hangzhou's new store, Xianfeng Fruit retains responsibility for the supply chain of fresh fruit while Lawson manages store operations. Although the new store belongs to Lawson's convenience-store franchise, harmonization of the supply chain systems of each brand is a new departure for retail.
While sales of fresh food in the convenience store industry have increased in recent years, the structure of commodities still has a lot of room for improvement. Take Japan's comparatively developed convenience store industry as an example: fresh goods and intermediary goods account for 30-40% of sales in Japanese convenience stores. A sample of 55 convenience stores in China, however, suggests only 10% of stores obtain 40% of sales from food products.
The collaborative shop between Xianfeng Fruit and Lawson is an attempt to expand the retail format of both sides. The supply chain of Xianfeng Fruit can ensure the superiority of fruit varieties, price, and quality. This provides Lawson with huge advantages of product differentiation against competitors in the fresh food industry. The collective force of Lawson and Xianfeng Fruit has resulted in an innovative convenience store brand that is greater than the sum of its parts.
Upcoming Events

September 06, 2023

to

September 08, 2023
October 19, 2023

to

October 21, 2023
Featured Produce
Produce Marketplace
Universal Capital Gr

·

Ecuador

AGRI GATEX LIMITED

·

Africa

Qualipac Pty Ltd

·

Australia
Joshua Lim

·

Malaysia

City fresh fruit co.

·

Thailand

Chun lin orchard-Sel

·

Taiwan nan
China Market Access List