You are here
Back to top
U.S. Highbush Blueberries to Enter China after 100 Years of History
October 09, 2016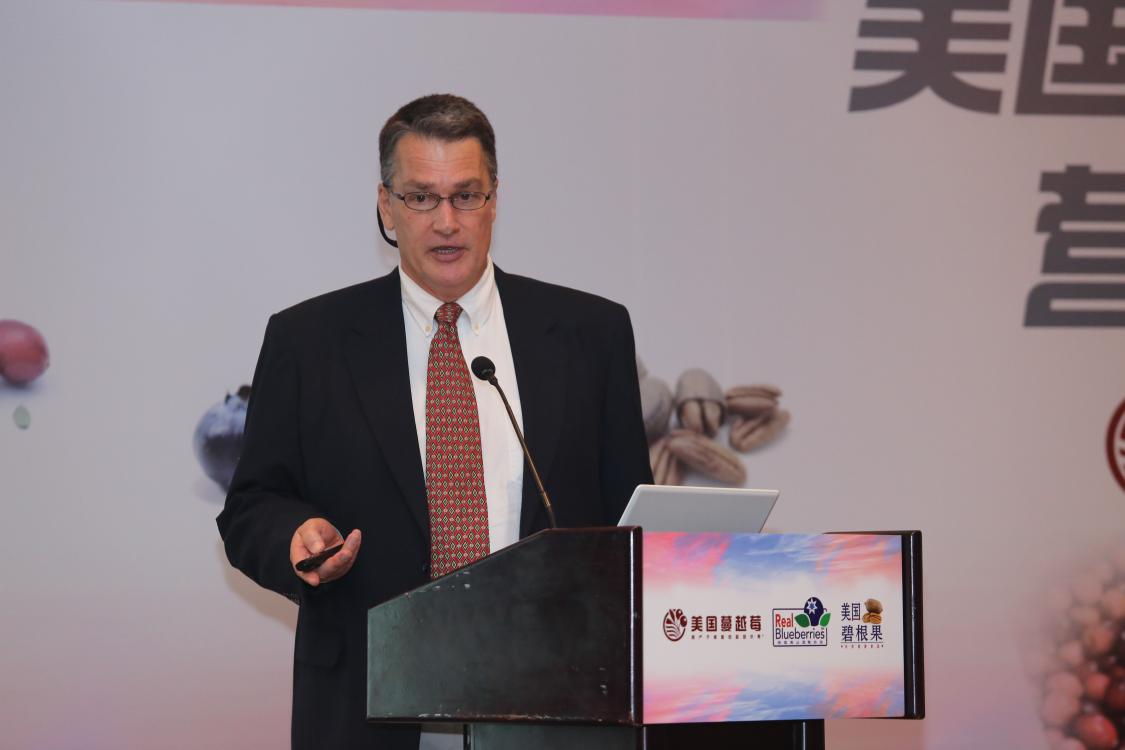 The US Highbush Blueberry Council has something more than its 100th Anniversary to celebrate – it will soon see the first shipment of fresh highbush blueberries to China.
During the recent "US Cranberries, Highbush Blueberries, US Pecans; Nutritional Benefits and Food & Beverage Application Seminar", an introduction to the US highbush blueberry industry and the product's health benefits was presented by Mr. Thomas J Payne, Food Technology Consultant, for Highbush Blueberries Council and Dr. Wei Qiang Yang from Oregon State University. It is worth noting that highbush blueberries are cultivated as opposed to wild blueberries while Dr Yang has been credited as the creator of the Chinese name for blueberries.
In recent years, blueberries has become a rapidly growing industry with growers in North America, South America and Asia. In 2015, global production reached 1.3 billion pounds (590 million kilograms). Dr. Yang predicted that total production would reach 1.45 billion pounds (658 million kilograms) by 2017. North America is blueberries' origin and main production region. Cultivation area in North America is growing by 20-30% annually. The US has the longest history of growing blueberries. 2016 happens to be the 100th anniversary of blueberries' commercial growing in the US where production reached 735 million pounds (334 million kilograms) in 2015. Apart from the scale of production, the US possesses the most advanced technology in the world for seed cultivation, cultivation techniques and pest control.
In the US, blueberries are grown in 38 states. Southeast's season is the earliest, between March and June, California and Southern states during May and June, Northeast from June to August, Mid-west from July to September, and Pacific Northwest during June to October. All of these do not overlap with China's blueberry season.
Currently, frozen US blueberries can be exported to China and their quality has been highly welcome in the market. Firestone Pacific Foods, a member of the US Highbush Blueberry Council attended the September seminar in China. Firestone is a grower and frozen fruits processor based in the State of Washington. Its frozen blueberries are picked when ripe and quickly frozen within an hour to preserve their taste and texture which are comparable to fresh blueberries.
On the other hand, fresh blueberries are seeking to enter the China market. According to US Highbush Blueberry Council's China representative, Julia Zhu, China and the US have already reached an agreement about importing fresh blueberries into China. Actual shipment can be anticipated after Chinese technical experts' visit to the US for final inspection and observation.
Image: MZMC
Upcoming Events
October 19, 2023

to

October 21, 2023
Produce Marketplace
Elangeni Food Group

·

South Africa

Universal Capital Gr

·

Ecuador

AGRI GATEX LIMITED

·

Africa
Joshua Lim

·

Malaysia

City fresh fruit co.

·

Thailand

Chun lin orchard-Sel

·

Taiwan nan
China Market Access List