You are here
Back to top
Maitake Mushrooms Bring Health from Inner Mongolia
September 28, 2015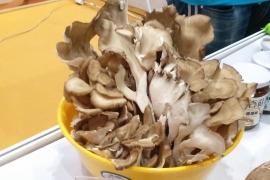 At the recently-concluded 2015 China Fruit and Vegetable Fair, many visitors were attracted to the "Inner Mongolia Desert Mushroom Biological Ltd." booth. The rich aroma, round shape, and thick texture of the mushrooms beckoned passersby. In particular, a cluster of overlapping mushrooms stacked like graceful flowers was especially interesting. This type of mushroom, maitake, is one of Desert Mushroom's main products.
Maitake may not be the most familiar mushroom for Chinese consumers, but in markets such as Singapore and Japan, it is already a hot product. Produce Report talked with Mr. Li of Inner Mongolia Desert Mushroom Biological Ltd. to learn more about the company and this special mushroom. Li explained that maitake are not only delicious and nutritious, they also have unique medicinal value. As early as 1992, the U.S. National Cancer Institute confirmed that maitake extract could inhibit HIV. Japanese experts additionally found that maitake was effective against breast cancer, lung cancer, and liver cancer, and improved a variety of adverse reactions caused by cancer chemotherapy. In related studies, maitake extract was also found to be effective against diabetes, hypertension, and other diseases, and could boost the immune system.
Inner Mongolia Desert Mushroom Biological Ltd. has large-scale maitake cultivation and processing facilities, and the largest maitake packaging plant in China. Their equipment and advanced management experience make them a leader in the domestic mushroom industry. The factory can produce 33,000 bottles of maitake product per day, with an annual production yield of 720 tons. Products are mainly export-oriented, while the domestic market mostly consists of small packaged goods for the high-end market. Products are expected on the market this November, and will include dried maitake in addition to fresh mushrooms. Maitake extract and mushroom sauce will be supplied to both domestic and foreign markets. Li also told Produce Report that Desert Mushroom will produce maitake powder for biopharmaceutical use according to market demand.
Li explained that Desert Mushroom is unique not only in their cultivation of maitake, but also in the way they cultivate the mushrooms. The maitake are cultivated in special sawdust, and sea buckthorn, which is native to the northern desert, is planted along with the mushrooms. This practice increases the nutritional content and improves the taste of the mushrooms. In addition, the farm is located in the city of Ordos between the desert and the steppes of Inner Mongolia, where the climate is good for growing mushrooms and the environment is clean and pollution-free.
The company plans to produce 10,950 tons of mushrooms this year, and already has mushroom products available on the market such as instant vegetable soups and mushroom hotpot broth seasoning. Inner Mongolia Desert Mushroom Biological Ltd. looks forward to working together with all parties for mutual benefit.
Featured Produce
Produce Marketplace
Elangeni Food Group

·

South Africa

Universal Capital Gr

·

Ecuador

AGRI GATEX LIMITED

·

Africa
Joshua Lim

·

Malaysia

City fresh fruit co.

·

Thailand

Chun lin orchard-Sel

·

Taiwan nan
China Market Access List