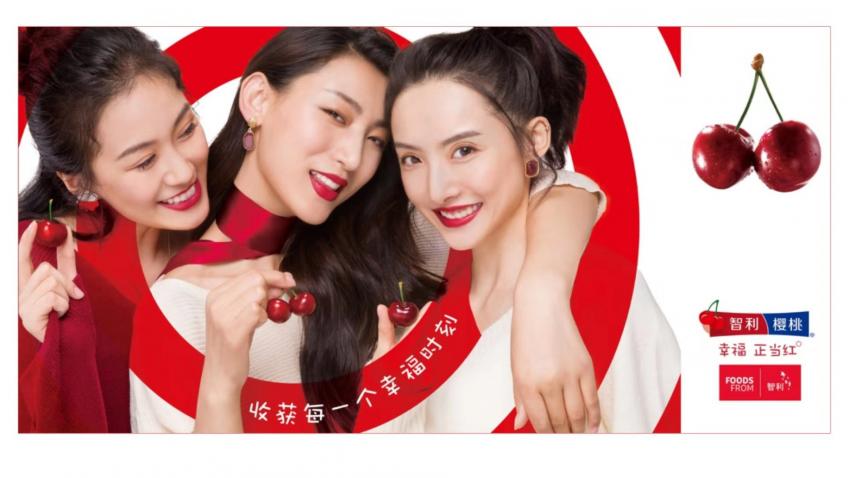 On Dec. 16, Charif Christian Carvajal, marketing director for Europe and Asia at the Chilean Fruit Exporters Association [3] (ASOEX), delivered a WeChat lecture to listeners of Produce Report, in which he outlined this year's promotional campaign for Chilean cherries in China and the recent efforts of the Chilean Cherry Committee of ASOEX to find new channels to promote their produce in China's ever-changing social media landscape.
Chile is the world's largest exporter of cherries and in 2018 became the foremost supplier of fresh fruit to China for the first time. This season the Chilean Cherry Committee forecasts that Chile's total cherry exports will reach a record-breaking 210,000 tons [4], which would mark a 16.7% increase over last season. The committee itself currently represents over 80% of the volume of fresh cherries exported from Chile, and its main objectives include proactively promoting the consumption of fresh cherries, opening up new export markets and maintaining the overall sustainability of the sector.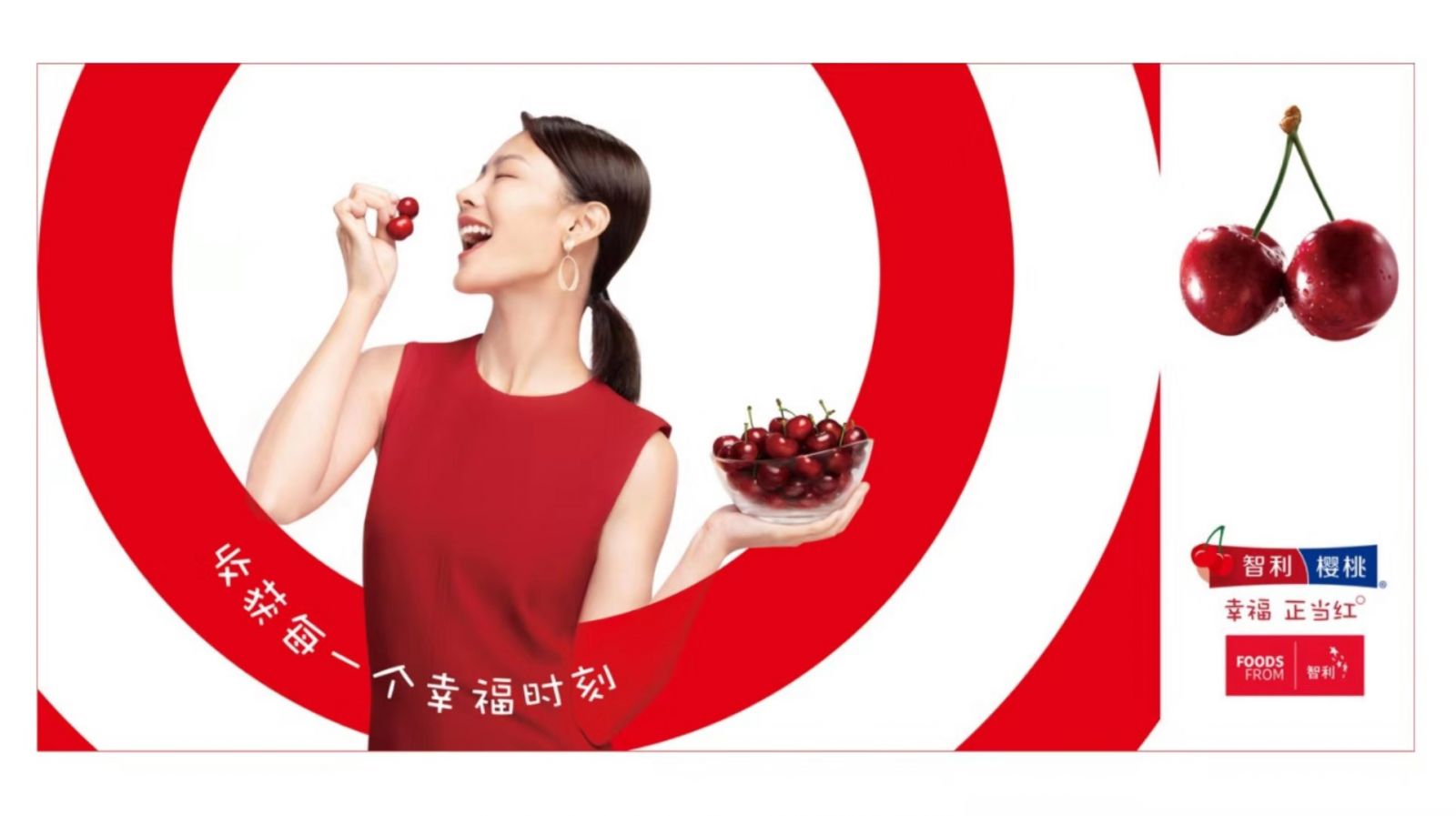 This year's Chilean cherry season is already well underway, with the first air [5] and sea [6] shipments arriving at entry ports throughout China in mid-October and early December, respectively. Sea shipments account for approximately 90% of Chilean cherry exports to China and require approximately 25 days for the cherries to reach end consumers, whereas the remaining 10% is dispatched by air to allow earlier arrival to market.
The season kicked off with promotional events in several cities, such as Guangzhou [7] and Changsha [8], in addition to online promotions on e-commerce platforms. According to Carvajal, "This season is characterized by very good quality of fruit. The condition of arrival of fruit has never been better, basically because we've had very favorable climatic conditions in Chile, which have favored the production of our fresh cherries."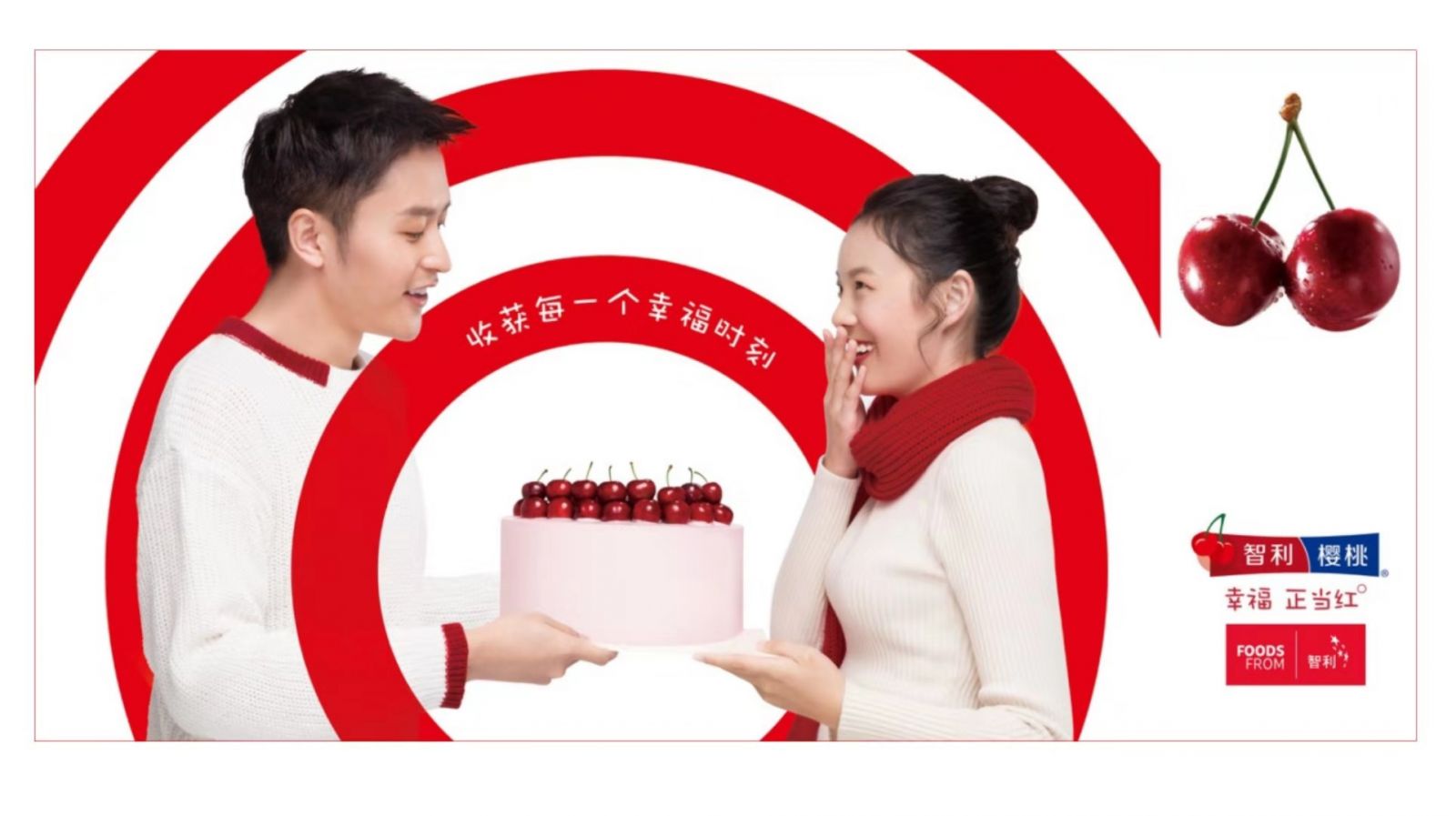 Carvajal later explained that as Chilean growers and exporters associated with the committee have become more experienced with the Chinese market, they have been able to continuously improve the arrival condition of their produce. This has been assisted by many Chinese partners visiting Chile for one or two months to share their experience and knowledge to help improve handling and care during the long transit to Chinese consumers.
The season is expected to last until February with a concentrated wave of shipments in late December and early January. Although the consumption of Chilean cherries over Spring Festival has recently emerged as something of a modern tradition, the slightly earlier occurrence of Chinese New Year in 2020 is expected to provide an important opportunity to continue selling cherries into the first two weeks of February, which could help further establish Chilean cherries as not only a festival fruit but also a general one. As Chile intends to increase its global cherry exports over the next five years, further promoting the existing popularity of Chilean cherries in China is a key objective for the sector.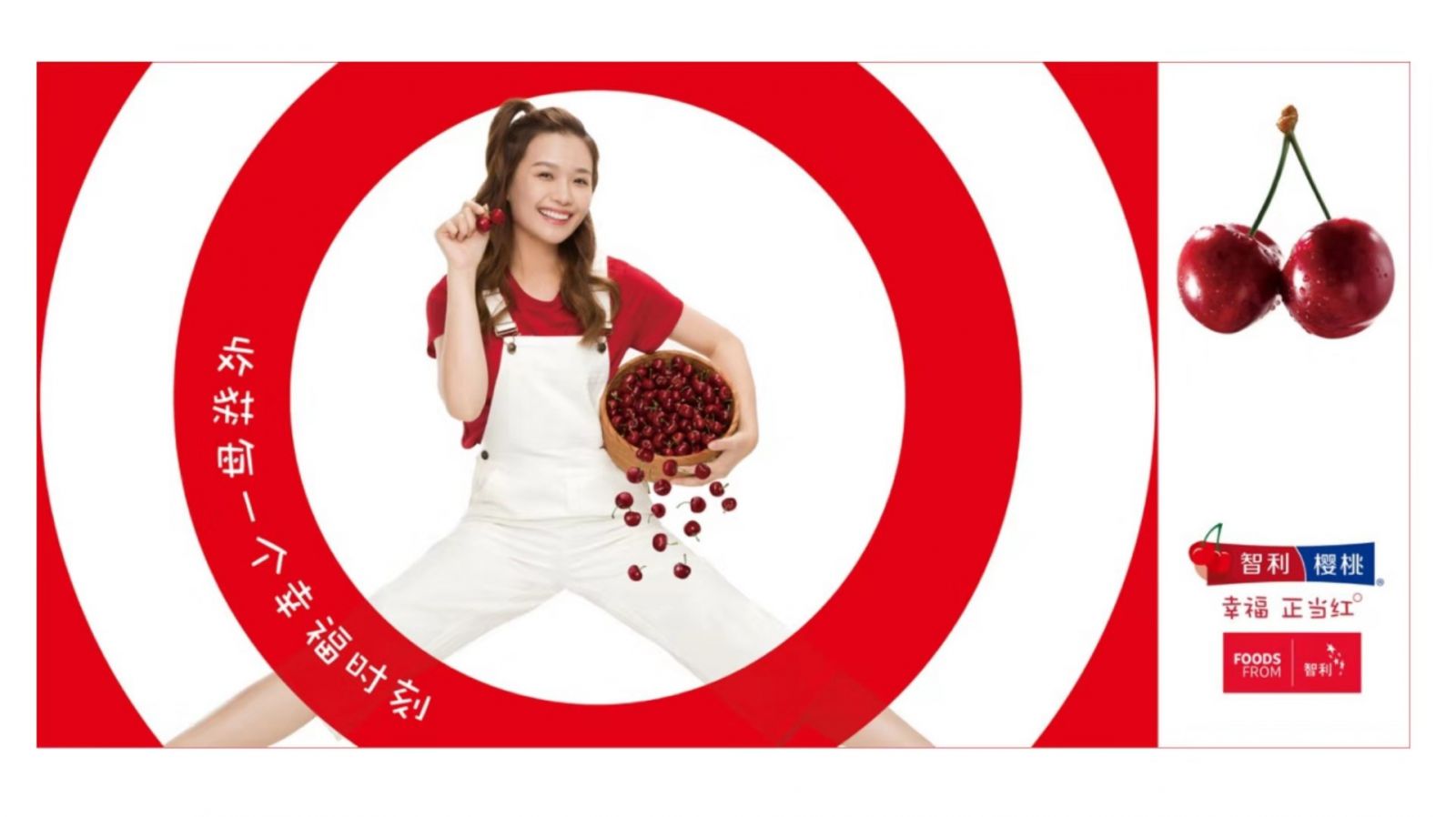 This year's promotional campaign follows on from the comprehensive [9] campaigns [10] of recent [11] years [12], with the overall goal of increasing the consumption, sales and purchase frequency of Chilean cherries in China. These are generic campaigns aimed at increasing the sales and market penetration of the entire "Cherries from Chile" brand rather than focusing on the produce of a particular exporter or grower. The underlying concept is that of encouraging consumers to enjoy their own "red moment" alongside colleagues, friends and loved ones. This is reflected in the key visuals of this year's campaign, which portray young professionals, couples, families and friends alike all enjoying fresh Chilean cherries.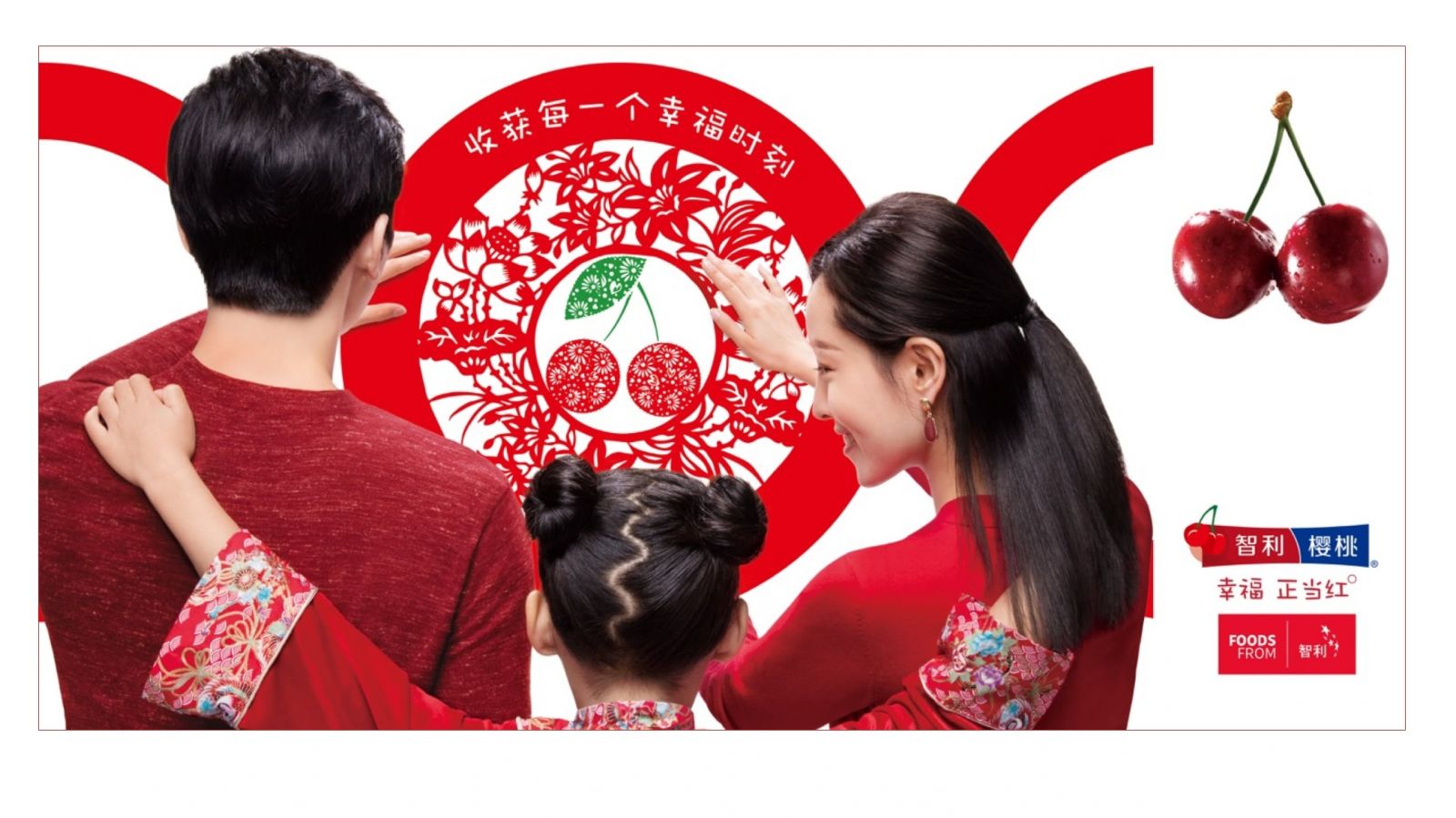 To target these specific consumer segments in China's ever-evolving social media and online landscape, Carvajal explained that the committee's comprehensive strategy involves spreading the campaign's key message via numerous channels, including WeChat and Weibo, key opinion leaders, product placement on popular TV and online video channels, and generating PR at the consumer level in appropriate online publications. Some of these are aimed at simply spreading the message about Chilean cherries and acquiring new followers, whereas others are directed at generating sales through various e-commerce platforms. One novel aspect of this season's campaign is encouraging online-to-offline sales by allowing WeChat and Weibo users to see exactly where Chilean cherries are being promoted and sold in nearby offline supermarkets and fruit stores. In addition, the campaign aims to generate multiple touch points with the target audience, most importantly by short audiovisual content on several popular platforms as well as developing interactive games on TikTok to encourage audience engagement. These efforts to drive traffic will be further supported by collaborations with almost 500 key opinion leaders across several platforms.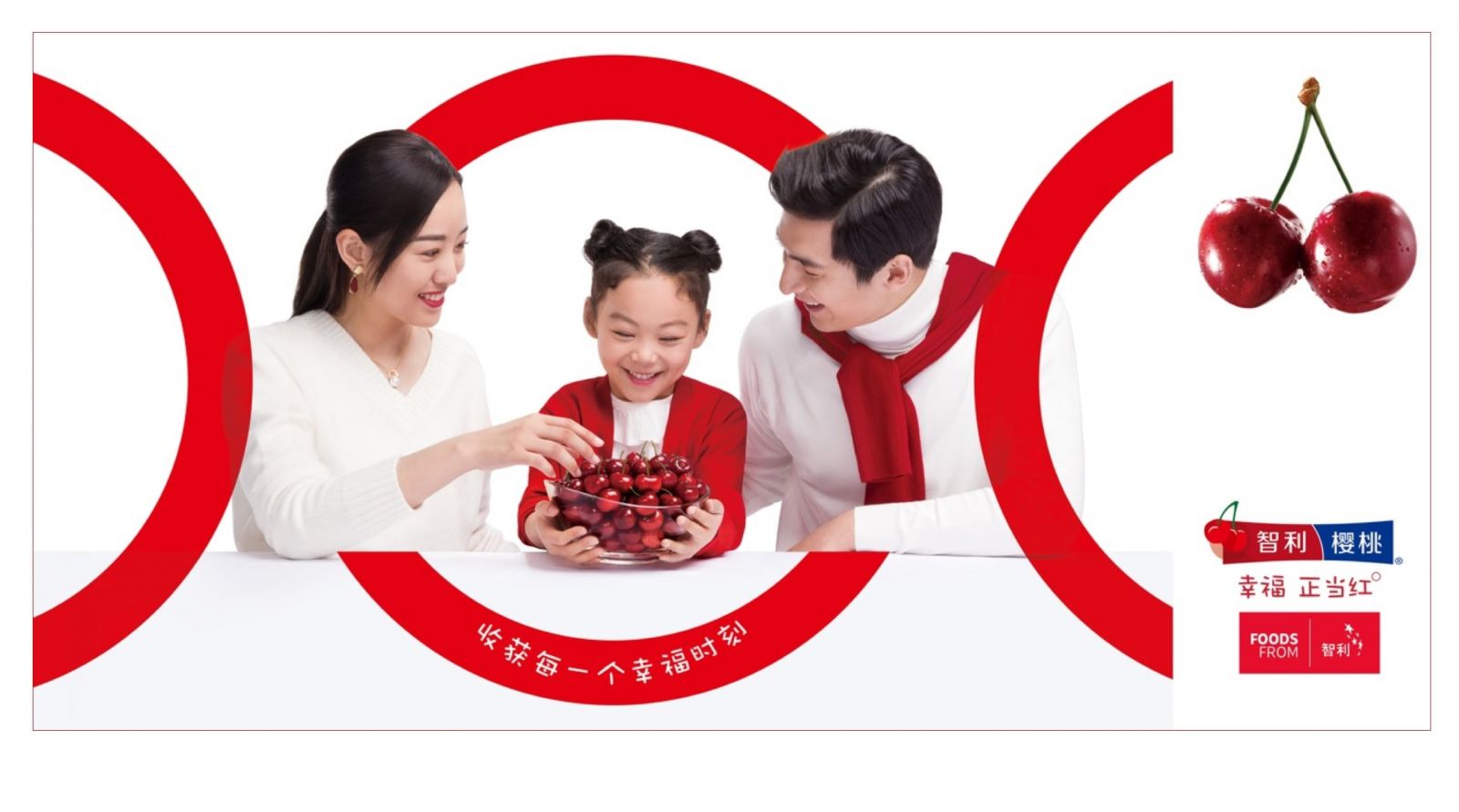 In the realm of e-commerce, the new activities for this season's campaign include working closely with several online platforms to promote sales through, for example, new packaging solutions developed by e-commerce platforms, such as gift boxes containing both Chilean cherries and Chilean blueberries. Over 10,000 taxi cabs in Shanghai have also been used to advertise online cherry purchases, while on-bike home delivery advertisements will be used to promote fruit stores after the Chinese New Year period in second- and third-tier cities.
According to Carvajal, one of the key features of the Chilean cherry sector is that it not only produces great-quality fruit for Chinese consumers but also remains strongly committed to the Chinese market by proactively investing in increasing the consumption of cherries throughout China, including in second-, third- and even fourth-tier cities.
This year's promotional campaign represents an important endeavor for not only the Chilean Cherry Committee and Chile's fruit sector but also the country as a whole. On Dec. 17, an event [13] was held at a Hema supermarket in Shanghai to jointly promote two of Chile's best export products, cherries and wine, under the slogan of "The red is happiness". In addition to the main in-store event, which was attended by the Chilean Ambassador to China and other government representatives, the promotion was also conducted at Hema stores in Beijing, Chengdu, Hangzhou and Shenzhen.
Images: ASOEX