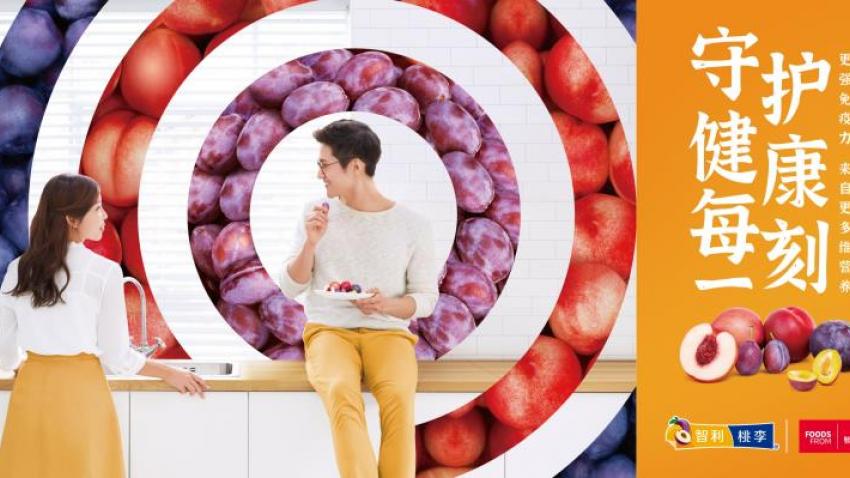 Following the surging popularity of Chilean cherries [3] throughout China, Chilean stone fruit [4] have also been quietly gaining favor with Chinese consumers. Fresh Chilean sugar plums in particular have been steadily garnering more attention over the last few seasons. As the Chilean stone fruit harvest season kicks into gear, the Chilean Fruit Exporters Association [5] (ASOEX) through its stone fruit committee has teamed up with JD Fresh [6], one of China's biggest fresh produce e-commerce platforms, to launch a "Chilean Stone Fruit Week" promotion. The promotion began on March 10 and ran for five consecutive days, focusing on Chilean sugar plums on March 10–12, nectarines on March 13 and plums on March 14. During this period, JD Fresh offered a variety of promotions.
The head of the JD Fresh department responsible for the campaign told Produce Report that prior to 2017, the majority of Chilean sugar plums were dried to be sold as prunes on the international export market. However, ever since Chilean fruit producers realized that after the end of the cherry season, the cherry packing chain could also be used to sort and pack fresh sugar plums, the efficiency and standards of packing increased significantly. Therefore, starting from the 2018/19 harvest season, making use of rapidly improving sea freight freshness preservation technology, Chile began to expand its exports of fresh sugar plums to the Chinese market and received a positive reaction [7] from consumers. Chilean stone fruit continues to be sought after on the Chinese market; aside from the dominant sugar plums, this also includes nectarines and other plums.
This season, Chilean stone fruit exporters are focusing even more on the Chinese market. As the export situation has begun to pick up, a succession of Chilean stone fruits has appeared on the scene. The Chilean Stone Fruit Committee's partnership with JD Fresh has entailed the launch of a series of new promotional events. According to a spokesperson for JD.com, JD Fresh conducted a number of online sales promotions from mid-to-late February for Chilean nectarines and sugar plums, while promotions for plums kicked off in early March. Although this year's crop of Chilean sugar plums has proved very flavorful, the impact of the ongoing coronavirus epidemic has led to a much lower volume of produce arriving in China compared to last year. JD Fresh is currently China's biggest fresh produce B2C e-commerce platform and has already partnered extensively with ASOEX to promote Chilean cherries and other fruits, so this season's Chilean Stone Fruit Week campaign is part of wider joint promotional efforts.
JD.com, the wider e-commerce platform that JD Fresh belongs to, has its own logistics operations and was able to guarantee continued deliveries throughout the Chinese New Year vacation and the extended virus containment period that followed (except in restricted zones), ensuring the timely delivery of fresh fruit direct to consumers. Judging from sales on the JD Fresh platform, Chilean stone fruit have continued last season's trend of rising sales. These sales data reveal that in just the first week of the Chilean Stone Fruit Week promotion, sales of Chilean sugar plums increased significantly compared to the same period last year. According to market feedback, Chilean stone fruit enjoy a clear price advantage, an adequate and steady supply, and reliably excellent quality, flavor and freshness. With these factors plus the added boost of the recent promotional efforts, Chilean stone fruit is putting in an impressive performance on the Chinese market.
Image: JD Fresh