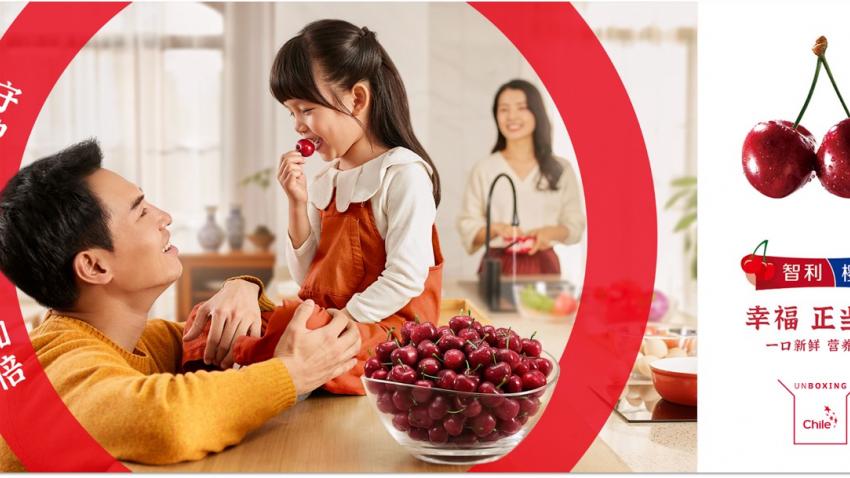 The creative materials for the 2021/22 Chilean cherry season emphasize safety, enjoyment with family and personal indulgence.
Over the past decade, cherries have come to be a favorite wintertime treat among Chinese consumers, with Chile supplying the overwhelming majority of this fruit to the Chinese market. Alongside the success of Southern Hemisphere cherries in China, growers and exporters in Chile have greatly expanded their production and exports of fresh cherries, with the export volume of Chilean cherries to the world expected to rise by 2.6% in the 2021/22 season [3] to a total of 361,840 tons according to the most recent forecast.
To ensure that demand in China keeps pace with this rising supply, the Chilean Cherry Committee of the Chilean Fruit Exporters Association [4] (ASOEX) has engaged in annual active promotional campaigns to stimulate cherry consumption in China. In fact, the annual Cherries from Chile campaigns have now become perhaps the largest and most sophisticated promotion for a specific type of fruit in China and are closely watched by various stakeholders in the fresh fruit supply chain.
On Dec. 8, Charif Christian Carvajal, ASOEX's marketing director for Europe and Asia, delivered an exclusive online presentation to members of the Produce Report readership. In addition to introducing the Chilean Cherry Committee's new cherry export quality standards [5], Carvajal also provided a detailed overview of the committee's 2021/22 promotional campaign in China.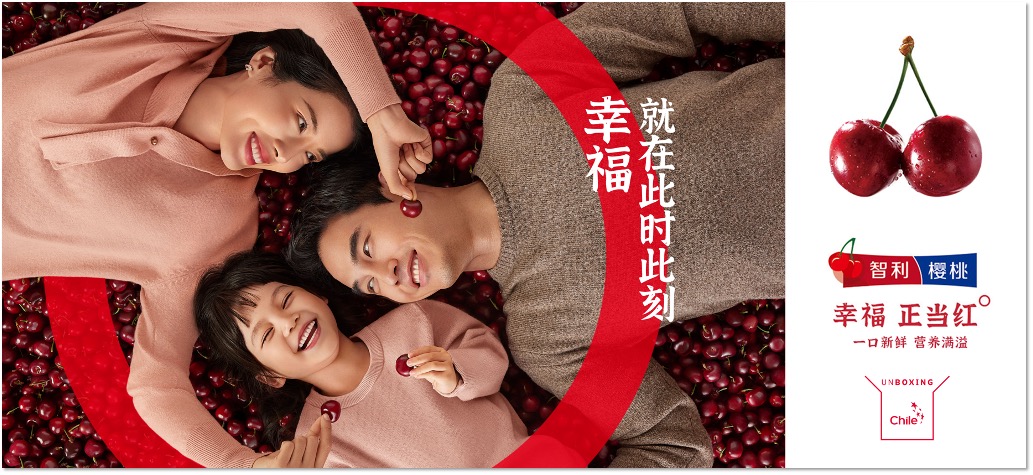 "The total investment for this year's campaign in the Chinese market is on the order of $5.9 million," said Carvajal. This budget will be spread across four agencies, each responsible for different aspects of the campaign. "Our general objective is to increase and drive consumption of Chilean cherries during our season by increasing the per capita consumption and incorporating new consumers." This year's campaign will also include additional efforts to reach consumers in smaller cities.
The campaign's communications will, as in previous seasons, revolve around the tagline of "Enjoy the Red Moment," a message that will for this season also be further refined to "Treat Everyday to a Red Moment." The goal of this messaging is to get consumers to think beyond the traditionally popular role of cherries as a Chinese New Year gift.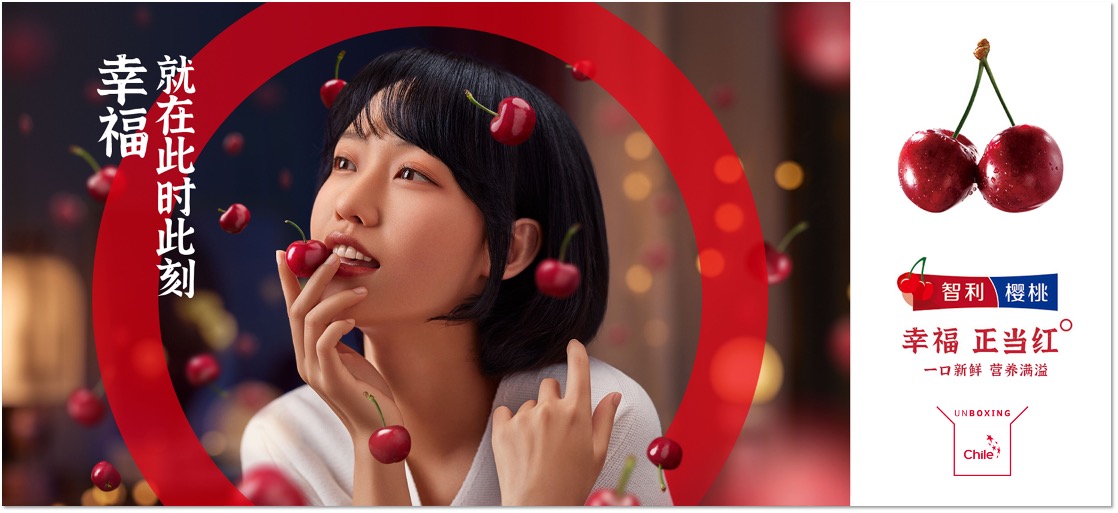 Instead, consumers are encouraged to view cherries as a nutritious and affordable indulgence to which they can treat themselves and others both on a daily basis and for other special events besides Chinese New Year.
Increasing demand for cherries during non-Chinese New Year occasions is especially important in a season such as this, when Chinese New Year will fall on the relatively early date of Feb. 1, with plenty of cherries still to arrive in China after the holiday. "We've tried to stimulate the consumption of Chilean cherries after Chinese New Year by increasing our investment on the order of 30% from Chinese New Year all the way up to Feb. 21," said Carvajal.
The online component of the 2021/22 promotional campaign includes a media plan with programmatic advertising buys reaching consumers in 40 cities spanning tiers 1 through 5. These ads will run across nearly 20 entertainment, women's issues and cooking platforms that are popular with the key targeted consumer groups. The platforms include the Meitu [6] photography app, the Babytree [7] pregnancy and parenting portal and the Xiachufang [8] online cooking community.
The Chilean Cherry Committee will also cooperate with nine different e-commerce and food delivery platforms this season: JD.com, TMall, Pinduoduo, TikTok, Hema (Freshippo), Miss Fresh, Taoxianda, Ele.me and Meituan. Furthermore, this season the committee will work with 89 different social media influencers and key opinion leaders on platforms including WeChat, Red, Sina Weibo and TikTok.
Despite the increasing importance of online channels, offline channels are still key for Chilean cherries, making it very important for the Chilean Cherry Committee to run point-of-sale activities with major nationwide and regional retailers, including most of China's best-known grocery and fruit retail brands. "This year we will be working with 16 hypermarkets, three premium supermarkets and seven fruit stores," said Carvajal. "We will be implementing 54 days — or more than 14,000 sessions — of retail promotions from Dec. 24 all the way up to Feb. 20."
This season, the Chilean Cherry Committee will also continue its tradition of reaching out directly to fresh fruit traders based in fruit wholesale markets around the country. "We will be actively involved in undertaking wholesale market activations," said Carvajal. "We will be in the Guangzhou wholesale market practically every week, and then we will be in six other different wholesale markets across China undertaking not only activations but also wholesale market workshops."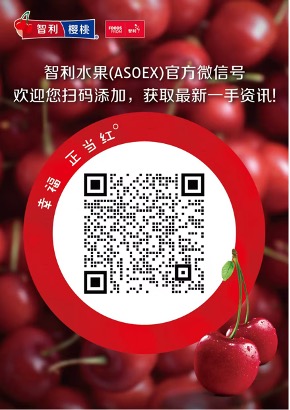 For those in the industry who will not have the opportunity to join a wholesale market event, they can scan the above QR code to add the official ASOEX WeChat account to receive timely resources, news and other information about the Chilean cherry season directly from the Chilean Cherry Committee.
Images: Chilean Cherry Committee/ASOEX