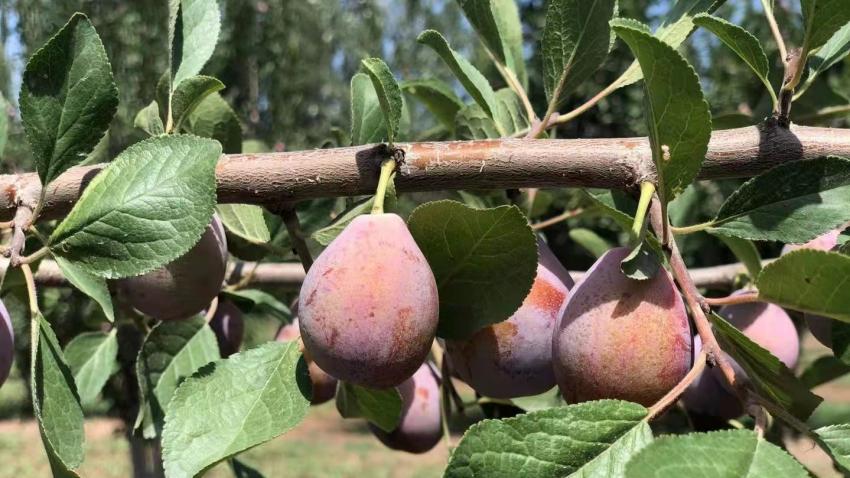 In mid-August, domestic sugar plums from the Xinjiang Uygur Autonomous Region began to hit the Chinese market in large quantities. Although sugar plums are a relatively new addition to Xinjiang's agricultural output, in contrast to more established fruits such as apples, pears, grapes and melons, they have already garnered a reputation among consumers for high quality and are considered comparable to imported sugar plums [3] in terms of both taste and appearance.
Xinjiang is a vast and mostly arid province in Northwest China. However, the province's long hours of sunshine and large diurnal temperature variation are very suitable for sugar plum cultivation. At present, sugar plum production in Xinjiang is centered around the Kashgar, Hotan and Yining regions, with Payzawat County (伽师县) in Kashgar Prefecture among the most important.
In an interview with Produce Report, Xu Hongyu (徐宏裕), deputy general manager of the supply chain department of China Dili Group (中国地利集团), explained that China has now emerged as a major global player in sugar plum production following years of exponential growth in planted area. In Payzawat County alone, the planted area has now surpassed 28,600 hectares, of which 8,000–8,600 hectares are bearing area. It is estimated that the county will produce a total of 90,000 tons of sugar plums this season, which typically lasts from late July to mid-September.
With respect to the prospects for Xinjiang sugar plums in China, Xu believes that the strong trading performance of both domestic and imported sugar plums has led to greater market awareness about this fruit throughout the country. As consumption steadily increases, more and more companies have chosen to deal in this fruit, which has in turn broadened the distribution channels and boosted sales. The combination of these factors is expected to create favorable conditions for consumers in China's lower-tier cities to develop the habit of consuming sugar plums.
According to Xu, more sugar plum buyers came to Xinjiang this season to seek out superior fruits, which has driven the farm gate prices for this year's crop higher than those last year.
China Dili Group is a leading produce wholesale market operator in China. The group currently runs 10 wholesale markets in seven Chinese cities.
Image: China Dili Group
This article was translated from Chinese. Read the original article [4].