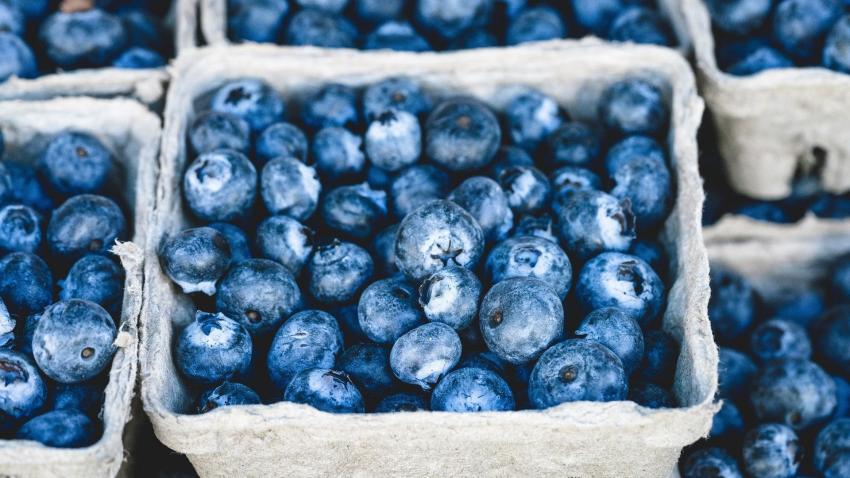 The 2020–2021 Blueberry Yearbook [3], an industry report recently released by agricultural consulting company iQonsulting, reveals that the blueberry export industry in the Southern Hemisphere is healthier than ever. It was a record-breaking season for Southern Hemisphere exporters, with a total of more than 312,000 tons of blueberries exported — a 20% increase over the previous season.
This growth was largely attributable to several major exporters that all achieved new records this season, namely, Peru, Chile, South Africa and Colombia.


Peru
Statistics from the Blueberry Yearbook show that Peru remains the largest blueberry exporter in the Southern Hemisphere, exceeding 160,000 tons of fresh blueberry exports in the 2020/21 season — a year-on-year increase of 36%. Peru's exports have shown sustained growth and hit new highs each season for several years. Peru's biggest export variety is Biloxi, and exports of other blueberry varieties have also risen.

Chile
Chile [4] is the Southern Hemisphere's second-largest blueberry exporter, with almost 118,000 tons exported this season, an 8% increase from the previous season. This was largely the result of an increase in planted area and the diversion of blueberries from the Ñuble and Biobío regions that were traditionally destined for the frozen industry to be exported fresh instead. Chile's two main export varieties, Duke and Legacy, account for 40% of the country's blueberry exports.
The makeup of Chile and Peru's blueberry export market has been changing; while North America has still remained the largest market for the past three seasons, its share has been declining, with exports to Europe and Asia on the increase [5].

Other Southern Hemisphere Exporters
South Africa and Colombia also show export growth trends, while the remaining Southern Hemisphere countries, including Uruguay, New Zealand, Australia and Argentina, registered a decrease in blueberry exports during the 2020/21 season. This was caused in large part by a significant downward trend in Uruguay's exports. New Zealand and Australia were showing an overall upward trend prior to last year, with a drop in exports only this past season, due in part to pandemic-related labor shortages related to the sector's reliance on foreign workers.
Organic Blueberries
Organic blueberry exports from Southern Hemisphere countries have also maintained a growth trend. While official data on organic blueberries are not available from all countries, the report confirms that Chile's organic blueberry exports have grown significantly, particularly in the regions of Ñuble and Biobío. From June to September each year, Peru is the main supplier of organic blueberries, competing with Africa, Argentina and Uruguay, while Chile's export peak falls from December to February of the following year.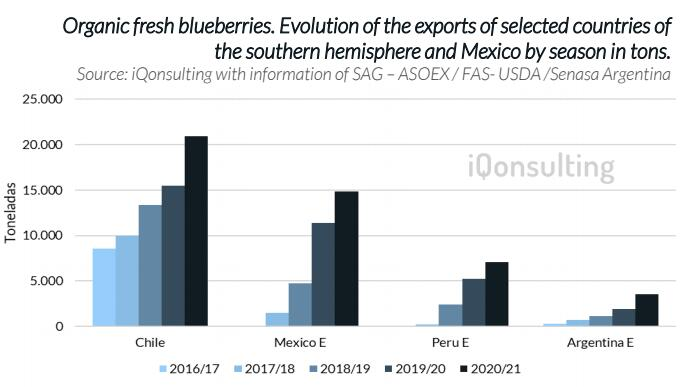 Frozen Blueberries
The Southern Hemisphere's frozen blueberry industry has developed alongside the fresh industry. The main growth in frozen blueberry exports has come from Peru, with Chile also maintaining stable exports and other Southern Hemisphere countries only exporting small volumes. Chile has the advantage in terms of market distribution, with greater coverage in Asia and Oceania. Currently, approximately 31% of Chile's frozen blueberry shipments are organic fruit.
Global Blueberry Market
During the 2020/21 season, North America was the largest export market for Southern Hemisphere blueberries, accounting for 55% of export volume and representing 21% growth. Average market prices in the United States remained similar to or slightly higher than the previous season. The supply of organic blueberries in the United States has been growing steadily for several seasons, in terms of both imports and local production.
In continental Europe, robust growth in supply was predicted early in the season, which impacted mid-term price trends.
The Chinese market saw a similar situation, with an increased supply being predicted at the start of the 2020/21 season. However, the supply of Chilean blueberries later in the season was lower than the previous year, leading to high prices in November and December.
On the whole, global blueberry supply has diversified, with an increase in local production volumes putting pressure on Southern Hemisphere exporters. In the United States, local blueberry supply comes from domestic growers [6] and Mexico, while in Europe, local supply originates from Spain and Morocco. In China, there is also local competition from domestically grown greenhouse blueberries, which have displayed solid growth in recent years [7].
Images: Pixabay (main image), iQonsulting (body images)