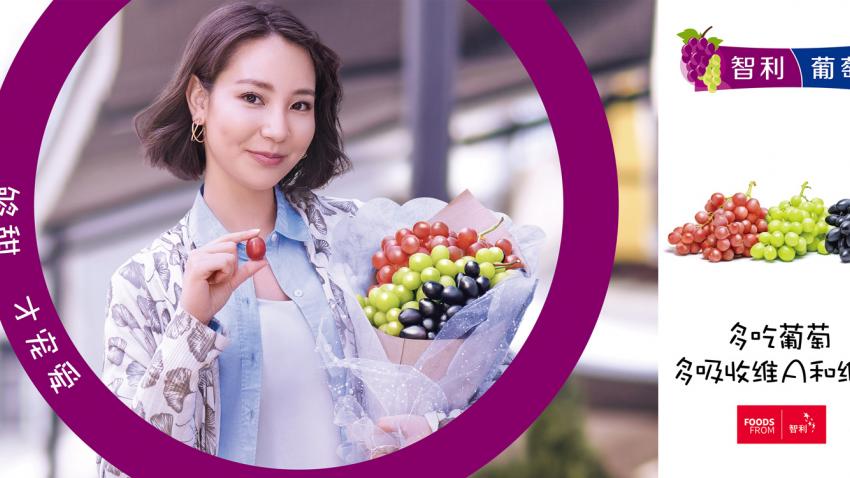 Chile, the world's biggest exporter of fresh table grapes, easily maintained its status as the largest supplier of imported grapes to China in 2020, according to data from the Chilean Fruit Exporters Association [3] (ASOEX). Furthermore, although the overall export volume of table grapes out of Chile is projected to fall in the 2020/21 season, ASOEX has not seen any indication that the quality of table grape arrivals in China has been affected.
Overall, Chilean table grape producers and exporters are continuing to invest in diversifying their variety offerings to China and other global markets, and ASOEX's Chilean Table Grape Committee [4] has continued to support consumption in the China market through active promotional efforts both online and offline.
On May 21, ASOEX's marketing director for Europe and Asia, Charif Christian Carvajal, presented a 2021 Chilean table grapes season summary for China to Produce Report readers.
Among the approximately 2.7 million tons of fresh fruit that Chile exports annually to more than 100 countries, table grapes occupy the leading position by volume of the 30 different fruit items exported. In fact, almost 30% of Chile's fruit-growing area is dedicated to grapes.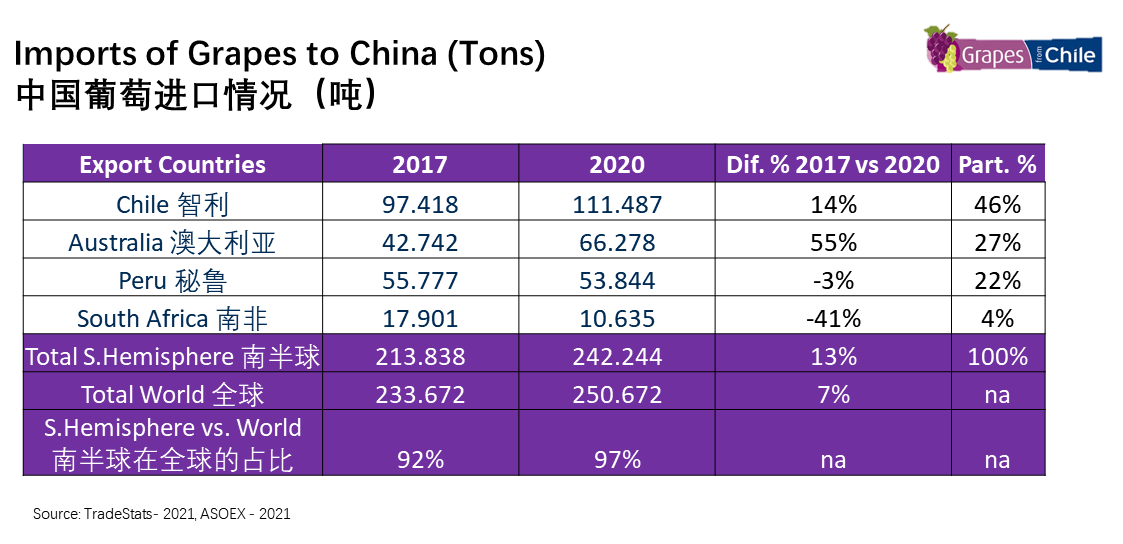 On the China side, it is interesting to note that approximately 97% of China's table grape imports in 2020 originated from the Southern Hemisphere, up from 92% in 2017, according to ASOEX statistics. Furthermore, all of this Southern Hemisphere supply comes from just four countries, of which Chile was the leading supplier in 2020 with a volume of 111,487 tons, a 14% increase since 2017. This was 68% more than Australia, the next country on the list, which exported 66,278 tons of grapes to China in 2020. The list was rounded out by Peru and South Africa, which exported 53,844 and 10,635 tons of grapes to China in 2020, respectively.
In terms of varieties, Carvajal said, "our industry is working very hard to diversify the array of table grapes that we are able to send to China." These efforts are evident in the export statistics for Chilean table grapes to China. The seeded variety Red Globe has seen export volumes to China drop by 18%, which has been more than offset by increases in the export volumes of other varieties. Chile currently exports more than 36 varieties of table grapes to China.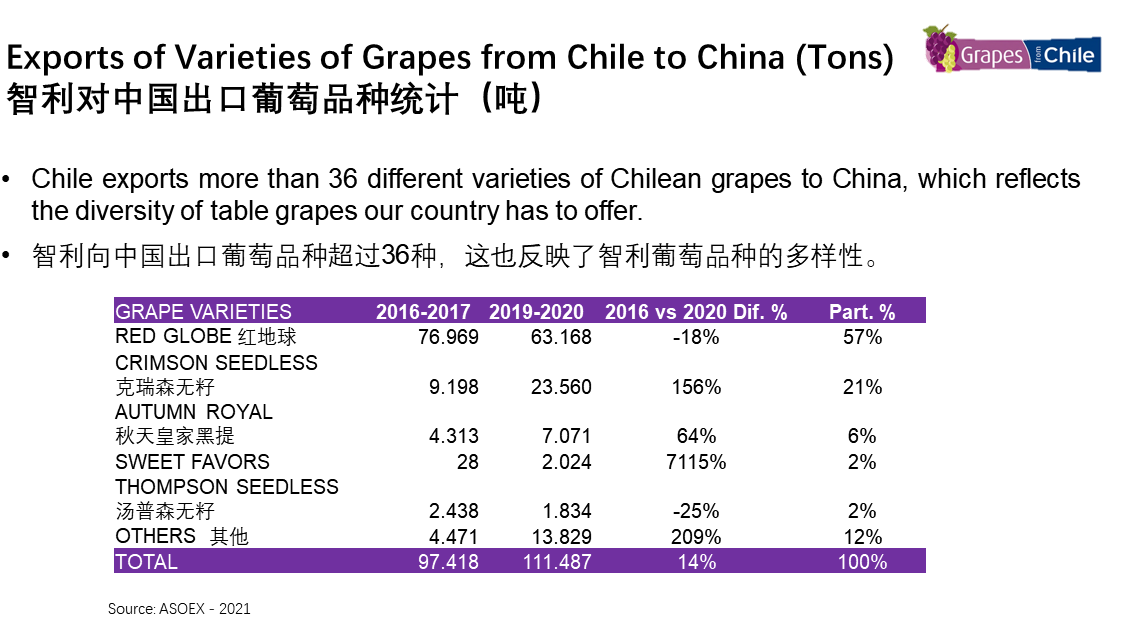 However, responding to an audience question about which varieties are favored by consumers, Carvajal cautioned against retailers only stocking a single "popular" variety: "Our research indicates that table grapes are often an impulse purchase and consumers are very attracted by the diversity of table grapes on display at the point of sale. Therefore, while specific varieties and their characteristics are of course an important consideration, it is also equally important that retailers strive to simultaneously stock all three grape color categories — red, green and black — whenever possible."
This season's exports of Chilean table grapes to China are in their final stages, with table grape harvests having been completed in week 17. This season was characterized by late January rains that have led to a global decrease in grape exports from Chile. Consequently, ASOEX is expecting that the total export volume of Chilean table grapes to China in the 2020/21 season will be 25–30% lower compared to last season.
However, Carvajal noted, "No major quality issues have been reported on product arriving into the market. Furthermore, Chile has maintained an active presence in the market, through robust promotional activities to facilitate the sales and rotation of its grape exports to mainland China."
The Chilean Table Grape Committee's promotional campaign in China this year includes both online and offline elements. On the online side, during the month of April the committee successfully staged an omnichannel promotional campaign in China [5] that included digital advertising, social media and e-commerce activities, which was aimed at facilitating the consumption of Chilean table grapes and enhancing the "Grapes from Chile" brand.
This season's offline campaign for Chilean table grapes in China [6] consisted of supermarket/hypermarket point-of-sale promotions covering six retailers in 20 cities and totaling 990 sessions — as well as in-store promotions and a livestreaming event with Pagoda, China's largest fruit shop chain. Capping off the offline activities was a creative cross-promotion with tea shop chain Zhu Chun [7], which featured a special "Starry Sky" tea drink made with fresh Chilean grapes.
Chilean table grapes are typically available from the middle of November to August of the following year.
Images: ASOEX