China's National Week holiday is now almost over, with this year's Mid-Autumn Festival coinciding exactly with National Day on Oct. 1. This unusual double holiday led to a peak in demand for holiday gift boxes. In the days leading up to the holiday, Produce Report personally visited several major fruit wholesale markets and other sellers of various sizes in Shanghai and Shenzhen, and learned that sales of fruit gift packs were steadily climbing.
Gift boxes fly off shelves, business recovers for wholesale markets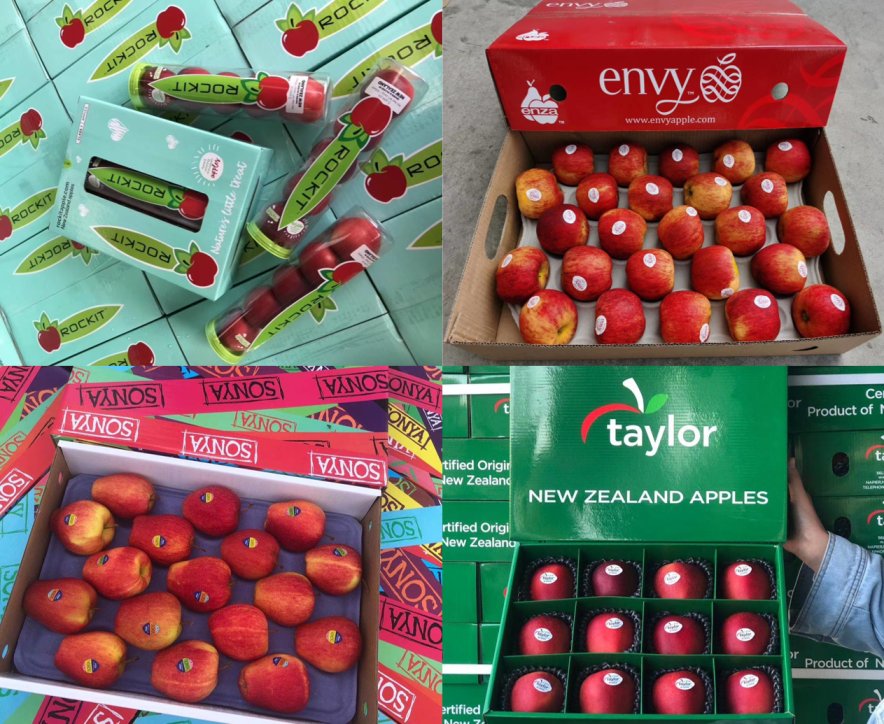 Since the COVID-19 epidemic broke out at the beginning of 2020, fruit wholesale markets experienced a continual slump over the first half of the year, with overall slow sales and low prices. However, in the second half of the year, the situation has been slowly improving; leading up to the Mid-Autumn Festival the market turned around, with prices and sales volumes gradually recovering their former vigor. Each stall at the wholesale markets had their own unique holiday fruit gift boxes on offer, and the entire market once again presented the lively, bustling scene typically seen in the past. Among the array of fruit gift boxes, imported fruits still had the upper hand in terms of attractiveness and price. Of the fruits on offer, gift boxes of New Zealand apples and Korean Shine Muscat [3] grapes presented the greatest variety of different packaging options and had reportedly been selling in the largest volumes.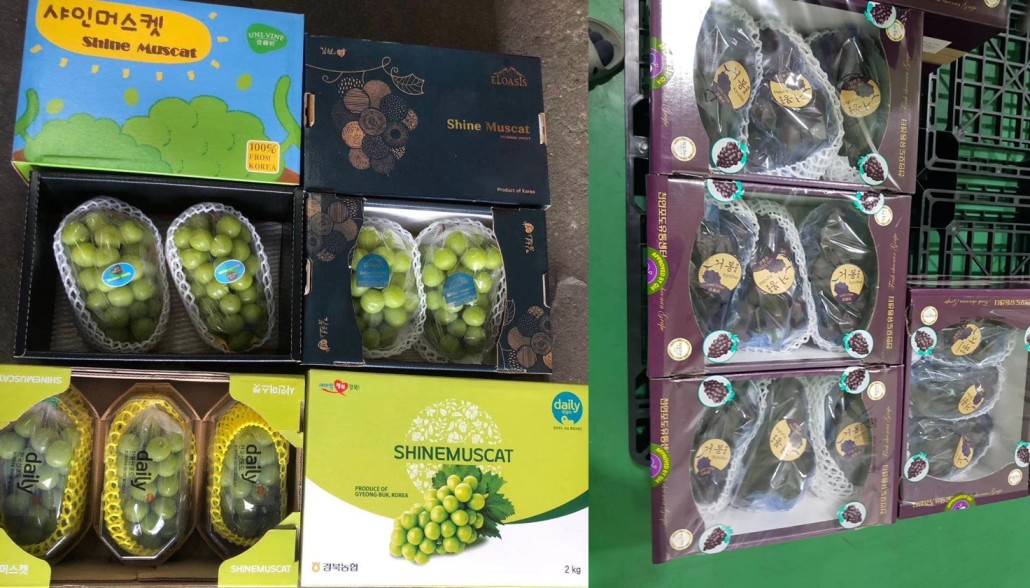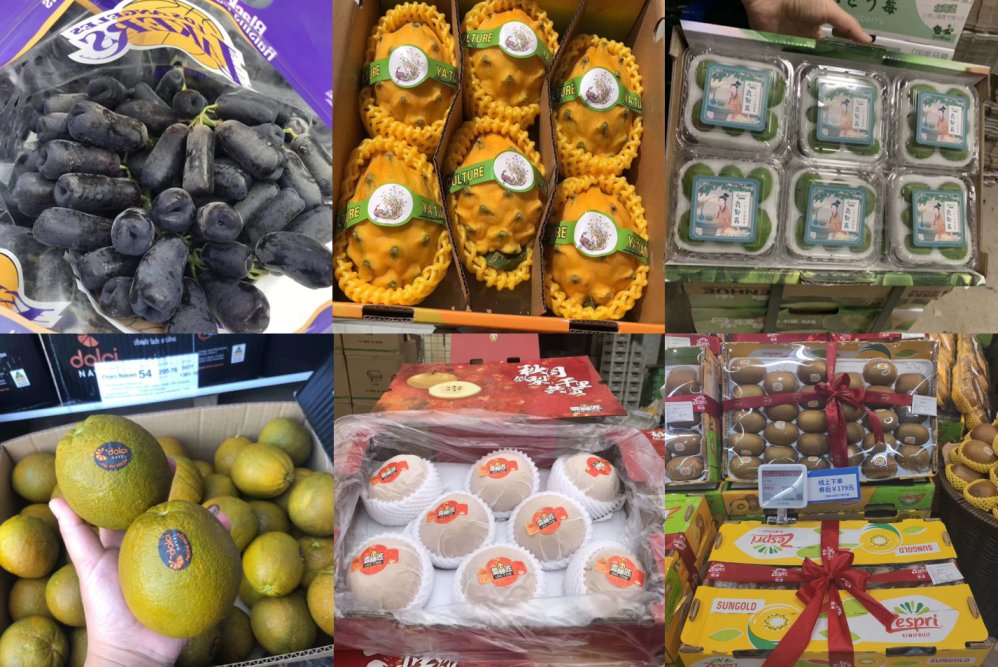 Supermarket promotions attract customers, high-end gift box offerings diversify
At the well-known fresh produce markets, our reporters encountered a wide variety of fruit gift boxes spanning numerous price points. Displays of domestically produced and imported fruit offered innovative products all competing with each other and featuring original gift box packaging designs. Korean and Chinese Shine Muscat grapes have reportedly proved particularly popular with consumers, with an array of eye-catching packaging. Merchants have been offering online and offline holiday promotions including discounts and delivery services, further boosting sales of these holiday gift boxes.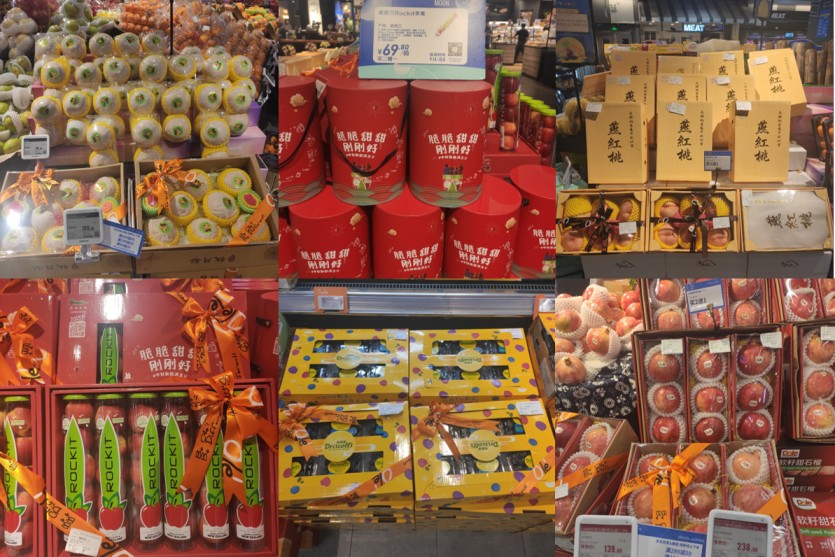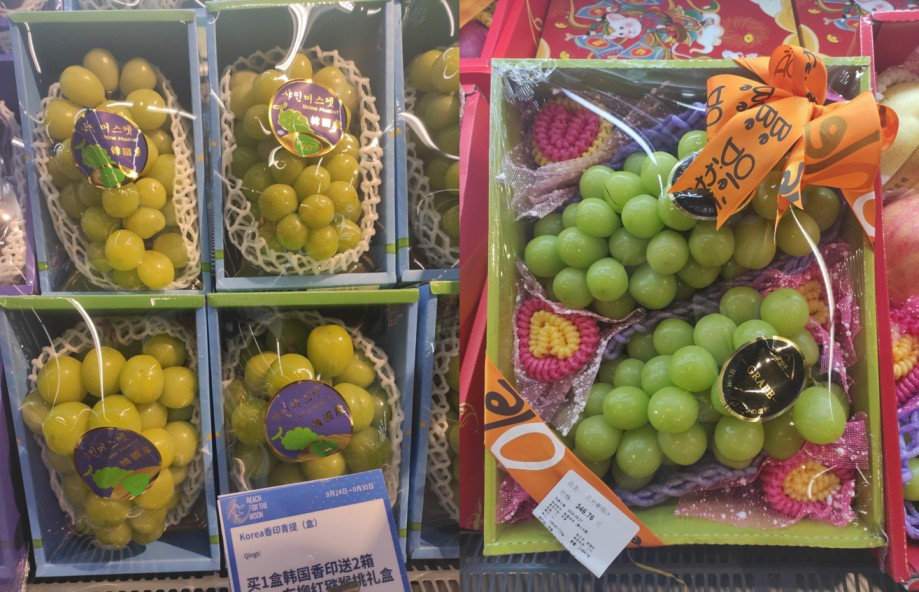 There are two main reasons for the peak in gift box sales leading up to the holiday. The first factor is the increasing spending power among China's domestic consumers in recent years. Enthusiasm for imported fruit is on the rise; according to statistics from the China Chamber of Commerce for Import and Export of Foodstuffs, Native Produce and Animal By-Products, China's total fruit import volume [4] in the first half of 2020 was 3.635 million tons, an 8% year-on-year decrease, while the total value of fruit imports rose by 14% to $6.33 billion. China has now become the world's second-largest importer of fruit, trailing only the U.S., with fruit import volumes continuing to surge upwards.
The second major factor is that against the wider background of the global pandemic, consumers have become more cautious when it comes to going out and making in-person purchases, and regional authorities have also been encouraging people to avoid or reduce gatherings. This means that over this year's National Week vacation, more people have elected to stay at home with their families or visit friends and relatives at their homes. As fruit is considered to provide a great vitamin boost and promote good health, fruit boxes have stood out as a particularly good choice of holiday gift for this year's Mid-Autumn Festival. The peak in sales is expected to continue through to the end of the vacation, breaking last year's sales records over the National Week period.
Images: © 2020 Produce Report
This article was translated from Chinese. Read the original article [5].