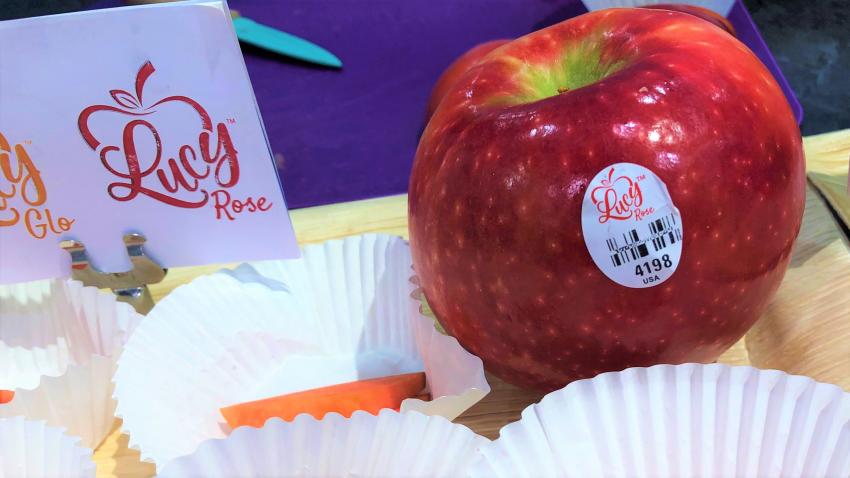 U.S. fruit marketer Chelan Fresh [3] is gearing up for this year's much-anticipated harvest of Lucy apples. Based in northern Central Washington, the Chelan Fresh fruit brand markets on behalf of a collective of family-owned farms in the area, growing and distributing over 20 varieties of apples, pears and cherries. The Lucy apple made a big splash when it debuted at last year's Produce Marketing Association Fresh Summit, selling out and garnering rave reviews from consumers.
The branded Lucy apple variety was developed by growers in Central Washington and is noteworthy for its unique and eye-catching pink-red flesh. The variety is part Honeycrisp, which gives it a sweet, tangy flavor and appealing crunch. Chelan Fresh offers two varieties of Lucy apple: the Lucy Rose has a classic red skin and a hint of berry flavor, while the Lucy Glo is a yellow-skinned apple with a tangier flavor and deep red flesh.
Chelan Fresh first launched commercial production of the Lucy apple in 2019, producing 6,000 boxes that all sold out. This year's harvest is due to begin on Oct. 1. When Produce Report caught up with Chelan Fresh at last year's PMA Fresh Summit, the company was anticipating a harvest size of 13,000 boxes this year.
In addition to the Lucy, Chelan Fresh grows and distributes several other branded apple varieties: the Rockit [4], a "miniature" apple marketed toward children and on-the-go snackers; the SugarBee, a crisp, red-skinned variety with Honeycrisp parentage; and the Koru, a Braeburn–Fuji cross that is marketed as slow to brown and great for snacking or baking. While the Lucy was developed and introduced to the market by Chelan Fresh itself, the Rockit and Koru are licensed varieties that originate from New Zealand and the SugarBee was originally cultivated in Minnesota.
Although export is not yet on the cards with current production volumes, the Lucy apple has certainly proved a hit with consumers so far and may be one to watch in the future. Chelan Fresh already exports other fruit varieties to both China and other markets, including cherries [5] and other varieties of apples.
Chelan Fresh will be attending the PMA Fresh Summit [6] once again in 2020; this year's summit will be held virtually on Oct. 13–15.
Images: Produce Report (main image and body image 1), Chelan Fresh (body image 2)