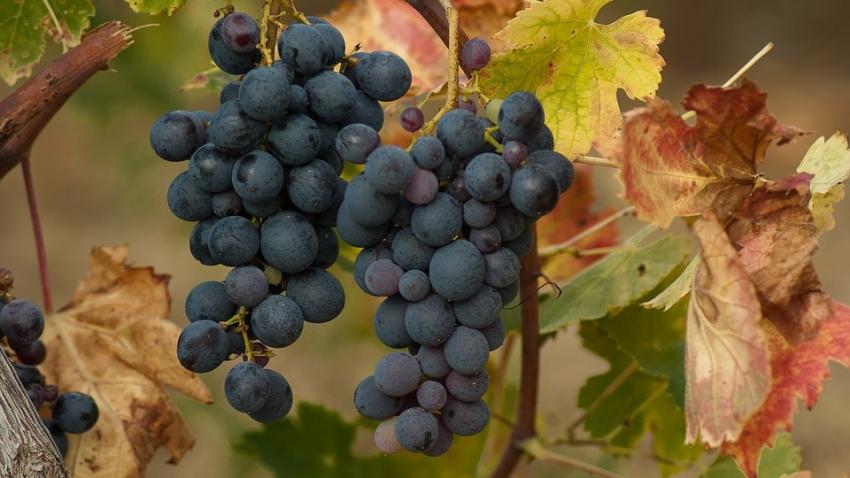 According to a report recently issued by the USDA's Foreign Agricultural Service, the global production of fresh table grapes in marketing year* (MY) 2019/20 is estimated to reach 23.4 million tons, an increase of approximately 900,000 tons compared to the previous marketing year. Global exports are expected to see a slight dip owing to reduced shipments from India and the U.S.
China
China is the world's largest producer and consumer of fresh table grapes. China's table grape production in MY 2019/20 is forecast to reach 10.8 million tons, corresponding to a 9% year-on-year increase, as a result of vineyards bouncing back from last year's severe frosts.
The total grape planting area appears to have stabilized following years of rapid expansion, with an estimated 708,000 hectares in MY 2019/20, and many farmers have been replacing traditional grape varieties with more profitable cultivars. Although Kyoho, Red Globe and Muscat remain the dominant varieties, the cultivation of other popular varieties such as Summer Black, Shine Muscat, Jumbo Muscat, Gold Finger and Crimson Seedless is also gaining momentum.
China's table grape exports [3] are predominantly oriented toward South and Southeast Asian countries. The rebounding supplies are very likely to drive exports to 360,000 tons in MY 2019/20, thus hitting a record high.
China mainly imports counter-seasonal table grapes from Southern Hemisphere countries such as Chile, Peru, Australia and South Africa, with those from Chile accounting for approximately half of the total import volume. In MY 2019/20, imports are estimated to reach 235,000 tons, a decrease of 27,000 tons.
India
India's grape production in MY 2019/20 is expected to increase by 200,000 tons to 3 million tons, despite heavy rains in September and October negatively affecting the overall quality and reducing the amount of table grapes qualified for export. The export volume in MY 2019/20 is predicted to fall by almost half to 135,000 tons.
Turkey
Turkey's grape production in MY 2019/20 is estimated to rise by 50,000 tons to 2 million tons. This increased supply is expected to boost exports by 26,000 tons to 205,000 tons, especially to Russia and Ukraine.
European Union
The EU's grape production in MY 2019/20 is expected to fall by 220,000 tons to 1.4 million tons, in large part due to excessive rain in Italy severely impacting production. Exports are expected to reach 75,000 tons, while imports are estimated to be 675,000 tons owing to reduced shipments from India, Peru and Brazil.
United States
As the world's largest importer of table grapes, the U.S. is expected to import 672,000 tons of table grapes in MY 2019/20. Meanwhile, production is forecast to fall by 90,000 tons to 906,000 tons.
Chile
Chile is the world's largest table grape exporter. Despite the impact of an 11-year drought, which has intensified in MY 2019/20, table grape production remains steady at approximately 840,000 tons owing to the implementation of a series of measures aimed at increasing productivity. Exports in MY 2019/20 are anticipated to reach 645,000 tons, which is very similar to that in MY 2018/19. China is the second largest market for Chilean table grapes and exports to China witnessed steady growth [4] in MY 2019/20, with some seedless varieties especially appealing to Chinese consumers.
Peru
Peru's grape production in MY 2019/20 is estimated to increase by 18,000 tons to 648,000 tons, largely driven by an increased planting area. The export volume is expected to total 395,000 tons.
Russia
Russia's grape production in MY 2019/20 is forecast to remain steady at 21,000 tons, while imports are anticipated to reach 275,000 tons.
South Africa
South Africa's grape production in MY 2019/20 is estimated to increase by 20,000 tons to 320,000 tons owing to increased planting area, favorable weather conditions, new plantings coming into full production and the availability of irrigation water. This higher output is expected to drive exports to 295,000 tons as market demand from the EU and Canada has remained high. In calendar year 2019, South Africa (10,981 tons) was the fourth largest supplier of table grapes to China after Chile (106,854 tons), Peru (65,669 tons) and Australia (58,429 tons). In November 2016, China and South Africa revised the cold treatment protocol from −0.6 degrees Celsius for 22 days to +0.8 degrees Celsius for a minimum of 20 days, a move that was well received by industry insiders hoping to further expand and solidify the presence of South African table grapes [5] in China.
*The definition of marketing year varies between countries and commodities. With respect to table grapes, the U.S. is on a May–April marketing year, while all other Northern Hemisphere countries are on a June–May marketing year. The Southern Hemisphere countries of Chile, Peru and South Africa are on an October–September marketing year.
Image: Pixabay
This article was translated from Chinese. Read the original article [6].