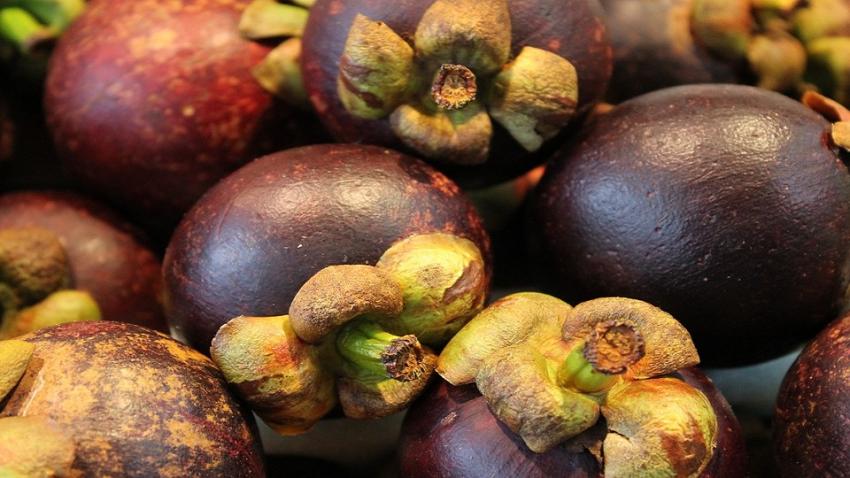 May marks the beginning of the peak harvest season for Thai mangosteens. As the export volume of this fruit to China increased, prices inevitably witnessed a sharp decline. At some fruit wholesale markets throughout China, the price of mangosteens, which previously sold for as much as 230–240 Chinese yuan ($32–34) for an eight-kilogram carton of 4a specification in mid-April, fell to 140–150 yuan ($20–21) in mid-May.
To date, Thailand, Malaysia, Indonesia, Myanmar and Vietnam have secured market access to China for their mangosteens. Among these countries, Thailand currently enjoys the lion's share of the Chinese mangosteen market. Data from China Customs indicate that Thailand exported 341,000 tons of mangosteens with a total value of $795 million to China in 2019, corresponding to 92.6% of China's total mangosteen imports.
However, in the first quarter of 2020, the impact of the ongoing COVID-19 epidemic caused China's mangosteen imports to shrink drastically to only 25,000 tons, which represents a 63% decrease compared with the same period last year. Only 5,331 tons of this total import volume originated from Thailand, corresponding to a year-on-year decrease of 89%. As the Thai mangosteen harvest came into full swing in May, exports to China are expected to see substantial growth in the second and third quarters of 2020.
Thai mangosteens are predominantly grown in the eastern and southern parts of the country, with the supply season typically lasting from April to December. Exports to mainland China account for almost 70% of Thailand's total mangosteen exports, with other export destinations such as Japan, Hong Kong and Taiwan making up a much lower percentage.
According to some Chinese fruit dealers [3], Thai mangosteens generally boast a thinner skin, a superior taste and better freshness preservation measures.
Indonesian mangosteens have also made excellent progress on the Chinese market in the last two years since regaining market access to China in January 2018. In 2019, Indonesia exported 19,489 tons of mangosteens to China, representing an increase of 161% over the previous year. In the first three months of 2020, Indonesian mangosteens still maintained strong momentum, with the export volume to China totaling 18,106 tons.
The market supply of Indonesian mangosteens lasts throughout much of the year, with the peak harvest season occurring between November and February. However, the greater distance between Indonesia and China is an inherent disadvantage for Indonesian mangosteens compared with Thai mangosteens; only three days are needed for Thai mangosteens to reach China via land, whereas Indonesian mangosteens require a 13-day sea shipment.
On Oct. 1, 2019, Chinese authorities also gave the green light to Vietnamese mangosteens. Prior to this announcement, some fruit entered China in the form of cross-border trading despite the lack of official market access. Compared with mangosteens from Thailand, those from Vietnam enjoy an even lower price as well as a shorter transit distance. However, since China strengthened its testing standards [4] for Vietnamese agricultural products earlier this year, no mangosteens from the country have yet made their way into China via official routes in 2020.
Image: Pixabay
This article was translated from Chinese. Read the original article [5].