In June this year, Newton small apples from the Western Cape region of South Africa made their debut at Pagoda, the Shenzhen-based fresh fruit retail chain, and immediately caught the attention of consumers. The Newton apples have diameters ranging between 45 and 60 mm, making them significantly smaller than the conventional Fuji Red variety (70–80 mm in diameter). The apples are red and yellow in color, and some even have these colors in stripes. They are also very sweet, with Brix levels as high as 16%.
Pagoda's Newton small apples represent an upgrade to the chain's previous variety of small South African apples (冰糖小苹, literally "ice sugar"). Pagoda told Produce Report that Chinese consumers enjoyed the taste of the small apples and found it reminiscent of the apples they used to eat as children in their hometowns. In 2018, more than 2,000 tons of these apples were sold. Pagoda intends to double its purchase volume this year to let more of its customers taste these delicious apples.
Newton apples, in fact, belong to the Fuji Red variety, which grows in abundance in the Mediterranean climate of the Western Cape. No waxing or bagging is performed during the growth of the fruits, endowing them with an excellent taste. However, continuous exposure to sunshine can cause the color of the apples to deteriorate, which may be perceived as less attractive.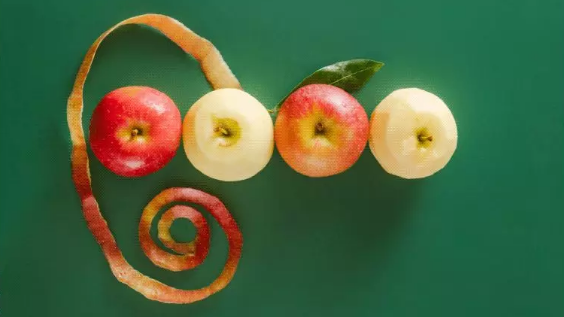 According to Pagoda, Newton apples are grown on old apple trees aged over 40 years, as the higher nitrogen content in the soil and fruits makes apples from new trees less tasty. The Newton small apples are allowed to ripen naturally and then picked by hand before being carefully selected, packaged, shipped and delivered to Pagoda's depots and stores throughout the country under cold-chain conditions.
The Western Cape has a long history of apple production that can be traced back to 1743. Apples and pears are the major types of fruits grown in this region. Continuous improvements and importation of newer varieties have been undertaken to meet and exceed market demands. China and South Africa first established a fresh fruit trade arrangement in 2015, and Pagoda was among the first companies to purchase applies from South Africa.
Pagoda's Newton apples are not the only type of small apples on the Chinese market. New Zealand's Rockit apples have been exported to China since 2015 and rapidly proved popular [3] with consumers. Rockit apples have diameters of 50–70 mm and an acidic yet sweet taste. Pagoda is the world's largest retailer of Rockit apples, and its sales of this product grew by 74% in 2018 compared with the previous year, accounting for a 20% share of the Chinese market.
Pagoda told Produce Report that small apples are more suitable for older people and young children, even allowing them to consume two at the same time. Apples are considered a traditional fruit [4] by Chinese consumers. In addition to improving their color and taste to meet the demands of consumers, small varieties with a pronounced size difference compared to conventional varieties have an advantage in terms of product differentiation and market development.
Images: Pixabay (main image), Pagoda (body image)
This article was translated from Chinese. Read the original article. [5]