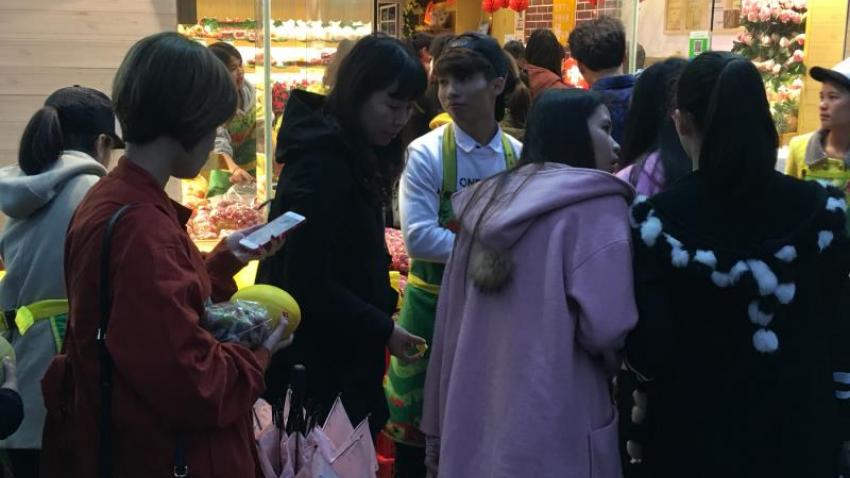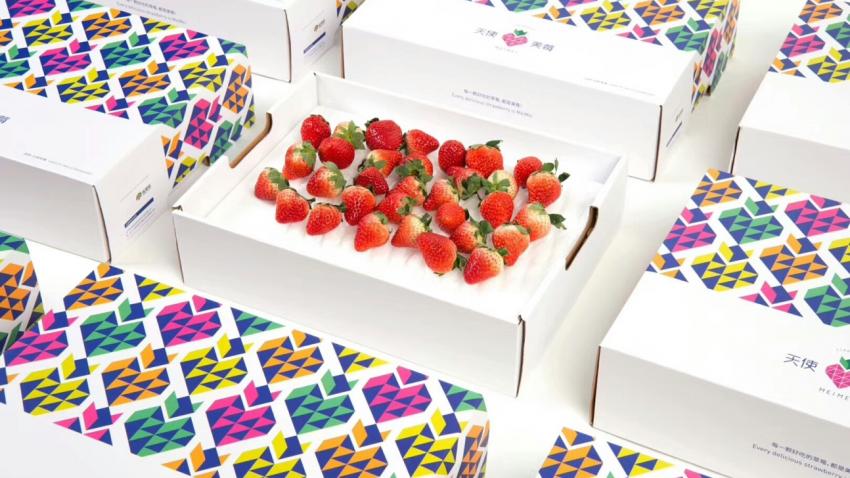 Pagoda recently issued an official report regarding its sales during the Chinese Spring Festival holiday, drawing the attention of China's fruit industry and quickly developing into a hot topic online. As one of the peak seasons for fruit sales, the Chinese Spring Festival holiday period has seen steady growth in fruit sales and consumption habits, in line with general increases in consumption patterns throughout China in recent years. Produce Report interviewed Pagoda to explore the major trends behind the report and some of its key takeaways. 
Between February 13th and 23rd of 2018, Pagoda sold 9,778 tons of fruit valued at USD 33.3 million, a 53.8% increase over last year's Spring Festival holiday sales. Sales on February 14th (Valentine's Day) were the high point of this period at USD 5.3 million. Driven by the strategy implemented by Pagoda in 2014 which aims to balance development between online and offline channels, online sales accounted for more than 20% of total sales during this period.
Among fruit, the top 6 best sellers were cherries, strawberries, fruit baskets, Jintaiyang melons, sugar oranges, and cherry tomatoes. Pagoda informed Produce Report that most of the cherries were from Chile, with China's own premium domestic cherries only accounting for a small percentage of sales. Among the varieties of strawberries sold were Tianshi strawberries, one of the most sought-after products at Pagoda chain stores. Jintaiyang melons were another hit product - Pagoda has gained exclusive marketing rights to this product and is very involved in planting it in Hainan Province. As a fruit with strong sales in the winter, citrus made up 13% of total sales, with Guangxi sugar oranges the leader among other citrus products.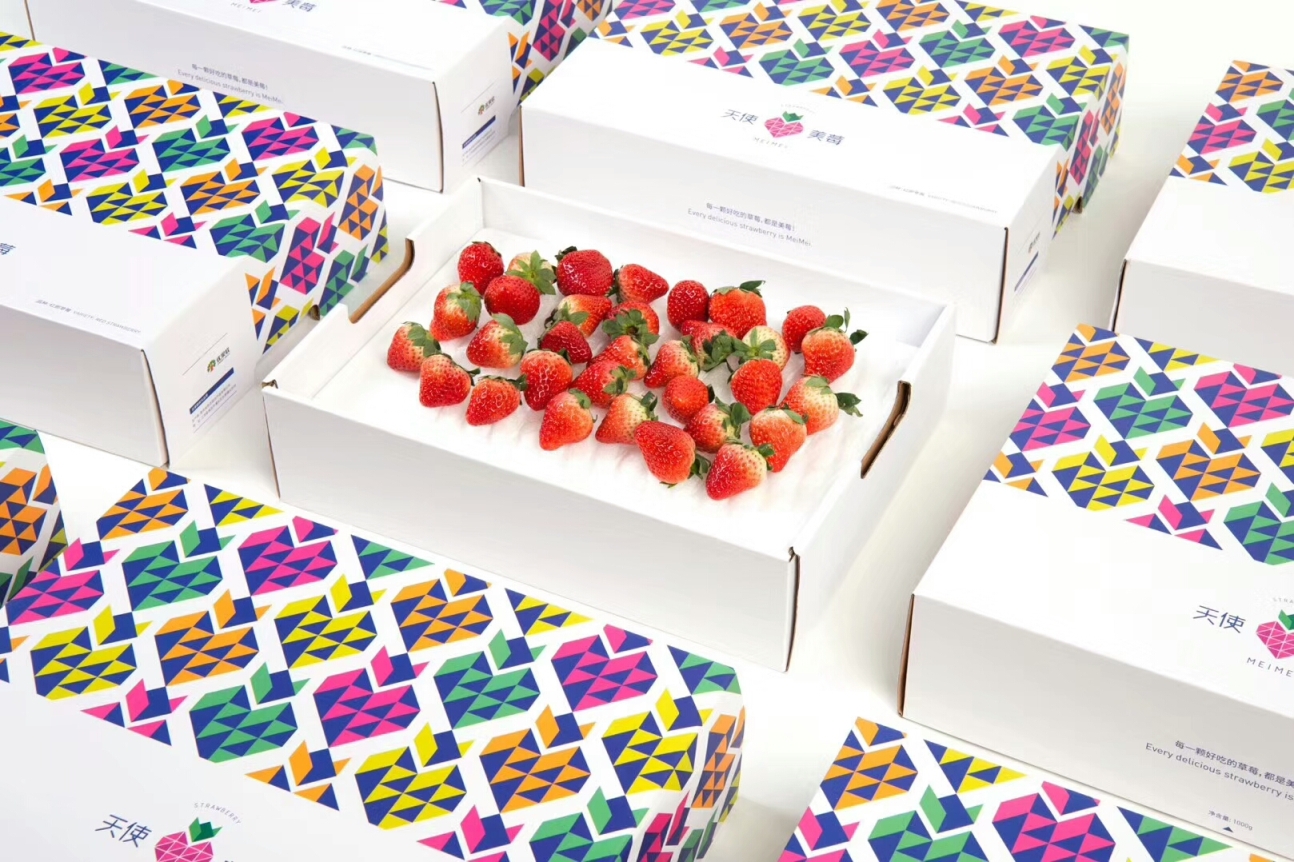 ▲ Tianshi strawberries
Consumer preferences varied depending on geographical region: consumers in southern China preferred cherries and strawberries, whereas cherries and Jintaiyang melons were particularly popular in northern China.
Surprisingly, it was five lower-tier cities which showed the greatest sales potential. Meizhou, Guangdong Province, ranked first with a 319.9% year-over-year increase in sales, followed by Xinyang, Henan Province (231.2%), Jiujiang, Jiangxi Province (191.5%), Qionghai, Hainan Province (148.9%), and Heyuan, Guangdong Province (140.8%). This seems to indicate that consumer purchasing power is growing rapidly in lower-tier cities, with an increasing number of customers willing to spend more money for higher quality products. As for the sales performance in first-tier cities, Pagoda noted that "consumers in Beijing, Shanghai, Guangzhou, and Shenzhen were more predisposed to offline fruit shopping. The tradition of gift giving for holidays made fruit baskets among the top 3 best sellers."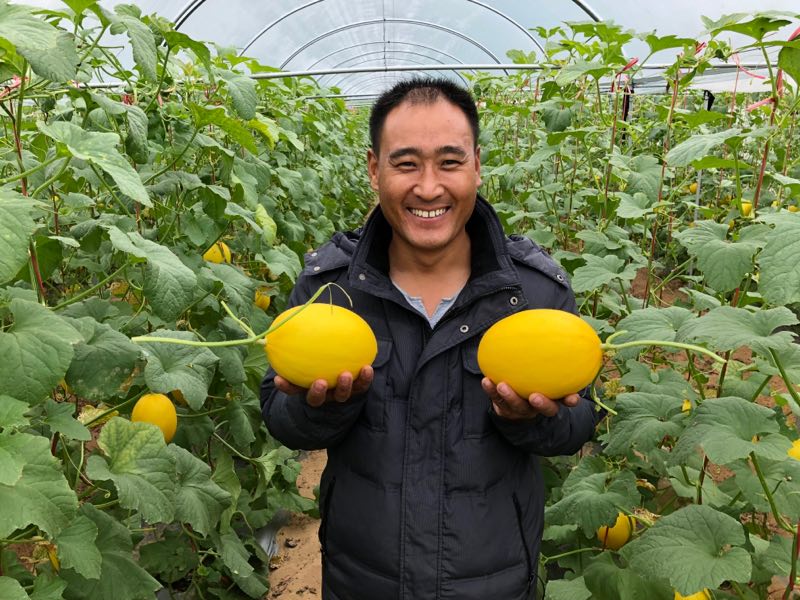 ▲ Jintaiyang Melons
Consumers who shopped at Pagoda were largely female (70%) and young: 44% of all sales were by consumers born in the 1980s, with the 1990s coming in second at 36%. Those born in the 1970s, pre-1970, and in the 2000s only accounted for 12%, 5%, and 3% of total sales, respectively. An analysis of consumers based on their zodiac sign revealed that Capricorns were the most frequent purchasers of fruit (Capricorn 14.3%; Libra 10.6%; Scorpio 10.5%; Sagittarius 9.3%; Virgo 7.9%; Leo 7.6%; Aquarius 7.2%; Pisces 7.0%; Cancer 6.9%; Gemini 6.7%; Taurus 6.0%; Aries 6.0%).
 
Image source: Pagoda