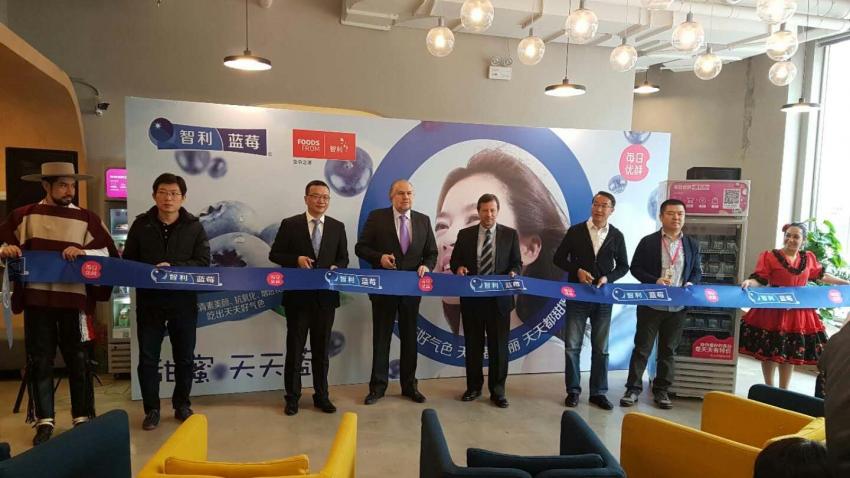 On January 16, Charif Christian Carvajal, Director of Marketing for Europe and Asia at the Chilean Fruit Exporters Association [3] (ASOEX), and Andrés Armstrong, Executive Director of the Chilean Blueberry Committee, teamed up to give an online lecture to listeners of Produce Report, in which they provided an overview of Chilean blueberry and cherry exports and recent promotional activities. As well as the regular WeChat channel, the lecture was also simultaneously live streamed to viewers via the Weibo and Yizhibo platforms.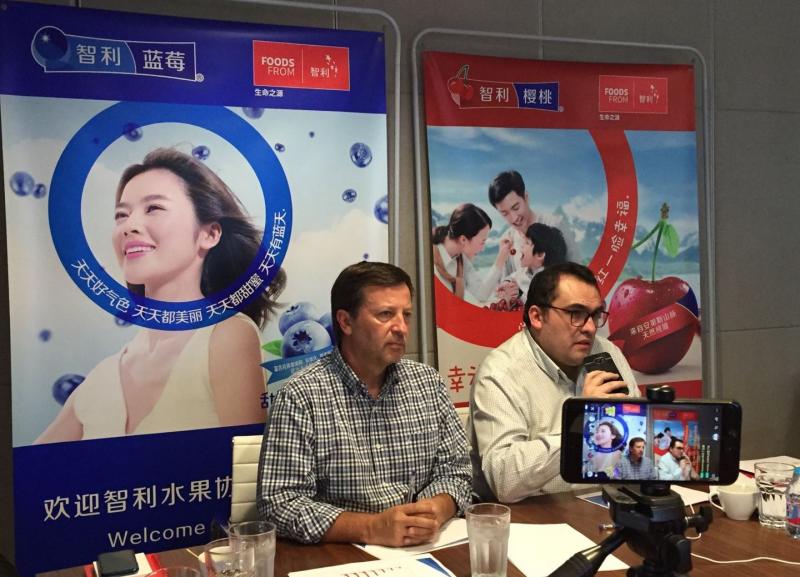 Chile is the biggest exporter of fresh fruit in the southern hemisphere, as well as the largest exporter of blueberries and cherries in the world. In 2016, the country surpassed Thailand to become the main supplier of fruit to China [4] with a 24.2% market share of China's total fruit imports and a total value of almost 1.2 billion USD.
The Chilean blueberry season runs from early October to mid-April, making it almost perfectly complementary with the Chinese season from March to August. Indeed, China is the fastest-growing market for Chilean blueberries and industry representatives have been working hard to promote awareness and consumption of Chilean blueberries among Chinese consumers. Meanwhile, the most recent projections indicate that domestic Chinese blueberry production will reach 1 million tons per year by 2026, as discussed in the recently published 2017 China [5] Blueberry Report [6]. China already has 46,000 planted hectares of blueberries, corresponding to 114,000 tons of fruit, most of which is destined for local consumption. Outside of the domestic production season, Chile has positioned itself to be the major supplier of fresh blueberries to China. Of the 8,738 tons of blueberries imported by China in 2017, the vast majority (85%) were grown in Chile.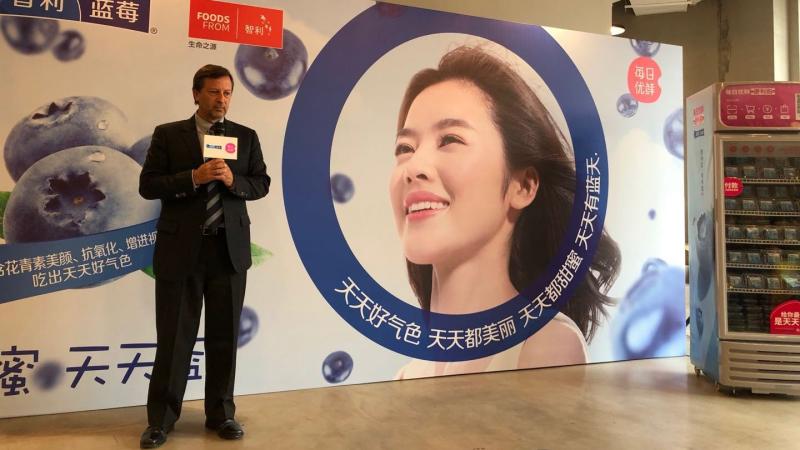 With almost 16,000 planted hectares spanning from the north to the south of the country, Chile produces more blueberries than any other nation in the southern hemisphere. The 2016–2017 season set a new record for Chilean blueberry production, which exceeded 100,000 tons (103,687 tons) of fresh fruit for the first time. The majority of this produce was exported to North America (67,802 tons, 65%) and Europe (23,136 tons, 22%). Although only 12% (12,569 tons) of the crop was exported to Asian markets, this represents a dramatic increase from the value of 3% only seven years previously. This increase has mostly been driven by exports to China, which accounted for the majority (10,210 tons, 81%) of exports to Asia, with smaller quantities going to South Korea (1,580 tons, 13%), Japan (382 tons, 3%), and several other countries. The year-on-year increase in Chilean blueberry exports to China from the 2015–2016 season to the 2016–2017 season was a staggering 77%. In addition to the over 100,000 tons of fresh blueberries, Chile also produces over 40,000 tons of frozen fruit annually.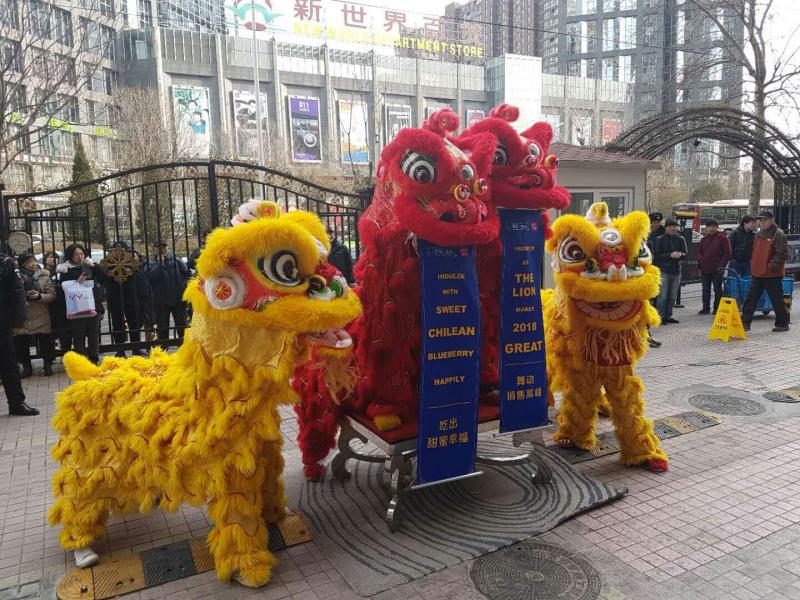 In an effort to better understand Chinese consumers and further promote Chilean blueberries in this major market, the industry has undertaken consumer research in collaboration with the global market research firm Ipsos. A recent survey of 18–50 year old adults in Guangzhou revealed that the majority of consumers purchased blueberries at least once a week and considered the three main factors to be their healthy aspects, high nutritional value, and taste. In particular, the consumers surveyed cited the taste, texture, and health benefits to be the main criteria behind selecting a specific blueberry, and considered the single most important taste factor to be the sweetness, alongside the crispiness and juiciness. Chilean blueberries were found to rank well in terms of their sweetness and relatively low sourness. The majority of consumers reported purchasing their blueberries in specialized fruit stores and offline supermarkets.
One novel way of promoting Chilean blueberries has been the use of branded vending machines in collaboration with MissFresh. In the pilot program, 100 machines have been deployed across Beijing. This is the first time that Chilean fruit has been sold through this channel. As well as being an innovative means to catch the attention of consumers, these refrigerated vending machines provide a convenient channel to purchase fresh fruit while maintaining product quality, crispiness, and sweetness.
Alongside blueberries, an ambitious promotional campaign [7] for Chilean cherries is currently well underway and will continue until Chinese New Year. This comprehensive campaign includes events in the wholesale markets at Guangzhou Jiangnan and Shanghai Huizhan, retailer launch events involving eight major retailers in eight cities, pop-up stores in three cities, and POS activation in 305 stores in 61 cities across China. In particular, the pop-up stores in Beijing, Hangzhou, Chengdu, and Shenyang serve as a modern way to raise awareness of Chilean cherries in locations with heavy consumer traffic, allowing people to experience the product and develop the impulse to purchase fresh Chilean cherries in the future.
Interested viewers can watch a replay of the live stream of the lecture at this link [8].
Image source: MZMC, ASOEX