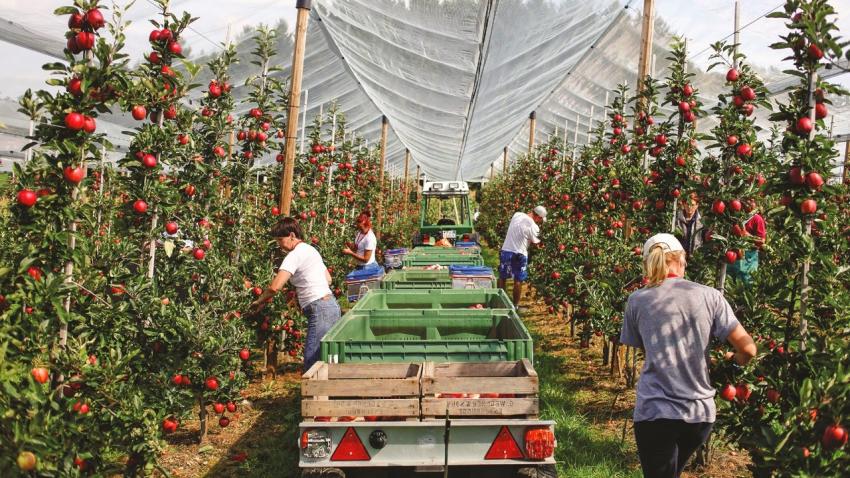 At the FRUIT LOGISTICA [3] 2017 fair held in Berlin last month, Produce Report had the opportunity to meet Carolin Metzger of BayWa [4]. Founded in 1923 and with its head office in Munich, BayWa is a German conglomerate with worldwide operations providing trading, logistics, and supplementary services to the agriculture, energy, and building material sectors.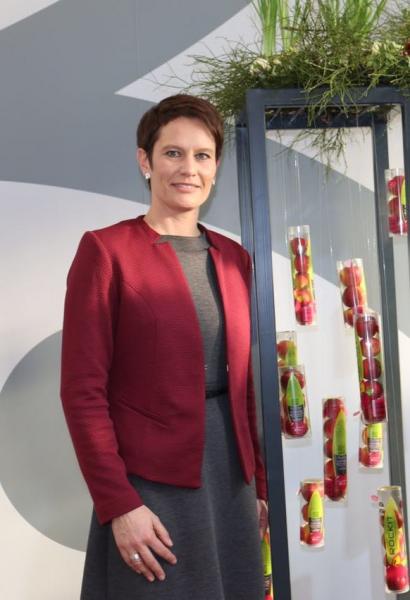 The fruit trade is one of BayWa's most internationally oriented business segments. BayWa aims to bridge the gap between the grower and the retail sector and serve as a reliable partner in the fruit trade, both domestically and internationally. Its primary customers are food retailers, wholesale markets, the organic food trade, and the processing industry.
Pome Fruit
Given BayWa's head office location close to the second largest apple-growing region in Germany, apples are naturally at the heart of the company's fruit business. Indeed, BayWa is the largest supplier of pome fruit to German retailers and also delivers its fresh German apples to over 20 countries throughout Europe, Asia, and Northern Africa. Moreover, since its 2012 acquisition of New Zealand's T&G Global [5], which holds a 35% share of New Zealand's apple export market, BayWa has been one of the world's leading traders of pome fruit. According to the company, BayWa's apples are always being harvested somewhere around the globe, enabling the company to supply its partners with fresh produce year-round. Through T&G and its wholly owned subsidiaries Enza and Apollo Apples Ltd., BayWa has forged international trade links to Asia, Australia, Europe, and the Americas, and also holds exclusive rights to the worldwide cultivation and marketing of Enza's pome fruit including its premium brands and Pacific series.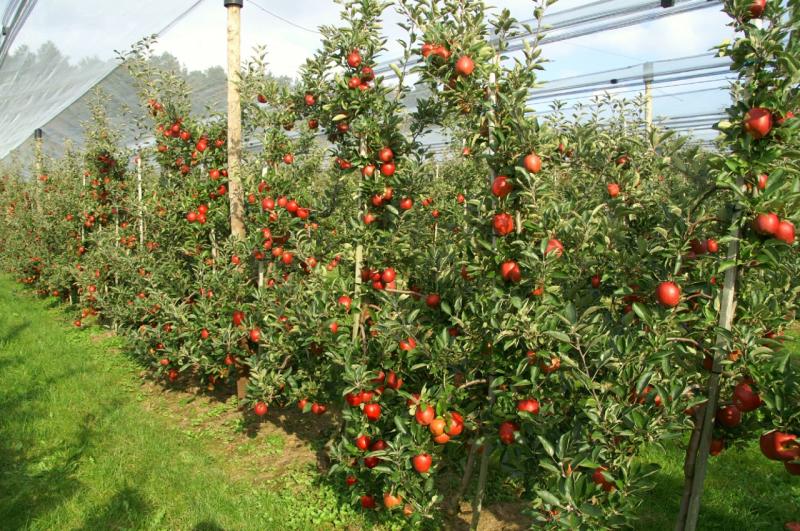 BayWa's growers in Germany produce a wide range of pome fruit varieties, including both traditional and new ones. These include Jonagold group apples (19%), Elstar (16%), and Kanzi apples (12%). The latter, a natural cross between the juicy and sweet Gala and the firm and refreshing Braeburn, is among the three biggest apple brands worldwide. Additional red varieties such as Gala, Red Jonaprince, Fuji, and Pinova are also available. Furthermore, T&G holds the exclusive brand rights for the global cultivation and sale of the Jazz and Envy apple varieties, which are proving popular in China [6]. As a result of the T&G acquisition, 50,000 trees of the successful Jazz apple variety were planted in Germany in 2016 to become part of BayWa's range of varieties in its home country, with another 50,000 trees due to follow this year. The company expects these varieties to have enormous potential, especially in Asia.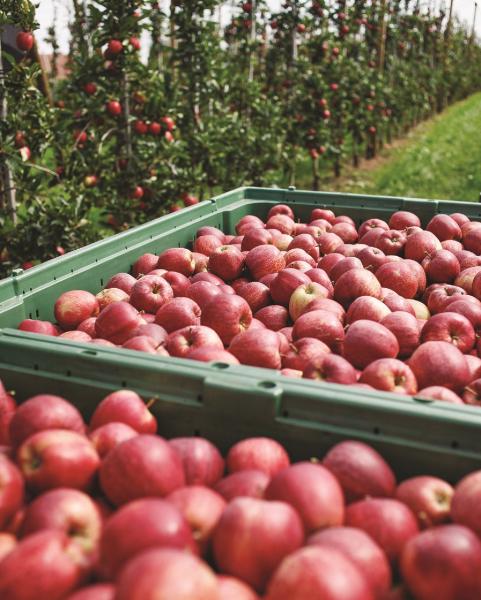 As covered recently [7] in Produce Report, the German apple industry hopes to soon be able to export its produce to China. BayWa intends to play a key role in this once the necessary approvals have been gained and market access achieved, and the company provided a special platform showcasing German apples at Asia Fruit Logistica [8] in Hong Kong last September, where it reported a strong demand for German apples in China. BayWa aims to leverage its prior experience in exporting to other Asian countries to serve Chinese traders and consumers in the best possible way.
Berries, Stone Fruit, and Exotic Fruits
Close to BayWa's home base in Southern Germany, the landscape and climate allow the cultivation of an array of summer fruit, including soft fruit such as strawberries (80%) and redcurrants (10%) and stone fruit such as plums (90%) and sweet cherries (5%). Moreover, through its recent acquisition of the Netherlands-based Tropical Fruit Company [9] in 2016, BayWa is now able to supply a variety of tropical produce such as mangos and avocados.
Organic Fruit
German consumers have a strong demand for organic produce and the organic sector has developed very well in Germany since the late 1990s. Approximately 15% of BayWa's fruit comes from organic cultivation and it is the largest German supplier of organic pome fruit. In particular, two apple varieties, Santana and scab-resistant Topaz, have shown major growth over recent years. Organic berries and stone fruit are also becoming increasingly popular.
Quality Management and Traceability
One of the key assets of the German produce industry is its rigorous standards of food safety, quality control, and traceability from field to consumer. German legislation permits only very low maximum residue levels for produce, and the independent standards of the retailers are even stricter. BayWa's growers produce their fruit according to integrated production guidelines with GlobalGAP certification and other international standards and regulations. Moreover, BayWa's fruit is subject to strict controls upon arrival prior to its dispatch to state-of-the-art storage facilities, with strict monitoring and tracking to ensure the highest standards of food quality and safety.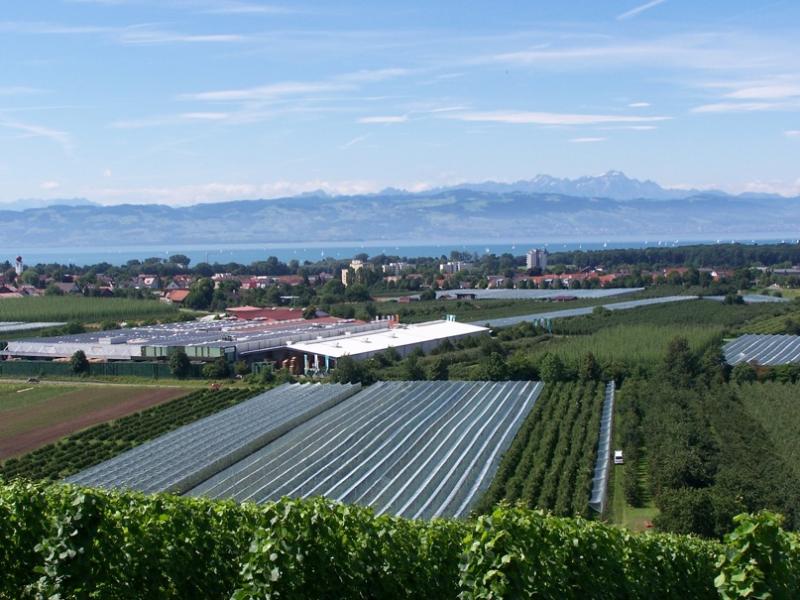 Image sources: BayWa (main image, body images 2-5), MZMC (body image 1)