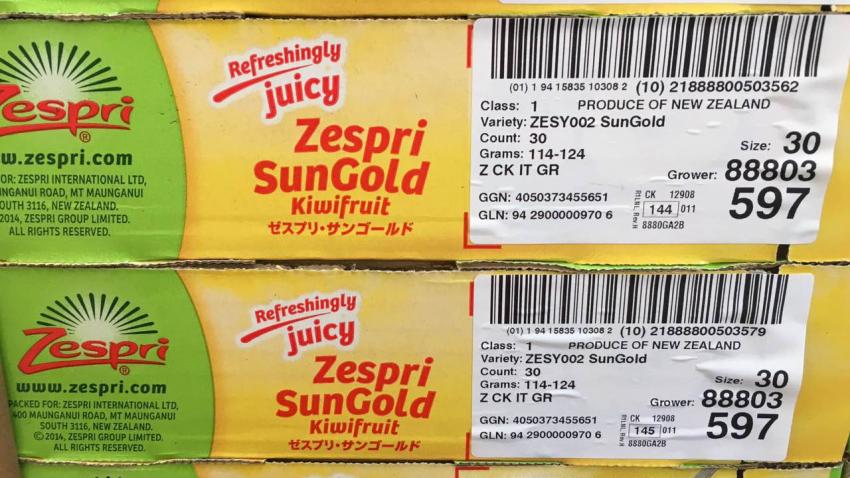 Produce Report is launching a new series of China wholesale market reports. We invite industry insiders to contact us  [3]and contribute their own guidance and reports to this project.
From the end of last week and into this week, the market was primarily focused on the arrival of Zespri kiwifruit from New Zealand and California cherries.
After much anticipation, Zespri kiwifruit finally arrived at large fruit markets across China. The flavor and texture of the Zespri fruit received praise from the industry, with good color, sweetness and firmness. The first shipment sold out quickly after arriving. Within specific time intervals, the pricing of the Zespri fruit is expected to be stable: upon first reaching the market, the price was uniformly high, but we can expect to see lower prices later in the season, without major price fluctuations.
There are currently still Greek kiwifruit on the market, along with those from Italy, France, Chile and domestically produced fruit. Despite carrying a lower price than the Zespri fruit, these kiwis are seeing just average sales volumes—though the Chilean fruit is performing a little better than that of those other countries. The recent arrivals of the Summer kiwi variety from Chile exhibit better flavor than early arrivals. Furthermore, the pricing on these Chilean fruit is favorable, so sales have been relatively brisk. Overall, pricing and sales data support the view that in the Chinese market for imported fruit, quality and flavor are more highly regarded than price.
The season's first shipment of California cherries hit the market in Shanghai last Saturday. As the first production of the season, the flavor and firmness of these cherries was not very good, regardless of variety. Overall quality was average, with a universal issue of uneven coloration and subpar flavor, which led to unfavorable feedback from the wholesale market.
Nevertheless, prices were initially quite high. This has led to a trend of falling prices for California cherries. Sales have been quite slow for cherries ranging in price from RMB 550 to 800 per 5kg box. Now a lot of stock has been sent to other markets to be sold on commission. As rain in recent days has kept buyers out of the market, the trend of falling prices has continued.
In markets in Beijing and Guangzhou, sales have also been slow due to fruit that is universally of low ripeness, white colored flesh, high tartness and light or unevenly colored skin. The Chinese market demands firm fruit with deep even color and good flavor.
But based on the forecast that the quality of California cherries will improve as the season move forward, we can expect prices to stabilize in the future.
Prices as of April 27 from the eight sellers at the Shanghai Huizhan Fruit and Vegetable Market carrying kiwifruit:
Zespri SunGold: RMB 195-200 per 3.3kg box
Italian green: RMB 75-85 per 3.3kg box
Greek green: RMB 70-80 per 3.3kg box
French green: RMB 90-95 per 3.3kg box
Domestic golden: RMB 60-70 per 3.3kg box
Domestic green: RMB 45-55 per 3.3kg box
California cherry pricing as of April 27:
9.5R: RMB 700-750 per 5kg box
10R: Roughly RMB 500 per 5kg box