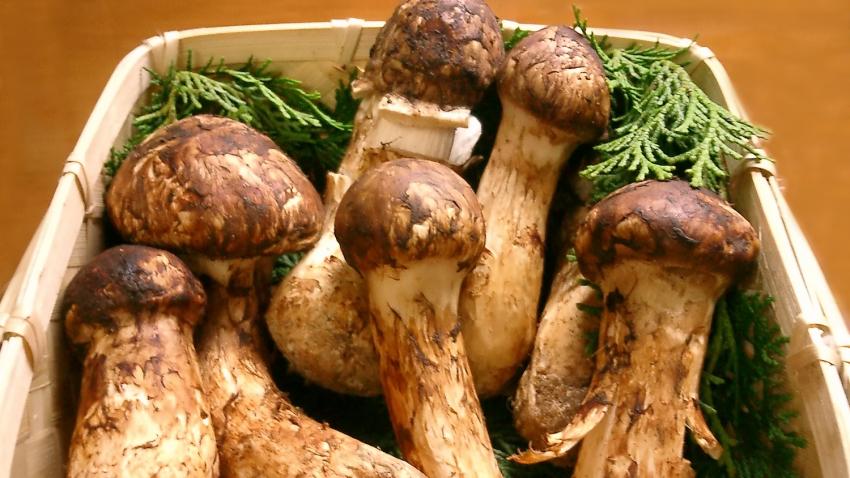 As the monsoon-influenced rains of China's Yunnan province intensify in the period after the summer solstice, wild matsutake mushrooms [3] start to pop up in high-altitude pine forests on the Himalayan foothills of Shangri-La County, tucked in the province's northwest corner.
July is peak season for matsutakes, known as "songrong" in Mandarin Chinese. They are among the most prized of Yunnan's bounty of edible wild foraged mushrooms [4] — which typically depend on symbiotic relationships with the root systems of trees and have therefore evaded efforts at commercial cultivation. This year, matsutake prices are running high: depending on size, most matsutakes are selling for 600–1,000 Chinese yuan ($89–148) per kilogram at the wild mushroom trading center in Shangri-La. However, some of the highest grade of premium matsutakes are going for more than 5,000 yuan ($740) per kilogram. Even at these high prices, there is still plenty of demand. An electronic matsutake selling platform is processing approximately 1,000 transactions per day, and batches of matsutakes that arrive at the market generally sell out within one hour.
Besides being expensive, matsutakes are also highly perishable and fragile. A major challenge, therefore, is transportation from the remote corner of China where they grow to their domestic and international consumption markets. This process has been streamlined through cooperation between parcel company SF Express, the Shangri-La airport and local officials. Matsutake shipments can now reach their 60 largest domestic consumption cities within 24 hours and an additional 200 cities within 48 hours.
Picking the elusive matsutake is an arduous endeavor that is usually undertaken by ethnic Tibetan villagers who live in Shangri-La and surrounding counties of Diqing Tibetan Autonomous Prefecture. Collectors set out early in the morning, often hiking to secret spots that they know to dependably produce matsutakes year after year. They pick until around noon and then hike back down to their villages by about 2 p.m., where middlemen are waiting to purchase the day's haul. The matsutakes then typically make their way to a wild mushroom market by around 4 to 5 p.m. and are consolidated by secondary and tertiary traders. By 9 p.m., traders are busy divvying up and packing shipments, a process that can continue until the early hours of the morning. The mushrooms are then dispatched to domestic and international buyers by express air shipment.
Although matsutakes grow in other places in China, Shangri-La is the most productive area and has gained a reputation for high quality — which may be attributable to its mature transaction system and supply chain. The 500–900 tons of matsutakes harvested annually in Shangri-La County account for approximately 30% of the total matsutake harvest in China and over 65% of that in Yunnan province.
The matsutake trade is not without its challenges, however. Overharvesting and unsustainable collecting practices are threatening matsutake habitats in Yunnan province, which has also impacted output and quality in recent years. In response, local authorities in Shangri-La have from this season banned the collection and trade of young unopened matsutakes, which have not yet had time to fully open and release the spores that will seed future matsutake patches.
Image: Tomomarusan on Wikimedia Commons, distributed under a CC BY 2.5 [5] license
This article was translated from Chinese. Read the original article [6].