Strawberries have long been a popular winter fruit in China, and the new varieties introduced this year are no exception. From white to black and even orange, these colorful new strawberry varieties are a fresh new take on the classic red fruit, and they are quickly becoming a part of the winter fruit repertoire.
This year, a light pink variety called the "Fendai" ("rosy") strawberry has made its debut, sporting a stunning white and pink appearance with its surface speckled with ruby-red seeds. The Fendai strawberry is heart-shaped with a soft, sweet and fragrant white flesh. One of its most notable features is its fruity aroma, with notes of peach and — according to some — sparkling wine. In addition, the Fendai variety is much larger than the average strawberry, typically weighing around 60 grams and measuring almost half a fist in size.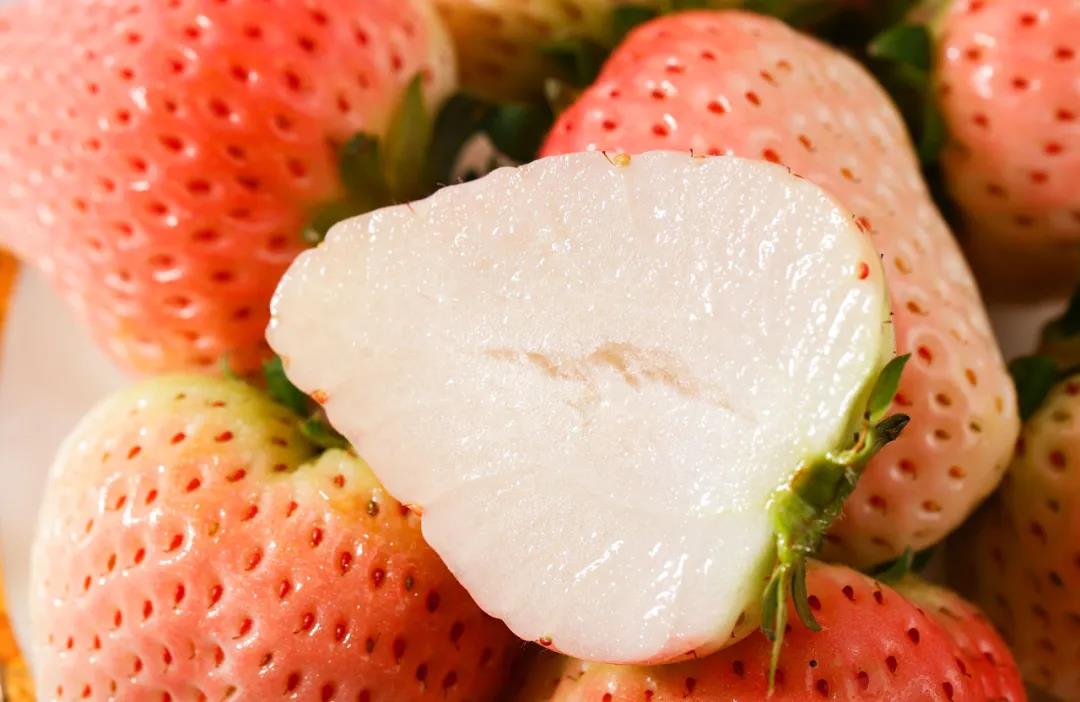 This pink strawberry is said to have been first cultivated in Japan. On account of its rosy appearance, which some say resembles a girl blushing, it was originally known in Japan as the "Hatsukoi" ("first love") strawberry. After entering the Chinese market, however, it was given the name Fendai, a classical-sounding word meaning "rosy". Currently, the Fendai strawberry is only cultivated by one grower in China, who is located in Dandong. The grower began mass producing the pink berry for the first time this year, after a process of trial cultivation.
These strawberries are currently only grown in 18 greenhouses in Dandong, and a 900-gram box can sell for as much as 268 Chinese yuan ($42). Despite this rather hefty price tag, the scarceness of this fruit, coupled with the fact that it debuted on the eve of the Lantern Festival and Valentine's Day, has bolstered its popularity. Other Chinese strawberry growers are reportedly considering growing Fendai strawberries, as their popularity is only expected to increase.
Dandong is a key region for Chinese strawberry growers [3], as its warm climate and ample rainfall make it exceptionally conducive to strawberry cultivation. Data show that Dandong has a strawberry-growing area of approximately 6,700 hectares and produces up to 150,000 metric tons of the fruit each year. There are a multitude of strawberry varieties grown in Dandong, including those from Japan, Europe and the United States. Dandong's most common strawberry varieties include the national prize-winning Donggang strawberry, as well as the Japanese Beni-hoppe and Akihime varieties. Also known in China as the "'99 Strawberry", the Beni-hoppe variety was introduced from Japan in 1999 and has been in continuous production ever since. The selection of strawberries in Dandong is expected to continue increasing as more strawberry varieties are introduced.
Images: Olé Supermarket
This article was translated from Chinese. Read the original article [4].