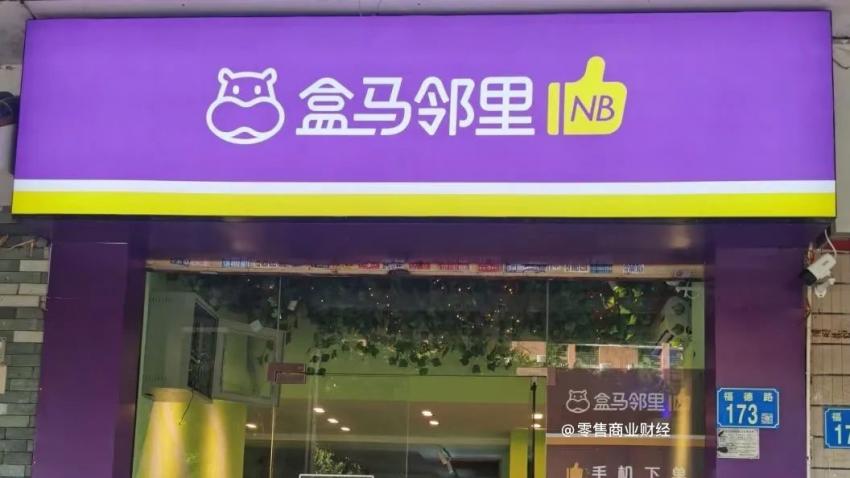 Supermarket chain Hema Fresh [3], a subsidiary of Alibaba, has launched a new community e-commerce initiative this year, called Hema Neighborhood and known internally as "the NB (Neighbor Business) project." Hema began building the Hema Neighborhood team in March of this year, with the first self-service community e-commerce store opening in Shanghai on April 28. To date, Hema Neighborhood has established more than 400 self-service stores in the space of 80 days, covering 10 Chinese cities including Beijing, Shanghai, Xi'an and Wuhan.
Hema Neighborhood offers around 20,000 SKUs. Although it also uses an online order, next-day pickup model, the platform has some differences from typical community group-buying e-commerce platforms. The first difference lies in the supply chain: Hema Neighborhood shares Hema Fresh's logistics network, providing relative stability in the products that are on offer each day and avoiding the somewhat random product variation that is typical of community group-buying platforms. Second, the physical stores are self-operated by Hema; the stores are dedicated Hema Neighborhood pickup stations, unlike group-buying platforms where several different platforms often share one physical store. The third difference is that unlike group-buying platforms, Hema Neighborhood does not appoint "group leaders"; rather, two to three staff members are assigned to each store.
According to Hema's founder Hou Yi, Hema Neighborhood is not a community group-buying platform; the community group-buying model relies on subsidized purchases, which is not a sustainable business model. Hou Yi likens Hema Fresh, Hema X Member Stores [4] and Hema Neighborhood to three horses that pull the Hema "carriage," adding that Hema Neighborhood is a third avenue for growth and will form Hema's most important strategy over the next 10 years. A Hema Neighborhood store can become profitable within three to six months, and the brand is currently focusing on three major growth targets, namely, customer growth, repeat purchase rate and retention rate. Hema Neighborhood is currently experimenting with internal franchising among store managers, and it has not ruled out the possibility of operating franchised stores in the future.
Image: The Paper
This article was translated from Chinese. Read the original article [5].