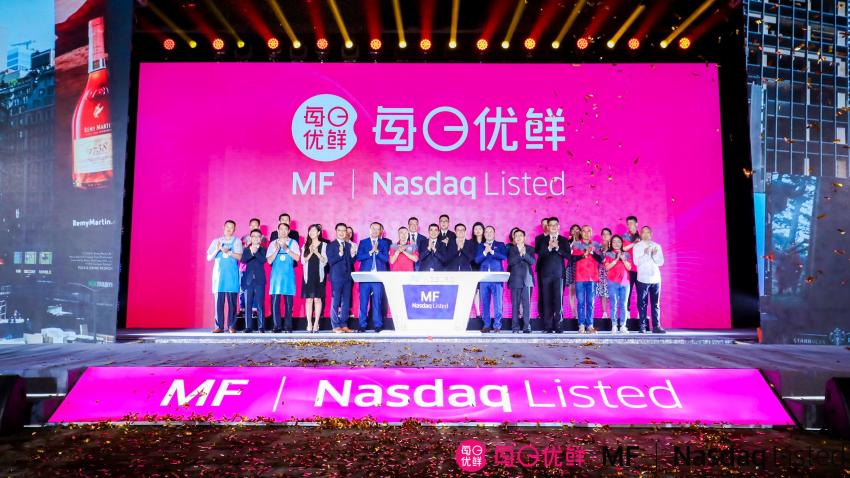 On the evening of June 25, MissFresh [3] (Meiri Youxian) was officially listed on the Nasdaq exchange in the United States, becoming China's first publicly traded fresh produce e-commerce merchant. The keenly awaited IPO [4] saw 21 million shares issued at a price of $13 per share. But the IPO did not quite get off to the illustrious start the company had hoped for, with MissFresh's stock price dropping by 25.69% to $9.66 by market close on the day of the IPO and the company's total market value estimated at $2.27 billion. The share price has since continued to fall, closing at $8.65 on June 30.
MissFresh's average customer transaction value for the company's "pre-warehouses" is 94.6 Chinese yuan ($14.6), the highest in the industry. That said, like its industry peers, MissFresh is facing challenging deficits. According to MissFresh's IPO prospectus, the company's annual net loss from 2018 to 2020 was consistently in the vicinity of 2 billion yuan ($310 million). In the first quarter of 2021 alone, MissFresh's net loss totaled 61.1 million yuan ($9.4 million).
For several years, MissFresh representatives have been painting the company as profitable. Back in August 2017, CEO Xu Zheng announced that the company was already operating at a profit in China's tier-one cities. In July 2020, the company's CFO, Wang Jun, reported in an interview that MissFresh had made an overall profit at the end of 2019. However, despite this ongoing narrative, publicly available figures depict a different reality, indicating that the company is still operating at a loss.
MissFresh is considered the inventor of the "pre-warehouse" (前置仓) model, placing smaller neighborhood warehouses closer to consumers to reduce delivery times. As of March 31, 2021, MissFresh had established 631 pre-warehouses across 16 Chinese cities, quickly reaching over 4,300 unique products and reducing the average order picking and delivery time to just 39 minutes. MissFresh's customer base is estimated at over 3.1 million. However, the sorts of products traditionally offered under this model typically lack uniqueness, and faced with the crowd of different fresh produce e-commerce platforms that subsequently emerged, MissFresh has struggled to retain a stable following among its customers. Meanwhile, market costs have also remained high.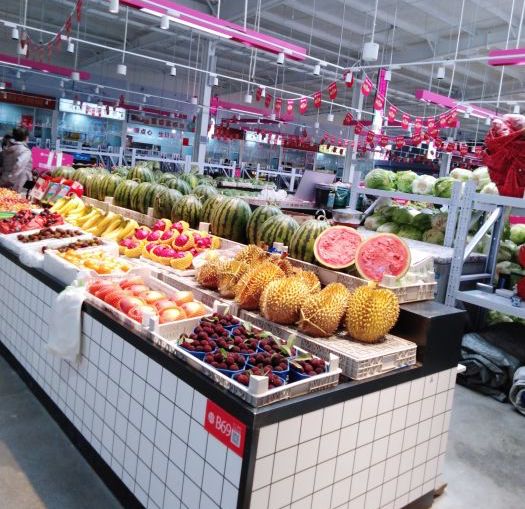 In March of this year, MissFresh set its sights on physical farmers markets. By signing contracts to take over the operation of established food markets, the company obtained long-term operating rights and began transforming the existing locations into "smart markets [5]." These "Youxian Food Markets" not only entail upgrading the facilities of traditional food markets but also offer a suite of end-to-end SaaS services to merchants, including electronic payments, digital marketing, CRM tools and business planning services. Time, and market sentiment, will tell whether MissFresh's smart market initiative is destined for success.
Among those keenly watching MissFresh's debut on the Nasdaq exchange, none has more at stake than rival fresh produce e-commerce platform Dingdong Maicai. On June 9 of this year, Dingdong Maicai [6] handed in its own IPO prospectus within just hours of MissFresh, applying to list the company on the New York Stock Exchange.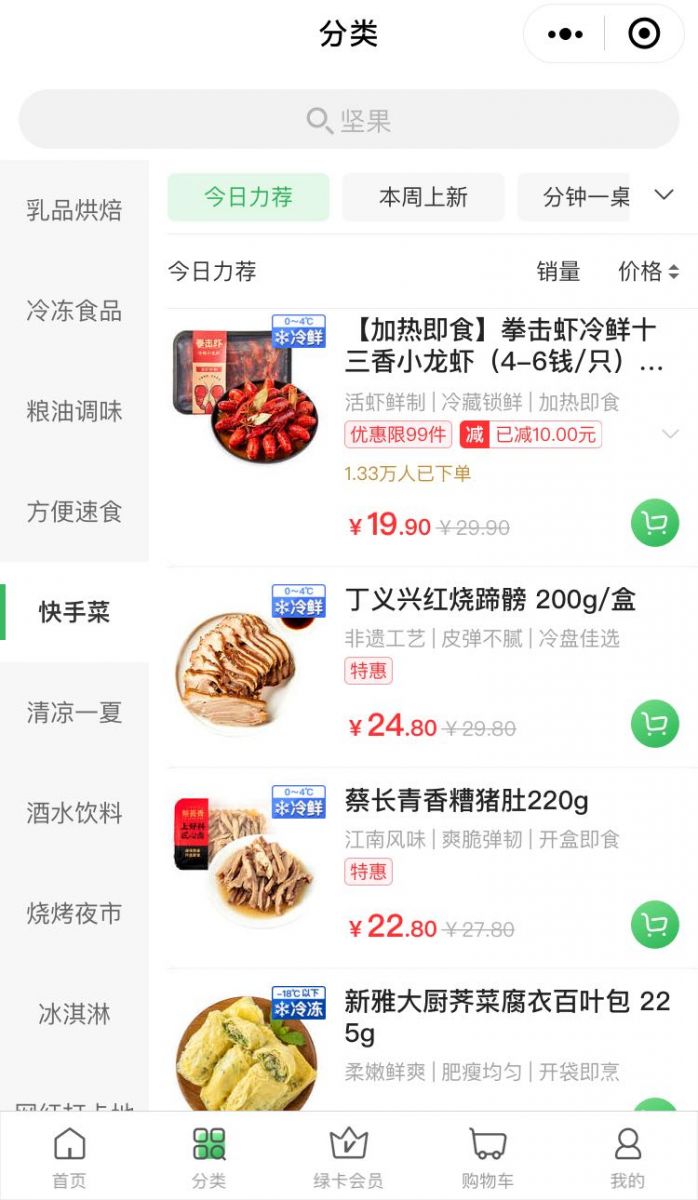 Dingdong Maicai also employs the pre-warehouse model, currently operating more than 1,000 pre-warehouses across 31 Chinese cities. Compared to MissFresh, Dingdong Maicai's fresh produce services are somewhat more developed in their offerings. This year, Dingdong Maicai identified a new direction for growth, namely, semi-prepared "quick" foods. Ready-to-heat or ready-to-cook food products hold a strong appeal for younger consumers, and Dingdong Maicai now offers over 1,000 products in this category, with monthly sales exceeding 100 million yuan ($15.4 million).
Although MissFresh and Dingdong Maicai are both operating at a loss, they are gradually closing in on achieving a profitable status. If both companies can rapidly find new avenues for profit growth, we may yet see promising market outcomes for these two rival grocery giants.
Images: MissFresh (main image and body image one), Dingdong Maicai (body image two)
This article was translated from Chinese. Read the original article [7].