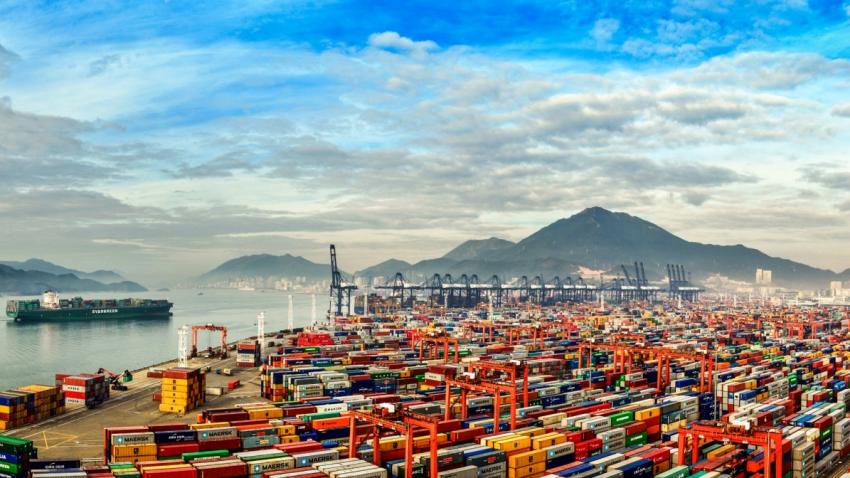 Reports from Shenzhen indicate that the daily throughput at Yantian port has recovered somewhat in recent weeks, reaching approximately 24,000 TEU as of June 21. Although cargo-hauling operations have returned to nearly 70% capacity, the previous partial shutdown and reduced capacity [3] have worsened the backlog at the port.
Under normal circumstances, the daily container handling capacity at Yantian port can reportedly reach 36,000 TEU. The port is responsible for more than one-third of Guangdong's foreign trade imports and exports as well as one-quarter of China's trade with the United States. As of June 15, the average stay time of export containers at Yantian port had more than tripled from the former value of seven days to 23 days. Meanwhile, Bloomberg reports that there are currently 139 container vessels anchored off-port. In the first 15 days of June, 298 container vessels with a total capacity in excess of 3 million containers chose to skip Shenzhen rather than call to port. In one month, the number of vessels jumping port has increased by 300%.
The current jam mainly affects trade between China and the United States, as North American shipping containers account for an unbalanced 40% of the port's supply. The slowdown at Yantian port has also exerted a domino effect on global distribution and supply chains, pushing a number of major ports into an even tighter situation than before.
Data from the container shipping platform Seaexplorer indicate that there were 304 vessels waiting for berths at ports around the globe as of June 18, with an estimated 101 ports experiencing congestion. Industry analysts believe that Yantian port accumulated 357,000 TEU in 14 days, such that the number of backlogged containers has already surpassed the 330,000 TEU that were held up by the grounding of Ever Given in the Suez Canal in March. On June 10, Drewry's Composite World Container Index further rose by $263 (4.1%) per 40-foot container to hit $6,727, a 299% increase compared to a year ago, and currently stands at $8,062 per 40-foot container as of June 24.
One of the many industries affected by the recent shipping problems is the Southern African citrus sector [4], for which June is peak harvest season. According to a weekly newsletter [5] released by Justin Chadwick, CEO of the Citrus Growers' Association of Southern Africa [6], the region had already packed 45.7 million cartons of citrus fruit (approximately 685,500 metric tons) and shipped 31 million cartons (465,000 tons) as of June 11. However, the freight price for local exporters recently reached $7,000, a 75% increase compared with last year's price of $4,000. This has caused the profit margins of exporters to become increasingly tight, while spoilage due to shipping delays has further exacerbated the problem.
Australian shippers have recommended that local companies planning to export to ports in southern China in the next two weeks should establish contingency plans to transfer shipments to other nearby ports or ship by air. Some fresh fruits sourced from Chile also enter the Chinese market through Yantian port. Chile's vice minister of trade, Rodrigo Yáñez, has stated that he will continue to keep an eye on congestion in China's southern ports.
Although Yantian port has the potential to recover to normal operation levels by the end of June, further increases in international freight rates should be anticipated, with forecasts suggesting that the situation will not change for the better until the fourth quarter of 2021 at the earliest.
Image: Yantian International Container Terminals
This article was translated from Chinese. Read the original article [7].